Floyd Mayweather: 5 Reasons Andre Berto Is the Only Option for Money to Fight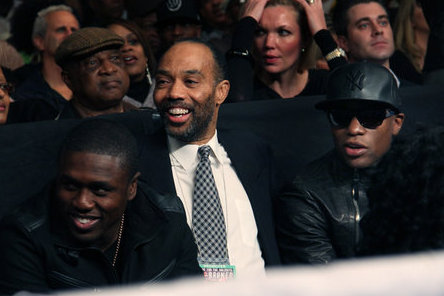 (from left to right) Andre Berto, adviser Al Haymon and Floyd Mayweather (courtesy of Tom Uhlman of the New York Times).
Floyd Mayweather needs an opponent for the winter, and 28-year-old Ander Berto is the only man who can fit the bill in the aftermath of everything that's happened this year.
From Manny Pacquiao (54-4-2, 38 KO) not considering Mayweather until April of next year to Amir Khan (26-3, 18 KO) suffering a devastating knockout loss, many fighters have left the Mayweather sweepstakes.
Here are five reasons Berto is the last remaining fighter Mayweather can select for his comeback.
Begin Slideshow

»
Berto's power and speed make any fight an exciting and unpredictable event. Mayweather has been caught before. He's a defensive genius, but he isn't invincible.
Though Mayweather is likely to figure out Berto easily and punish him for his lack of defense, Berto will be game and create some scary moments for Mayweather.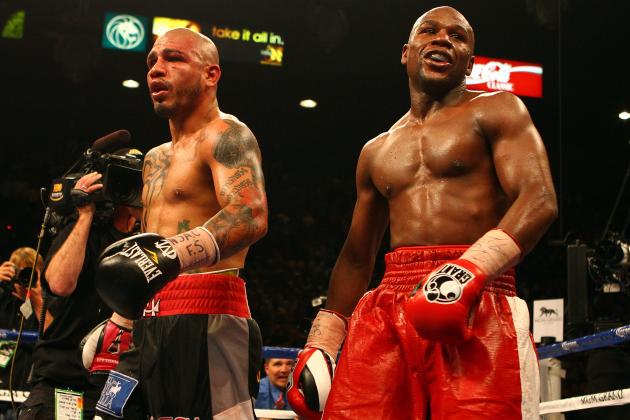 Al Bello/Getty Images
Cotto and Mayweather after their fight came to an end.
Mayweather has fought in the junior middleweight division only twice in his career, both times against high-profile opposition.
Why doesn't he return to that division? There's literally no one left who can beat Mayweather.
Mayweather defeated the biggest fighter of the division in Miguel Cotto (37-3, 30 KO) this past May.
Saul Alvarez (40-0-1, 29 KO) is a 22-year-old phenom, but his competition hasn't been anywhere near Mayweather's level.
Alvarez and his handlers plan to take baby steps to greatness, which is all fine and dandy. The only problem is that a 35-year-old Mayweather doesn't have years to wait until Alvarez is ready.
That would leave Sergio Martinez (49-2-2, 28 KO), a 37-year-old middleweight champion who used to fight at junior middleweight not too long ago.
Martinez has a big high-profile battle against the immensely bigger Julio Cesar Chavez Jr. (46-0-1, 32 KO) on September 15.
Even if he wins, Martinez won't be ready to fight Mayweather in December, let alone November. He'll need three months just to fully recover from what promises to be a brutal event, win or lose.
With all that said, Mayweather will likely never venture to the junior middleweight division ever again.
WBC interim welterweight champ Robert Guerrero (30-1-1, 18 KO) is likely the only decent opponent who is not busy fighting someone else this year.
The only problem with Guerrero is that despite his skill, he's still a former lightweight who went up multiple weight divisions to have a life-or-death war with an OK, but not great fighter.
Selcuk Aydin (24-1, 17 KO) was an average-sized welterweight with a lot of power. Guerrero took his shots well, but Guerrero didn't show a lot of power or speed.
Speed and power will be needed in great supply in order to have a chance at besting Mayweather or even giving him a tough fight. Maybe with continued conditioning, Guerrero will get there, but he isn't there yet.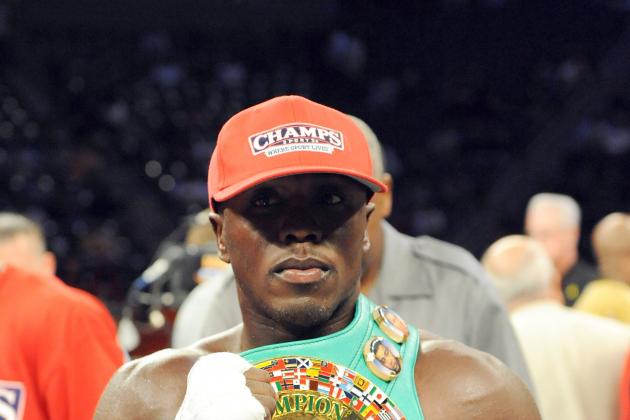 Harry How/Getty Images
Andre Berto during the period when he was WBC champ instead of Mayweather.
When Berto signed to be apart of Mayweather and 50 Cent's TMT (The Money Team) Promotions, he opened the door to greater exposure and to make money not just for himself, but Mayweather as well.
As his promoter, should Mayweather fall victim to Berto's signature fast and lethal uppercuts, he can then promote Berto as the next big superstar of boxing.
Everyone is looking for someone who can beat Mayweather. Whoever can become that man is guaranteed riches and fame for years to come.
If Berto is that man, Mayweather will continually get paid even after losing.
Mayweather can retire from the ring and say something along the lines of, "I just don't have it anymore."
Meanwhile, Berto becomes the next major pay-per-view seller.
Ever since Mayweather knocked out Victor Ortiz (29-4-2, 22 KO) when he wasn't looking or paying attention, writers and fans everywhere have questioned how fair that ending was for Ortiz.
Berto represents a young hard-hitter who won't fall for what led to Ortiz's downfall. He also represents a hungry former champion looking to get his belt back.
Berto's past setbacks that include inaccurate positive test results and an earthquake in Haiti that tragically took members of his family make his story a compelling one for audiences to hear.
With Mayweather coming off of a two-month prison sentence and a tough battle with Cotto last May, the question of whether a 35-year-old Mayweather has much left to give in the ring will be asked.
When Mayweather and Berto fight in November of this year on HBO PPV, audiences will tune in to find out the answer.
For more sports news and analysis, follow me on Twitter @justindavidtate.