Mike Wallace: Star WR's Only Choice Is to Report to Steelers Camp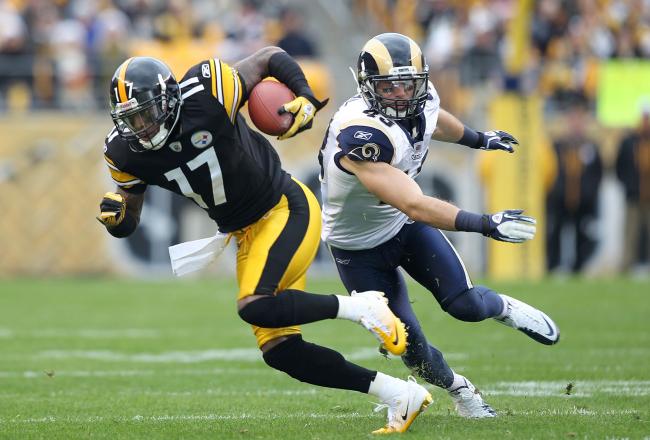 Karl Walter/Getty Images
Mike Wallace is trying to hold out in order to force the Steelers into giving him his way. It's not working, so it's time to move on to Plan B.
Although Plan B is a little bit risky, it's the one most likely to get Wallace paid in the end.
According to the Pittsburgh Post-Gazette, the Steelers wide receiver hasn't yet reported to training camp because he doesn't want to sign the one-year, $2.7 million tender the Steelers are offering him.
Wallace has certainly proven himself over the last two years: He averaged over 1,200 yards in 2010 and 2011, and he's tallied 18 total touchdowns in his last two seasons. He's earned his keep on the field; the only problem is he's being too stubborn to generate any progress off it.
The Post-Gazette reports that the team hasn't heard from Wallace since July 25, but as of now, it doesn't plan on trading him.
Wallace, meanwhile, seems to be the only one who believes a holdout is the way to negotiate a new deal. That's not the way to get the Steelers to listen, according to Jerome Bettis—and after spending 10 of his 13 NFL seasons in Pittsburgh, he would know.
In an appearance on the NFL Network, transcribed by ESPN.com's Jamison Hensley, Bettis suggested that Wallace quit holding out, report to camp and trust that the team will engage in negotiations with him at that point. He called upon the case of Hines Ward to support his claim: Ward held out too, but once he gave in and reported to camp, the team was willing to negotiate a new deal with him.
Until then, though, there was no progress. Just like there's been no progress with Wallace.
Bettis told the NFL Network, via ESPN.com, "The problem is, you know, Mike doesn't really understand the concept of how the Steelers work, and so he's got to kind of figure that out. Once he figures that out and comes in, I think they'll work a deal out."
What other choice does Wallace have at the moment? If he wants to play for the Steelers, he has to play by their rules. He was to trust that by signing the tender, he won't get squeezed out of what he thinks he deserves. He has to believe that his team is going to have his back, as long as he shows some kind of willingness to cooperate.
Right now, there aren't many other options for Wallace. With every day that he doesn't report to camp, he's straining his relationships with the team and with head coach Mike Tomlin, who, according to the Post-Gazette, "is no longer supportive" of Wallace because of the holdout and its accompanying drama.
The bottom line is, if Wallace ever wants to patch up his relationship with his team, he has to start now. He is the one who is in the wrong here. He is the one who refuses to meet the Steelers halfway. He is the one who is impossible to negotiate with, not the Steelers.
At this point, the only person standing between Wallace and his payday is Wallace himself. The sooner he gets over himself, the sooner he can move on with his life.
And if he wants to be moving on with the Steelers, it's best that he start sooner rather than later.
This article is
What is the duplicate article?
Why is this article offensive?
Where is this article plagiarized from?
Why is this article poorly edited?

Pittsburgh Steelers: Like this team?