Brian Dozier: Minnesota Twins Shortstop Makes a Rookie Mistake in 10th Inning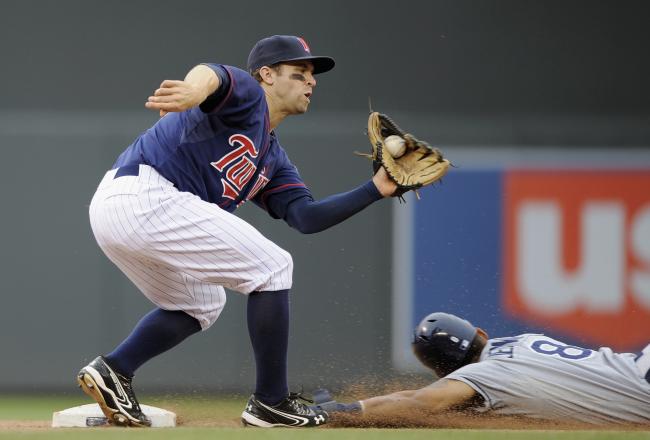 Hannah Foslien/Getty Images
As you may have heard, Brian Dozier may have made a rookie mistake on Sunday in Game 3 against the Tampa Bay Rays.
Here's the Situation
It's the top of the 10th. The score is tied 3-3.
Desmond Jennings led the inning off with a single up the middle off of Alex Burnett.
BJ Upton drew a walk and Evan Longoria drew a walk.
Pitching coach Rick Anderson went to the mound.
Then, with the bases loaded, Jeff Keppinger hit a dribbler at Dozier, who was positioned for a double play. There was already one out in the inning.
Dozier picked up the ball and whipped it to first, allowing Jennings to score.
Manager Ron Gardenhire went out, took the ball from Burnett and gave it to Tyler Robertson. While meeting with his players, he had a short discussion with Dozier.
Gardy went to the mound to make a pitching change but looked to be "chatting" with Dozier as Tyler Robertson came in from the bullpen.

— LaVelle E. Neal III (@LaVelleNeal) August 12, 2012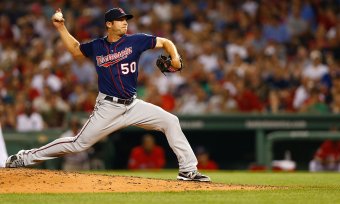 Jared Wickerham/Getty Images
Robertson was supposed to get Carlos Pena out.
He didn't.
Casey Fien comes in and, with the bases loaded, Ryan Roberts singles to left, scoring two runners. Then, with men on the corners, Matt Joyce doubles to center.
The Rays go on to win 7-3.
Here's the Reaction
"We talked about it," said Gardenhire. "He had good thoughts. He knew the runners and the speed at third base. All we talked about was situational baseball there late in the game like that.
"Your two options are try to turn a double play, in my opinion, or go home."
Dozier did neither.
"He did what he thought was right," continued Gardenhire. "He saw the speed, he saw the whole package and he got the out at first base.
"He's the one that's out there playing the game."
After the game, Dozier was standing by his locker talking to Alexi Casilla.
He would have thrown to Casilla, the second baseman, if he wanted to turn the double play.
Jason Miller/Getty Images
"Desmond Jennings," he said, "is one of the fastest guys I know."
For the record: Jennings jogged home on that play. Not really sure why he did that.
I'm also 80% sure Jennings was jogging from third base, but that's not something you would expect as a SS in that moment.

— Phil Mackey (@PMac21) August 12, 2012
He had three reasons for what he did:
"I'm playing in and a ball is hit. We're still getting one out so that's number one."
"Number two is that it is a slow-roller, I could have tried to go to second, but to be honest, like Alexi said, there's no chance."
"And, to be honest with you guys, a smart infielder makes sure to get an out right there."
He also mentioned that he spoke to Jamey Carroll, 38, who was playing third base that night, who, according to Dozier, "would have done the same thing."
Here's the Verdict
This is not a bad time to have a mental lapse.
Hannah Foslien/Getty Images
It's August, and the
Twins
are well below .500. In short, the mishap came during a meaningless game.
The guy has range and some power (six home runs). There is "tons of debate" on whether he should be demoted to Triple A, but two things are for sure:
A rookie makes that kind of mistake late in a game.
A man stands in front of his locker after it.
All quotes were obtained first-hand.
Tom Schreier writes a weekly column for TheFanManifesto.com.
This article is
What is the duplicate article?
Why is this article offensive?
Where is this article plagiarized from?
Why is this article poorly edited?

Minnesota Twins: Like this team?