Detroit Tigers: Why Slugger Miguel Cabrera Deserves the AL MVP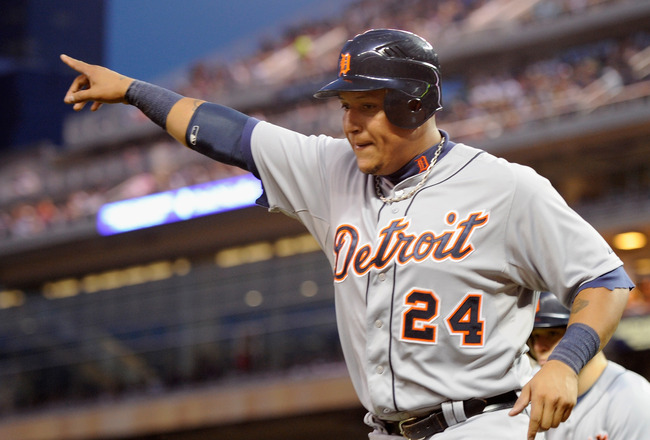 Hannah Foslien/Getty Images
For the Detroit Tigers to have the American League's MVP for two straight seasons is almost unheard of, especially when they are two different players.
Last year's AL MVP was the Tigers' very own starting pitcher Justin Verlander and this year, Miguel Cabrera leads the race. He has been one of the best players this entire year and probably the hottest hitter of the second half of the season.
Cabrera is in MVP talks seemingly every year, but never has come away with the award, although he has been deserving.
This could be the year he finally wins the coveted award and here is why he is currently the favorite.
He's the Best Hitter in the League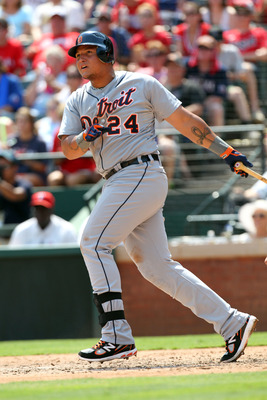 Layne Murdoch/Getty Images
This one is arguable. Miguel Cabrera, in my opinion and the opinion of many others, is the best hitter in baseball today.
He can hit for average, power and is a very smart hitter. He has never been a huge strikeout guy, in fact, he has cut down on his strikeout totals each year since joining the Tigers in 2008. Last season, Cabrera walked 19 more times than he struck out, an astounding number that is almost unheard of.
A career .317 hitter, the 29-year-old Cabrera has exceeded the expectations of many and has guided Detroit for the past five years. He has become one of the youngest players to reach 300 home runs and is surely on pace for 500 within the next six years.
As an everyday player in Major League Baseball, Cabrera has never hit below .290 and he is constantly driving in runs.
Okay, so enough about the past, this year Cabrera has vaulted himself into MVP consideration. He is chasing the improbably Triple Crown title with average, home runs and RBI. He is second in the entire league in RBI with 98, second in the AL with a .324 average and fifth in the entire league with 29 home runs.
Although the Triple Crown is unlikely, and may not happen any time soon, Cabrera is the guy that could possibly be the one to do it. Although he probably won't achieve the feat this season, he will win the MVP with his impressive numbers.
He's Clutch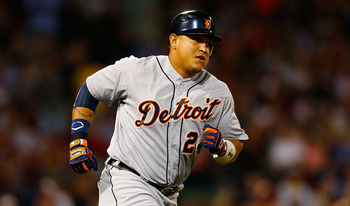 Jared Wickerham/Getty Images
There is no doubt that Miguel Cabrera is more valuable to his team than any player in the league this season and for the past five seasons.
Cabrera has consistently made himself known as the best hitter in the league and has been one of the most clutch hitters out there.
He is hitting .353 this season with runners in scoring position, including five home runs and 62 RBI. Another stat that jumps out: a .432 average with three home runs and 21 RBI with two outs and runners in scoring position.
Even more proof of his clutch hitting: Cabrera is hitting .315 with 11 home runs and 25 RBI since the All-Star break just a short month ago. These are monster numbers for just a month of work and in the most crucial stretch of the season.
There have been many times this season where the presence of Cabrera has been the difference between a win and a loss for Detroit. He has hit walk-offs, go-ahead RBI and clutch home runs.
He is the definition of clutch and the definition of an MVP.
He's Leading the Tigers into Contention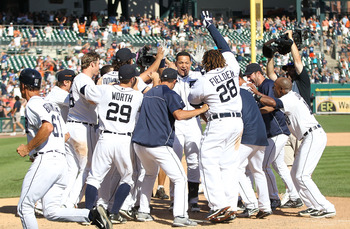 Leon Halip/Getty Images
Since the All-Star break, the Tigers have gone 17-12 and have had two streaks of five or more wins in a row in that time.
Cabrera is a big reason for that, knocking in 25 runs by himself and blasting 11 home runs, one of which was a walk-off. This team seems to be rejuvenated and Cabrera is emerging as the hero.
The offense has perked up, finding itself in the top tier of the league in offensive categories such as average, runs and on-base percentage.
The Tigers are once again contenders and they have many people believing that they will be AL Central Division Champions for the second straight season.
If Cabrera can stay hot like he has been for a month, he will make sure this team makes it into the playoffs, even if it is just as the American League Wild Card. Miguel Cabrera has been the most valuable player to his team in the league and his team is one of the best, so that should make him a clear favorite.
Don't be surprised if he wins his first award of the MVP variety this year by a landslide, although Josh Hamilton and Mike Trout will be giving him a run for his money.
Keep Reading

Detroit Tigers: Like this team?