Arizona Basketball: 10 Positives from Arizona's 70-Point Bahama Blowout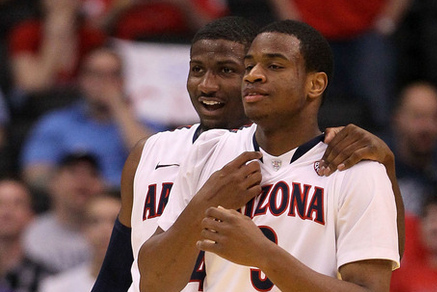 arizona-sbnation.com
Results from the preseason and overseas exhibitions in August need to be kept in their context.
Many times, D-1 college teams that travel abroad every four years face opponents that don't match up with the competition that they will meet in the upcoming season.
But, for a team like Arizona, who has a senior-transfer point guard in Mark Lyons and an elite-level incoming recruiting class, even a practice game in the Bahamas is a nice opportunity to get a preview of how things might shape up in the future.
Arizona annihilated a squad called the Real Deal Shockers on Saturday 136-66.
Here are 10 positive take-aways from the Wildcats initial performance of the 2012-13 schedule.
Begin Slideshow

»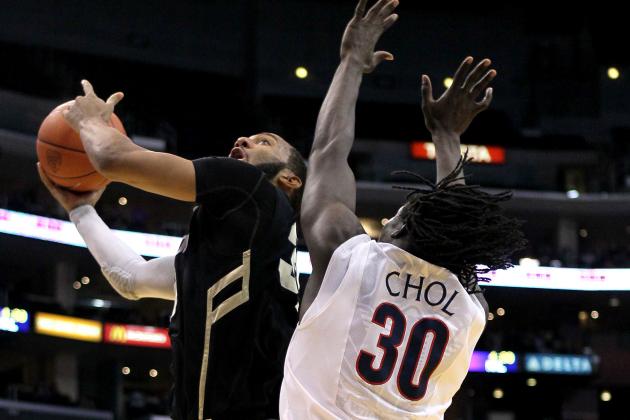 Stephen Dunn/Getty Images

Angelo Chol came to Tucson last year known for having plenty of raw athleticism.
He showed that when he came off the bench during the 2011-12 season. He was ready to defend, rebound and block shots.
The 6'9" San Diego product led Arizona in blocked shots with 29 last year, even though he only played 12 minutes per game.
On Sunday, Chol played a very efficient 18 minutes, scoring 12 points, grabbing six boards, blocking three shots and handing out two assists.
Most people assume that Chol will come off the bench to back up freshman center Kaleb Tarczewski. But, if he continues to be this productive once the season gets here, we may see more of Chol than expected.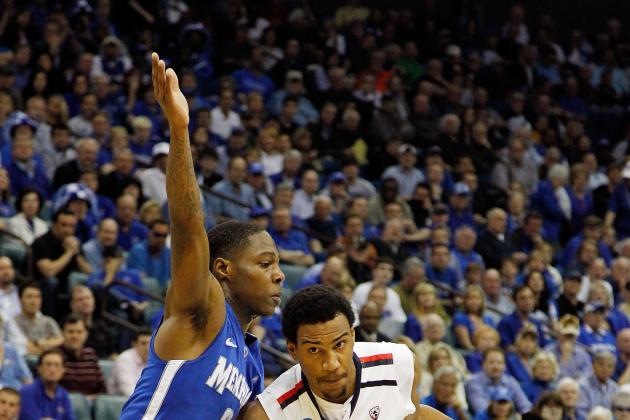 Tom Pennington/Getty Images

Jordin Mayes showed some strong potential as a freshman (shooting 45.3 percent from beyond the arc) coming off the bench for a 'Cats team that went to the Elite Eight.
Last year, as a sophomore, he struggled most of the year with injuries and inconsistency.
But, if this weekend's performance indicates anything, Mayes may be getting back on track.
The 6'2" rising junior from Los Angeles scored eight points on three-of-four shooting (two-of-three from beyond the arc) with five assists.
If Mayes can rediscover his freshman year shooting stroke, Sean Miller will find him minutes.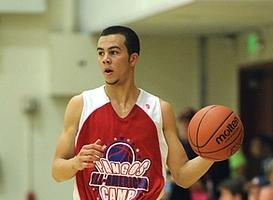 Gabe York may be the most natural scorer of the Wildcats' four incoming freshmen.
York has incredible range on his jumper. He can get to the rim and finish in traffic, and he is lethal in the open court.
Even though York only played 13 minutes in Saturday's exhibition game, he scored 10 points, including two-of-five shooting from beyond the arc.
The Wildcats backcourt is loaded and Miller can mix and match combinations based on what he wants to get done and who the 'Cats are playing.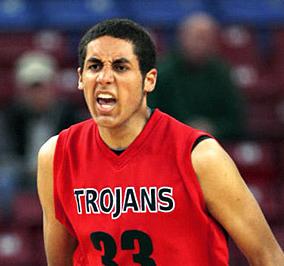 espn.go.com
Grant Jerrett is one of U of A's Fantastic Four (freshmen).
At 6'10", he uses his length well to get the glass on both ends of the court.
Jerrett can go inside or face up and go outside.
In the initial Bahamas exhibition, he scored 13 points (including hitting one of his two shots from beyond the arc) and grabbed five rebounds.
Jerrett's position flexibility will give Sean Miller a lot of latitude to possibly place him at any of the three frontcourt positions.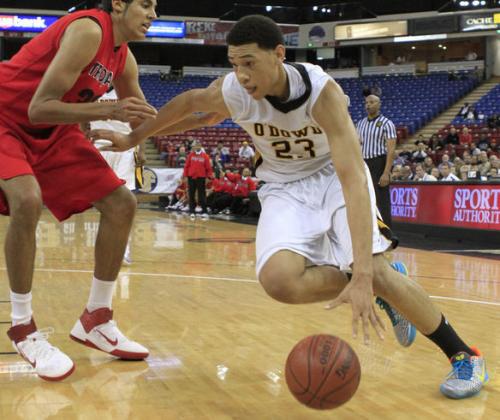 oregonlive.com
When Brandon Ashley committed to come to Arizona, head coach Sean Miller knew that he had a multi-talented forward that could play either with his back to the basket or facing up.
In the 'Cats first exhibition game, Ashley put up a 14 point-10 rebound double-double.
He made all seven of his shots from the field, grabbed three offensive rebounds and even handed out four assists.
Don't be surprised if Ashley piles up quite a few double-doubles before his freshman year is over.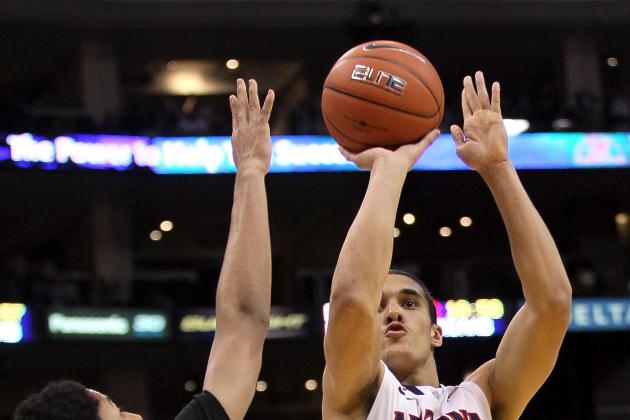 Stephen Dunn/Getty Images

Nick Johnson does so many things from the Arizona backcourt.
Some games, he scores and rebounds. Other nights, he might be a playmaker and a defensive stopper. And just about any time, he's ready to go back-door and throw down a well-thrown alley-oop.
Last year, as a true freshman, Johnson averaged nine points, 3.2 rebounds and 2.4 assists per game.
In the 'Cats exhibition in the Bahamas over the weekend, Johnson filled the box score by dropping in 13 points, grabbing five rebounds, handing out eight assists and snatching an insane six steals.
Head coach Sean Miller will eventually have some decisions to make in terms of his backcourt players and rotations. My guess is that Johnson will again see somewhere between 26-30 minutes of playing time split between the PG and SG positions.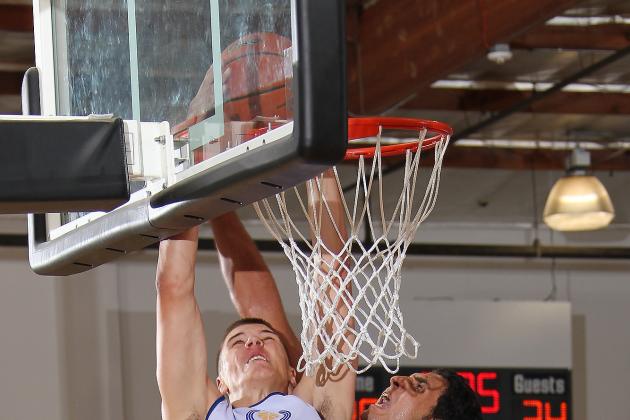 hoopniks.com
At 7'0" and 240 lbs, Kaleb Tarczewski is a true center.
He has the size and skills to dominate the paint on both offense and defense.
Tarczewski's great mobility and soft hands help him to take advantage of a high percentage of his post-up opportunities.
He had a solid performance in Saturday's Bahama exhibition, scoring eight points and grabbing nine rebounds (including four offensive rebounds).
Watch for Tarczewski to be an instant double-double guy from the very beginning of his collegiate career.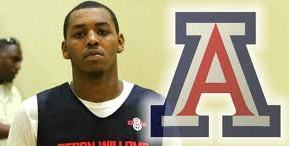 pointguardu.com
Mark Lyons made the decision to come to Arizona for his senior season.
He wanted to prove to NBA scouts that he was more than an undersized SG.
Last year at Xavier, Lyons averaged 15.1 points, 3.2 rebounds and 2.8 assists playing alongside Tu Holloway.
So far, through the summer, Lyons has been saying all the right things about "getting his teammates involved" and "running the team."
But, most likely, he will not be a pass-first point guard. He will be more of a scoring point guard in the mold of Russell Westbrook.
Over the weekend, Lyons scored 18 points, grabbed four rebounds and handed out four assists.
Say what you want about Lyons' brash style and attitude, but he may be just what the 'Cats need to thrust this young team forward.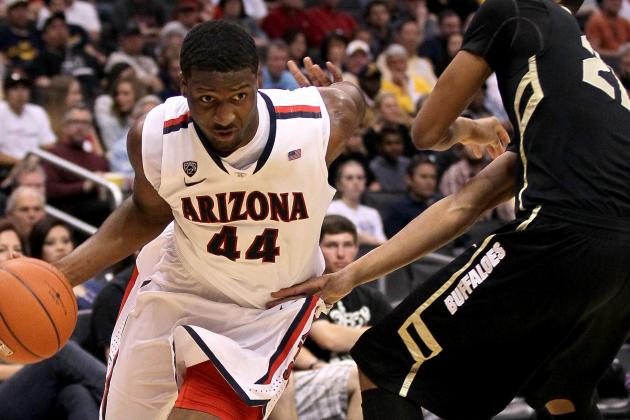 Stephen Dunn/Getty Images

Last year, Solomon Hill was forced to play power forward because of Sean Miller's lack of frontcourt options.
He responded by averaging 13 points and 7.7 rebounds per game.
This year, with the infusion of three elite level Bigs through the 2012 recruiting class, Hill will have the opportunity to move back out to his natural SF position.
Yesterday, he not only scored 17 points and grabbed six rebounds, but he also hit three-of-five shots from beyond the arc.
If Hill can hit 40 percent or better from long-distance during the upcoming season, he will provide Miller with a lethal weapon on the wing.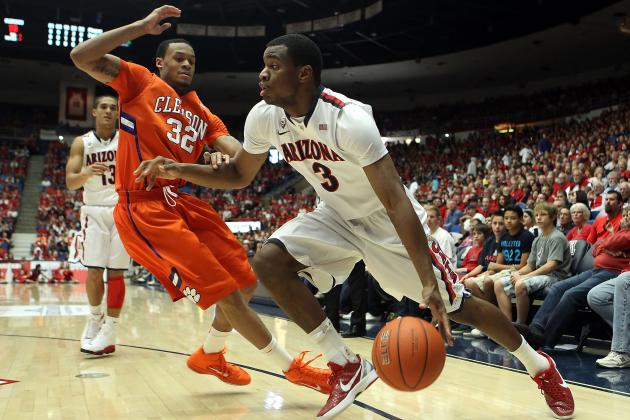 Christian Petersen/Getty Images

To say that Kevin Parrom had a tough 2011-12 season would be a huge understatement.
Not only did he have to cope with a season ending injury in January when he suffered a broken bone in his foot, but he had to also deal with his grandmother passing away after he himself was shot when visiting home.
Parrom's first time back on the court yesterday demonstrated that he didn't let last year's hardships prevent him from finishing his collegiate career on an upturn.
The 6'6" wing led all Wildcat scorers with 21 points on 7-of-10 shooting (four-for-seven on three-pointers) from the field and three-of-three from the line. The crazy thing is that he did all of this in 18 minutes of playing time.
Parrom won't have to score this many points to be a big-time contributor to this Arizona team.
The Bronx native brings a toughness and physicality that changes the way the 'Cats play when he's on the court.