3 Creative Ideas to Finally Solve New York Yankees' RISP Nightmares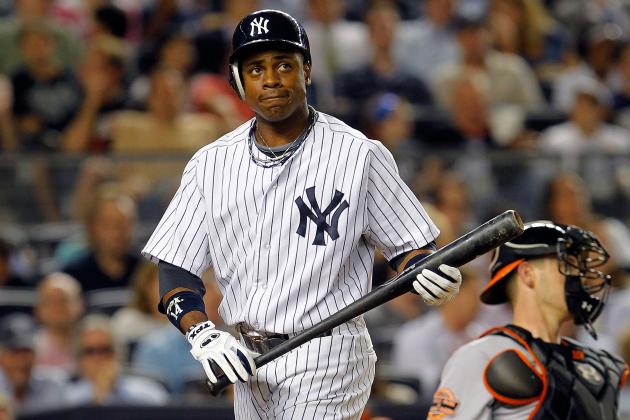 Jim McIsaac/Getty Images

Despite the injuries, the New York Yankees are still one of the best teams in baseball. Their pitching is strong and even with Andy Pettitte and CC Sabathia on the shelf and they will have enough to survive until their two lefties make their returns.
Their bullpen is one of the best in baseball, despite the loss of the greatest closer of all time, Mariano Rivera, to a torn ACL. Rafael Soriano has stepped in as closer and is one of the best in that role this season. With David Robertson, Boone Logan, and the return of Joba Chamberlain, the Yankees will be just fine finishing off games.
Now let's stop talking about pitching. The Yankees aren't known as the "Bronx Bombers" for nothing, right? Isn't it their offense that has them consistently crushing opposing teams? I mean really, one through nine, is their even a break in that lineup?
The answer is yes. Opposing teams seem to consistently get breaks in the Yankee lineup when the Yankees have one or two runners in scoring position. When a runner reaches second, the guys at the plate seem to stop producing. It's surprising really, since the Yankees rank second in the majors in runs scored, just behind the powerhouse Texas Rangers. But I guess that's the effect of hitting the most home runs in the majors, and by far.
However, the Yankees cannot win in the playoffs if they are relying on the long ball, so they need to fix their issues with hitting with runners in scoring position. Here are a few ways that they might be able to do that.
Begin Slideshow

»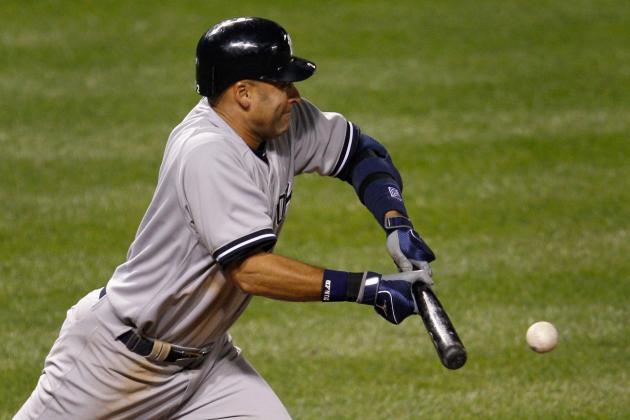 Rob Carr/Getty Images

You don't always have to swing for the fences to drive a run in. In fact, a lot of the time, it's better to not try to go deep when there's a runner in scoring position. If there's a runner at third with less than two outs, who's going to expect Robinson Canó to drop a bunt down?
No one, which is why it would work.
The Yankees are not good at taking advantage of small opportunities throughout the course of a game. If there are runners at second and third with no outs, Mark Teixeira is likely going to try to hit the ball as far as he can. That way, he either gets the desired result—a home run or a sac fly when the ball doesn't go as far as he'd have liked. Instead, a lot of the time these attempts turn into pop-outs, one of the very few ways you don't drive in the runner.
Dropping down a bunt, or hitting a ground ball to the right side, can both score the runner from third and move the runner at second to third with one out. And eventually, those ground balls that you're trying to hit will start to sneak through, and just like that, you start hitting with runners in scoring position.
But what about when there are two outs?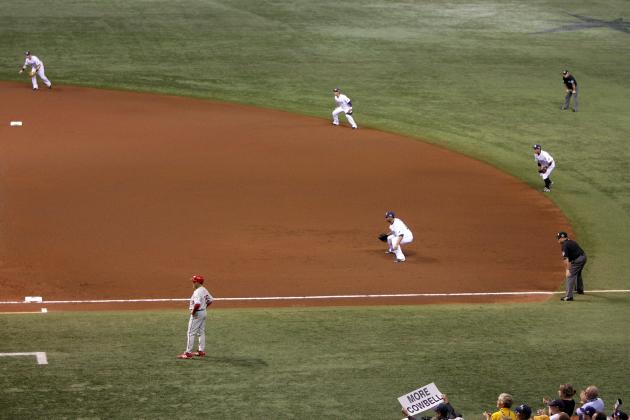 Doug Pensinger/Getty Images

What frustrates me the most during a Yankees game is when either Curtis Granderson or Mark Teixeira is up to bat with runners on base and two outs, and all they manage to do is hit a line drive to short right field—right at the second baseman. Why is the second baseman in short right field? Well it's a classic defensive shift, and there are three infielders on the right side.
So, people like you and me might think to ourselves, "well why don't they just hit the ball to the left side of the infield?" Well, if there's a good reason as to why they shouldn't do just that, no one has yet to come up with it. Announcers are always saying "the Yankees don't pay Teixeira $22 million to hit singles" but here's the thing, they pay him to drive in runs. Yes, sometimes when he and Granderson try to, they hit home runs right over those shifts, but a lot of the time all they do is hit directly into them and strand those runners.
It's not really that creative of an idea, but seriously, just hit it weakly the other way. An RBI is an RBI, and it's those kinds of opportunities that the Yankees will need to take advantage of when they're in the playoffs facing a Justin Verlander or a Jered Weaver.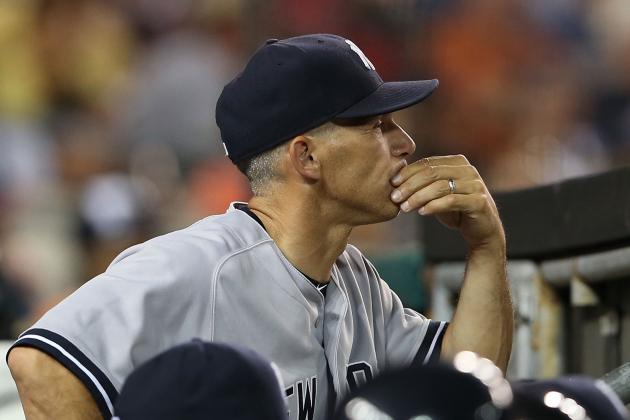 Leon Halip/Getty Images

Perhaps the main reason that the Yankees have so much trouble is that they don't have the right guys penciled into the RBI spots in the lineup. Unless your name is Joe Maddon, you know that certain types of players need to hit in certain places in the lineup in order to optimize run production. Let's break it down.
The leadoff hitter should be the guy that hits for a high average, has at least decent speed, and should be able to lay down a bunt when need be. Who fits? Derek Jeter
The two-hitter has one job: get on base. Whether it be a hit, a walk, whatever, all that counts is a high OBP. Who fits? Alex Rodriguez, Nick Swisher
The three-hitter should theoretically be the best hitter on the team, the guy who can hit for average and power, and do so at a high level. Who fits? Robinson Canó
The cleanup man is more or less the same, except he can afford to slouch a bit on the batting average if the power is good enough. Who fits? Mark Teixeira
The five-hitter should be a power hitter. His batting average doesn't matter, he simply needs to try to drive the run in. It's expected that he swing for the fences, and it's understood that he will probably strike out a bit. Who fits? Curtis Granderson
The six-hitter should also have decent power, to ensure that the opposing pitcher cannot just pitch around the five-hitter. Veteran hitters suit this spot in the lineup, as they likely have some diminished power but are still a threat at the plate. Who fits? Nick Swisher, Raul Ibanez, Andruw Jones
The seven-hitter should have a decent batting average, a decent OBP, or at least be the guy that can be relied upon to put the ball in play. Who fits? Eric Chavez, Raul Ibanez, Nick Swisher
The eight-hitter is usually a one-dimensional batter. Either a guy with decent power (15-20 HR) or a guy with a decent batting average (.270) will do the trick. Who fits? Russell Martin, Chris Stewart
The nine-hitter is the "worst" hitter on the team. This doesn't mean he needs to be bad, as usually managers use it for a defense-first catcher or a "second leadoff hitter". Who fits? Ichiro Suzuki, Russell Martin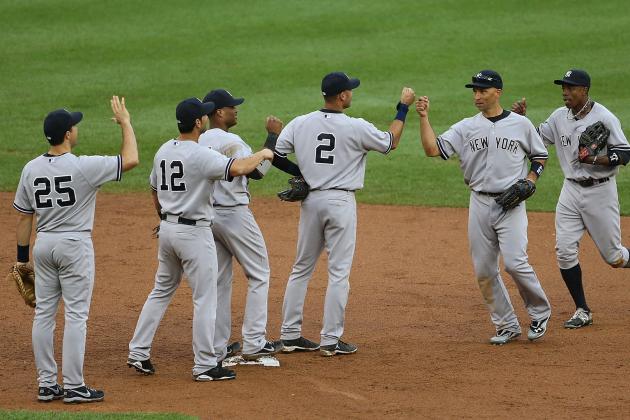 Leon Halip/Getty Images

The Yankees are a very good team, arguably the best in the American League. They will absolutely enter the 2012 MLB Playoffs as a favorite to win their 28th World Series title. But in order to reach that ultimate goal, they need to alter their play.
The home runs aren't going to cut it in the postseason, when the Yankees will probably be matched up first against one of the AL's best pitchers, a group that includes the Halos' Jered Weaver, Chris Sale of the White Sox, or Detroit's Justin Verlander. These pitchers aren't going to make too many mistakes, which is a key ingredient in most home runs.
The Yankees will need to hit good pitches, and excel at every aspect of the game. Play small-ball, push the runners over, bunt. Adjust your approach. If the infield is open on the left side, hit it there, don't underestimate the value of a solid single.
And lastly, Girardi needs to construct the lineup to win. He's starting to play it smarter lately, but something tells me he'll revert to his old ways upon A-Rod's return. He needs to deploy a lineup like this one almost every day:
1. SS Derek Jeter
2. 3B Alex Rodriguez
3. 2B Robinson Cano
4. 1B Mark Teixeira
5. CF Curtis Granderson
6. RF Nick Swisher
7. DH Ibanez/Chavez/Jones
8. C Russell Martin
9. LF Ichiro Suzuki
A lineup like this one will put hitters in positions in which they are more comfortable at the plate. And being comfortable at the plate means being comfortable in spots with runners on base—perhaps in scoring position.