Dallas Cowboys: Why Now Is the Time to Take the Flier on Plaxico Burress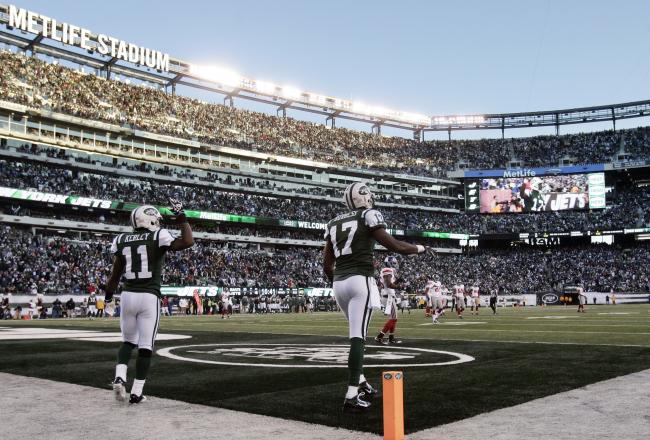 Rich Schultz/Getty Images
Despite the evidence of conflicting reports surrounding Plaxico Burress, the Dallas Cowboys certainly drew a ton of attention last week just by the mention of a possible connection. Were they engaging in talks? Were any parameters of a deal in place? Or was it absolute rumor and speculation?
Putting his past transgressions aside for a second, Burress is a talented, veteran receiver, who is looking for one last chance to prove himself as a productive receiver. The Cowboys wouldn't even have to depend on him heavily if they signed him. If he can stabilize the picture at receiver, show the youngsters how it's done and also give the Cowboys a legitimate threat in the red zone, then everybody wins.
I just don't see how Jerry Jones can turn a blind eye to the possibility of signing him, but perhaps his reasons are valid. Would Burress be a progress stopper? Maybe, but here are some additional reasons why taking a flier on him, if that's the direction of management, needs to happen pronto.
Salary Cap Friendly
Not only is Burress looking for an opportunity, but how can money be his priority without leverage? This could easily be a cap-friendly deal that resembles Terrell Owens' deal of $1 million for one year. Even if Burress can capitalize on a productive, one-year campaign with the New York Jets, it would be hard to imagine him getting in excess of $2 million.
He Has Something Left in The Tank
Despite turning 35 this week, Burress doesn't possess the wear and tear on his body that a typical 35-year-old receiver is expected to have. Unfortunately, that's the byproduct of a lengthy prison sentence. We all saw the type of dominance he displayed for the New York Giants as they went on their magical Super Bowl run.
That type of play will not be expected of him currently, but he did manage 45 receptions for 683 yards and eight touchdowns last season for Gang Green. Those sound like Laurent Robinson replacement statistics to me. That type of evidence makes it rather clear that he can still play. The fact that he was able to accomplish that while being away from the game is worth giving him credit for.
Familiarity With NFC East
Nothing would be sweeter than to see Burress squarely in the middle of those fierce NFC East battles. More to the point, Burress would get the chance to face the Giants twice and perhaps take those negative feelings toward that franchise and turn it into a positive for the Cowboys.
Having him on the team could really payoff in December, as he's very accustomed to playing and performing well in big games. This could be very valuable to a team looking to reverse many December misfortunes.
Red-Zone Weapon
Adding Burress to the mix with other weapons like Miles Austin, Dez Bryant, DeMarco Murray and Jason Witten is, quite simply, more than an intriguing thought. This could allow for many alignments and possibilities within the passing game. He can play the slot or outside, he can help the running game by using his big frame in blocking and he can create mismatches for himself as well as others.
Adding versatility to the offense is just one facet of his game, but an even bigger facet would be his effectiveness in the red zone. Just his size alone would allow Tony Romo to have another big target that's capable of using size to his advantage. With teams expecting Witten to attack the middle and Bryant and Austin to utilize fades and slot routes, Burress would now be another headache.
For the Cowboys, the scenarios would be endless and so could their inflated offensive statistics.
Time is Running Out
If the Cowboys are going to make this move, or at least entertain the thought, it's time for Jerry and Stephen Jones to get this done. They seem pretty fond of their young receivers, but there are still far too many questions surrounding the group. Young players don't always translate practice into game situations but Burress could lead by example.
But time is running out for two reasons. First, the longer the Cowboys wait, the longer it would take to integrate Burress into the offense and learn the nuances. The last reason, and most obvious, is that injuries are starting to occur across the league, depth is getting depleted and teams are starting to realize their weaknesses.
Other teams are starting to take notice of Burress and the New England Patriots are one of them. He is set to work out for the team and that could spell trouble for Dallas. With Terrell Owens latching on in Seattle, Burress should be soon to follow.
The question for Burress is will Dallas be his landing spot. If it is, it has to happen now.
This article is
What is the duplicate article?
Why is this article offensive?
Where is this article plagiarized from?
Why is this article poorly edited?

Dallas Cowboys: Like this team?