WWE vs. TNA: Who's Been Better This Week? (Aug. 5-11, 2012) Plus Intro
Image: wetalkwrestling.com
Hello, and welcome to the first of what I plan to be a weekly series of articles. In them, I will watch and review WWE Raw, TNA Impact and WWE Smackdown as well as both promotion's PPVs, and judge who I think has been the best each week; and also talk a bit about where they're going right and wrong in my view.
So that you know where I'm coming from, here's a bit of background about my wrestling-watching history. I watched WWF/E faithfully from 2001 to 2003, then stopped for quite some time. A few years ago I started looking up old matches for nostalgia value and then began watching WWE again to see what it was like now. I'd watch occasionally, and this became full time (every Raw, Smackdown and PPV) around 2 years ago.
TNA I'd look in on very occasionally and usually be put off by something and dismiss it entirely—I remember once giving it a go, seeing Jeff and Karen Jarrett clowning around with a Mexican title belt and immediately giving up on it again.
However, I started watching every Impact and PPV since last year's Bound for Glory, and have found that despite whatever issues it seemed to have before, it's been pretty good consistently—and in fact often better than the WWE's output, only really lapsing when Bobby Roode would feud with Sting.
Recently then, I'm pretty keen on TNA as compared with WWE. And yet, if it gets to the weekend and I've got both Impact and Smackdown saved to watch, I'll always watch Smackdown first. Perhaps owing to its longevity and nostalgic appeal, I can always get more excited over WWE. In general, I think it has more talent than TNA—which makes the real disappointment when it uses it poorly.
It's fair to say much of TNA's top talent is made up of ex-WWE superstars, but even this is changing with the rise of Aries, Roode and Storm. There often seems to be a snobbishness on the part of WWE fans regarding TNA, but I think this is unfair, at least since I've been watching it.
It's this and the fact they're often of close and comparable quality that means I think it would be interesting to compare each week and see who comes out on top. With big recent changes in Raw passing its 1000th episode and moving to 3 hours and Impact currently being live, this seems to be a good time to start.
As a side note, the week I'll be using will be Sunday to Saturday, so any PPVs will be the first thing and Smackdown the last. So let's make a start, with August 5th-11th 2012.
Begin Slideshow

»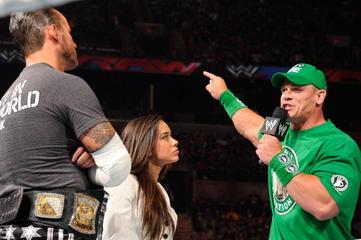 Image: wwe.com
Raw opens with a segment featuring AJ, CM Punk and John Cena. I cannot fathom by what logic Vince would make AJ the Raw General Manager. Before this, all she was know for was being a mad woman. The madness may have conveniently cleared, but she seems to be in the role for the want of anyone else current and notable in a largely non-wrestling capacity.
And while she's not meant to be mad, she's still employing all the same mannerisms as before (head tilt, skipping, affected speech), and it's quite irritating.
Faring better is CM Punk. To me, his character ever since the Raw walkout last year has been a lightweight caricature; pretty much Bart Simpson. His heel persona—fully exhibited for the first time throughout this Raw—is much closer to the compelling man who gave his famous promo last year and is much more interesting.
It's also good to see him get a clean win over Rey Mysterio, rather than succumbing to the WWE disease that makes heels suddenly incapable of clean victories.
The other big story throughout Raw is Sheamus stealing Alberto Del Rio's car and ruining it. Pretty much a barrel-scraper in attempts to make Sheamus a likeable, roguish cheeky chappy. Not only is stealing an expensive car and ruining it a completely heel move to me, it's a naked attempt to emulate the kind of things Stone Cold Steve Austin would do to Vince McMahon, only Del Rio really doesn't deserve it.
The low point came when Sheamus implied he'd defecated in the car: "Sorry about the smell but Mexican food goes right through me."
Raw's problem is that it seems to be a shopping list of perfunctory segments: Ryback squash, Prime Time Players, Sandow. Even the HHH and Brock Lesnar bit feels perfunctory, despite the inclusion of Shawn Michaels (who's been seen more on Raw than Jack Swagger recently).
Predictable's the word, literally, in the case of The Big Show vs Randy Orton: clearly no one would one go over clean (despite their last meeting months ago being a five-minute Orton victory), and I knew it'd be a double countout as soon as Show threw Orton over the ropes.
Nevertheless, there were some good matches. Kane vs Miz had the expected (and correct) result, though Miz still looked strong. Daniel Bryan vs John Cena was really good, if only in the same way Bryan vs Sheamus at Extreme Rules was: a SuperCena ending was to be expected, but for the rest of it Cena acted as Bryan's proverbial broom for him to put on a mini-masterclass (excepting where Bryan kicked the bottom rope some distance away from Cena's head, but he sold it anyway).
Also curious was the Ziggler match, which seemed to focus as a backdrop to Jericho on commentary and had the standard "loser is rolled up because he's an easily distracted idiot" ending. But then, The Rock once lost to The Hurricane in the same way.
The show's close with the Big Show on top was just what was needed to keep him looking dangerous.
Once major positive was the absence of fan Touts. Though I did have an angry rant lined up should they appear again, so hopefully they'll appear just one more time.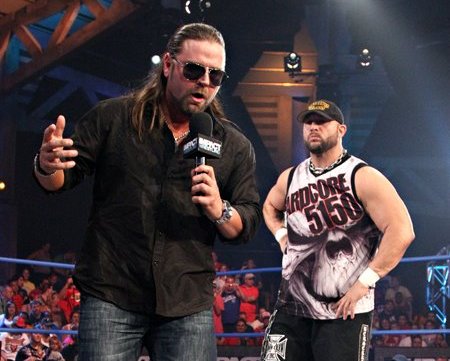 Image: impactwrestling.com
Impact kicks off with Bully Ray and James Storm on the mic. This is good, opening with two great mic workers—it gets the crowd fired up.
The nature of the Impact Zone's location and live audience means there can often be the trouble with the crowd being a bit dead, having a big impact (no pun intended) on the atmosphere—and being live means no canned heat in post-production. Whether or not remedying this was the intention of the opening, it was a great effect.
The big storyline at the moment is a group of disguised biker-looking folk called the Aces and Eights attacking members of the roster, and the suspicion of their involvement with James Storm. I'm enjoying it, even though it'll probably just end up being Jeff Jarrett.
The second biggest storyline is AJ Styles being accused of infidelity and a pregnant woman to show for it, but thankfully that's largely left alone this episode.
Beyond the Aces and Eights overshadowing everything, the focus is mostly on wrestling over story. The first match was a great little bout between Rob Van Dam and Magnus that, despite being over fairly quickly and cleanly, didn't make the loser look any less credible.
That's the nature of the Bound for Glory series of which TNA's in the midst—some great television matches with clean finishes (take note, WWE). Tag champs Christopher Daniels and Kazarian had a successful and entertaining defense against Devon and Garrett Bischoff without any need for a build up over weeks and months (again, take note WWE).
Gail Kim and Miss Tessmacher (formerly Brooke Tessmacher, pointlessly changed when Namesake Hogan joined the show) had a decent contest, and Bully Ray scored a little bit of an upset over James Storm in the BFG series main event match.
Despite Bully vs Storm being the main event, mid-show we were treated to Kurt Angle vs AJ Styles—without a doubt the match of the week. Even with a relatively short time they were able to put on a magnificent show of back and forth action, pacing and late kickouts.
And again, just because there had to be a loser didn't mean they looked weak (take note, etc).
On Sunday is the next TNA PPV, Hardcore Justice. Aces and Eights interference is practically guaranteed, I just hope it's not too dominating—especially in the Aries vs Roode championship match, which has the stipulation that the loser gets no rematch.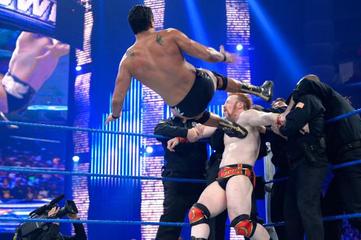 Image: wwe.com
Smackdown opens with its new GM Booker T, making AJ look like an inspired choice by comparison. The fallout from Sheamus' car theft leads to an insincere apology, Del Rio's non-acceptance of it and the bringing forward of their title match to that night so Del Rio can report Sheamus to the police without losing his title shot (I believe that was the logic).
Smackdown was ok if unspectacular for the most part, a great match between Christian and the very impressive Antonio Cesaro being the highlight. One curious segment saw Jinder Mahal squashing two jobbers (you could call it Jobber vs 2 Jobbers) to further his feud with Ryback.
This very quick attempt to make Mahal—who has only ever been a jobber for a long time—look credible is difficult to buy into. Jack Swagger, for example, would be a much better choice for genuine opposition to the former Skip Sheffield.
The approximately dozenth meeting between the Prime Time Players and Primo and Epico led to a fairly clever solution by AW to have the PTP come out the number one contenders once again.
New Intercontinental Champion The Miz suffered another loss, this time to Rey Mysterio. I suppose his matches this week have been intended to establish Kane and Mysterio as higher up the card than the IC title bracket, though considering his Raw loss to Punk I'd have given Mysterio to Miz anyway. It would at least give Miz a bit of momentum.
The promised Highlight Reel segment with Dolph Ziggler ultimately just featured Vicky in the speaking role. Jericho pretty much mocked her for the whole time (or as it's also known, "shooting fish in a barrel"), I guess to establish him as a definite fully-fledged face now.
Whatever else, I'm very excited his Summerslam match with Ziggler; I've long thought their styles would mesh brilliantly in the ring, and I'd have made it the Wrestlemania man event. It's just a shame one of them has to lose. I'm also looking forward to Kane vs Bryan, though I'm not keen at all on the whole Bryan going mad thing.
Despite their Money in the Bank match being the worst WWE PPV world title match since Big Show vs Mark Henry (excepting Wrestlemania of course), despite a world title being practically guaranteed to not change hands on TV without a surprise briefcase and despite there only being about 5 minutes of the show left guaranteeing no proper match, I was still interested to see what would happen with Sheamus and Del Rio.
I was quite happy with what transpired; partly because the mark side of me felt Sheamus frankly deserved it, but mostly because it keeps Del Rio looking dangerous.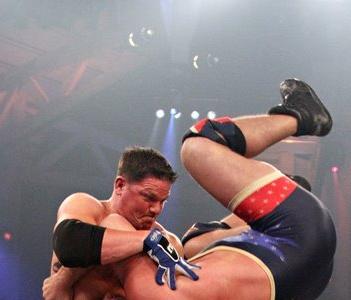 Image: impactwrestling.com
Show of the week: TNA Impact
A pretty clear win for Impact. WWE's output was pretty much average (with Raw a little worse than the blue brand), while TNA delivered a well-paced show with several great matches.
Match of the Week: Kurt Angle vs AJ Styles
Immediate runner up is Daniel Bryan vs John Cena, with CM Punk vs Rey Mysterio, Bully Ray vs James Storm and Christian vs Antonio Cesaro all worth a mention.
Thank you for reading! What are your thoughts? Agree, disagree—all comments are appreciated!