2012 Olympic Track and Field: Top 10 Moments of London Games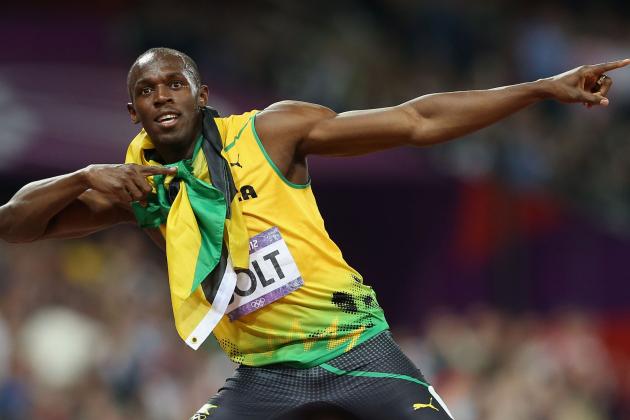 Streeter Lecka/Getty Images

Track and field sure had a tough act to follow.
The London Olympics' first week had more than its share of captivating storylines and moments. There was Michael Phelps finishing an unrivaled career. There was Missy Franklin and Gabby Douglas emerging as new superstars.
Meanwhile, track and field fans waited patiently for the sport to have its chance to grab the attention and the spotlight. With what came first, the events on the oval and in the field had to be truly iconic and memorable to stand out.
As usual, a cast of stars both old and new delivered in epic fashion.
Whether it was Usain Bolt topping himself again, British athletes capturing the spotlight with sensational performances on the home track or world records going down, the Olympics were chock-full of moments of triumph.
On the other side of the spectrum, there were moments of heartbreak and brutal twists of fate. Athletes' hopes of redemption and four years of hard work evaporating into thin air through injury or cruel happenstance.
In the following slides, I'll count down the 10 moments that stand out and will shoot to mind years from now.
It's impossible not to 'snub' somebody, so I apologize in advance. With all of the memorable performances in London, this was a problem I was happy to have.
Begin Slideshow

»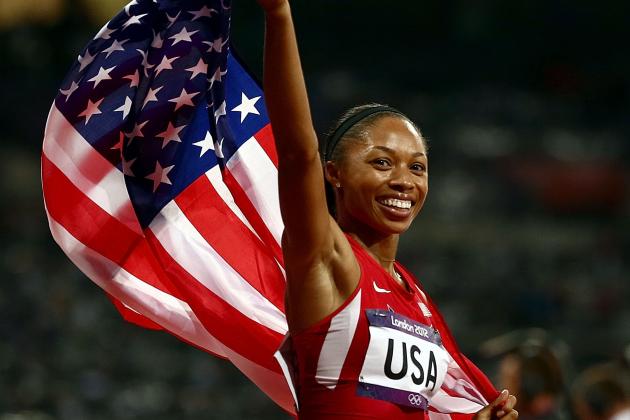 Quinn Rooney/Getty Images

As I wrote days before she lined up for the 200-meter dash final, Allyson Felix had it all besides one gaping hole in her resume.
She had a considerable collection of world titles, an Olympic gold medal on the relay and much, much more. What she didn't have probably gnawed at her more than we can imagine.
It was that elusive Olympic 200-meter gold medal. Despite her domination on the odd years, Jamaica's Veronica Campbell-Brown had twice thwarted Felix at the Olympics.
With two silvers, Felix had taken on the dreaded role as the event's bridesmaid. The buildup to this Olympics was the most promising one yet. She ran significant personal bests in the 100-meters and the 200-meters.
Meanwhile, none of her rivals, including Campbell-Brown, had distinguished themselves and broken 22 seconds.
Still, there was always the danger of one of them pulling it out and denying her again. After all, the Jamaicans had every reason to believe it was possible. Shelly-Ann Fraser-Pryce had won the 100-meter dash final, and was also running the best she had ever done in the 200.
Veronica Campbell-Brown shook off a lackluster season to nab bronze in her weaker event, the 100. Fellow Americans Carmelita Jeter and Sanya Richards-Ross had nabbed hardware in their respective event.
None of them were a match for Felix. With her improved start and drive-phase that came from her 100-meter improvements, she established her lead early.
On the homestretch, Fraser-Pryce was the only athlete in true striking distance. Felix's superior 400-meter strength made that a mismatch. She held on with a smidge of ease to erase the bridesmaid label and capture a much-deserved gold medal.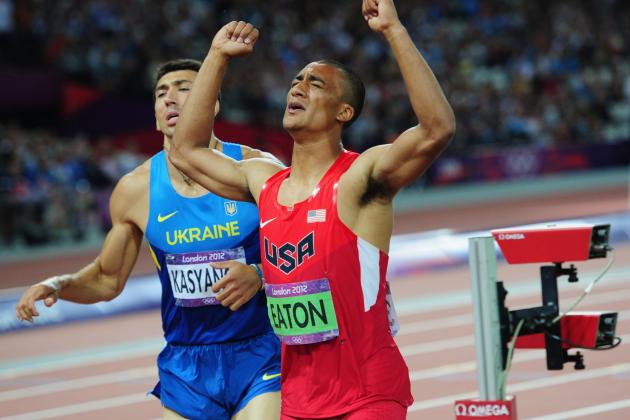 Stu Forster/Getty Images

He made it look so easy.
From someone who used to do a mere one of the events (the 1500-meter run), I can tell you it's not. The ten-event decathlon tests every aspect of an athlete's composition. Mentally, psychologically and physically there is little room for error and even less room to relax.
Still, amazing as it sounds, Ashton Eaton coasted to the title. He wasn't going to go after his own world record. In other words, he wasn't even going to go after maximum points.
With everyone taking a far more difficult tact, Eaton left points on the board in the pole vault. Despite looking well on his way to some higher clearances, he was content to call it a day early and leave some points lying right there.
He ran easily in the 1,500-meter run and allowed his achievement to sink in.
When he did really go after it, though, it was completely obvious that he was in his own stratosphere.
He absolutely destroyed his competition in the long jump and the 400-meter dash. He won the 100 despite U.S. teammate Trey Hardee running just 0.03 seconds off of a lifetime best. He and Hardee would also lead the field in the 110-meter hurdles.
In the high jump and pole vault, he barely gave anything away to the specialists. While the throws will never be his strength, he didn't relinquish even close to enough to give his competitors a fair shot at him.
This was a blowout, and the scary part about it is that Ashton Eaton is only 24. He has room for improvement in a wide array of events. There's room for him to keep putting his world record out of reach.
The best part? Perhaps, he'll go after every point in Rio.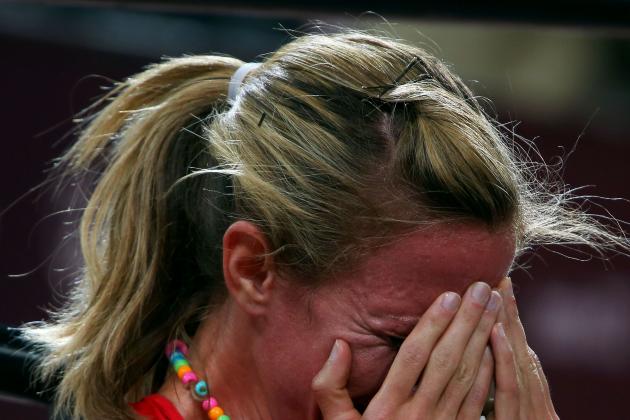 Alexander Hassenstein/Getty Images

This one was just brutal.
Morgan Uceny found herself in perfect striking position in the 1,500-meter run. After a slow pace, she was safely on the outside with 400 meters to go and ready to move whenever the moment was right.
With her excellent finish, she was set up to make a run at the medal and maybe even the gold. It was the exact position she was in last year when she was the favorite to win in the World Championships.
Both ended the in the same gut-wrenching fashion. Uceny lying helplessly on the track, the victim of another runner's clip.
This time there was no hiding her emotions, which had to be uncontrollable rage, disappointment and frustration. She pounded the track in disgust multiple times and began to sob uncontrollably.
It was a scene somewhat reminiscent of Mary Decker's fall in Los Angeles, but this one just seemed crueler and even worse.
Uceny had likely spent all year thinking about how this meet could be redemption for last year's disappointing finish. In both cases, her falls were not of her own doing. It was just bad luck, plain and simple.
Now, history had repeated itself and she'd been robbed of two medal runs in the prime of her career. Making matters worse, the winner was Turkey's Aslı Çakır Alptekin, a convicted doper who had served a two-year suspension in the past.
This 1500-meter final just sapped all of the good feeling out of you.
It was impossible to focus on the finishing stretch with Uceny lying there with her face drenched in tears, unable to do anything about another cruel twist of fate.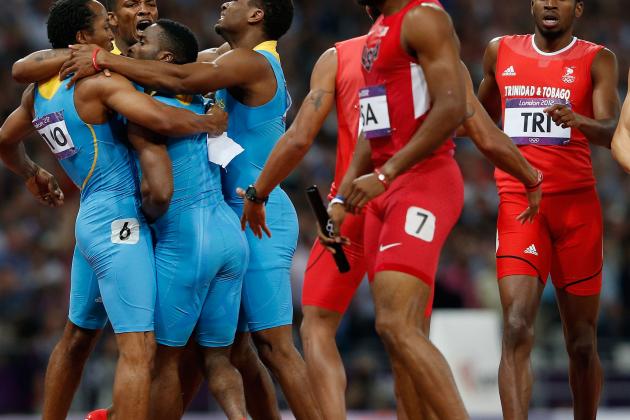 Jamie Squire/Getty Images

This year was not a banner-year for America's best quarter-milers.
This was in marked contrast to the success of the 2008 Beijing Olympics. There, LaShawn Merritt and Jeremy Wariner went 1-2 in the individual 400-meter dash and led the relay to an easy win in the 4x400-meter relay.
Wariner was plagued by injury and underperformance this year and didn't even try to participate in London. Merritt made it onto the oval, but a hamstring injury ended his games in the 400-meter dash preliminary heats.
Suddenly, the usually unbeatable American team was in a world of trouble. Many still liked their chances with a deep stable of quarter-milers in the ranks. Their greatest challenge, after all, was coming from the Bahamas, a country of just over 350,000 inhabitants.
In the final, Bahamas jumped out to an early lead before USA's third leg. Tony McQuay's stellar 43.4 split seemed to restore order. He gave the lead over to 400-meter hurdler and relay veteran Angelo Taylor to bring the gold home.
Taylor's credentials were enviable. Two gold medals in the Olympics 400-meter hurdles, a bronze in the World Championships 400-meters, and a 44.05 second personal best.
Chasing him for the Bahamas was the unheralded Ramon Miller. Sporting a modest 44.87 personal best and no finals in the individual 400-meters at global championships, most would have thought the race outcome was a foregone conclusion.
Miller had different ideas. He steadily gained on Taylor with some fearless running. At 100 meters, he was a step behind but gathering on Taylor's shoulder. With 60 meters to go, he was there to pounce.
He roared past Taylor and took his island nation to gold over the big, bad USA.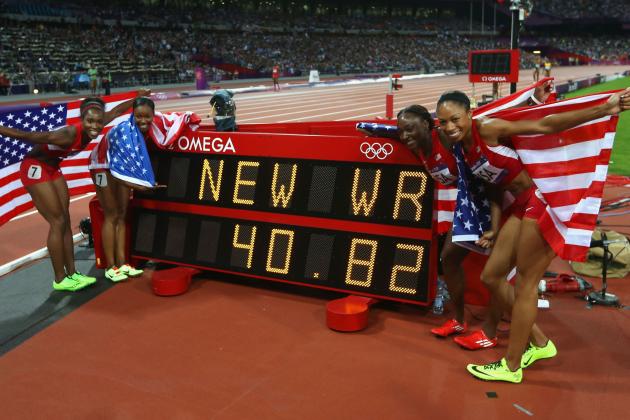 Streeter Lecka/Getty Images

Before the Olympics, the record in the women's 4x100-meter relay was definitely one that looked vulnerable. When the Americans nearly took it down with a lineup featuring a couple of "B-teamers" in the semifinals, it was on life support.
Yet, even with everyone expecting history to be made, the American quartet managed to shock and amaze with a mark that obliterated anything else in history.
Their time of 40.82 seconds destroyed a 27-year-old mark set by the East Germans by an astonishing 0.55 seconds. That type of margin is significant in a 13-minute race like the 5,000, let alone a 400-meter relay.
Underscoring the sheer absurdity of the feat was the Jamaicans nearly breaking the record and being nowhere even close.
This a Jamaican team, whose "worst" sprinters had Olympic silver medals in individual events. Headed by 100-meter champ Shelly-Ann Fraser-Pryce and two-time 200-meter champ Veronica Campbell-Brown, they were simply left in the dust.
The special mark was, as you'd expect, set by a veritable dream team of American sprinters.
Leading off was Tianna Madison, an excellent starter, having the best sprinting season of her career. She ran a race that maybe she wishes she could've replicated in the individual 100 where she came up just short of bronze.
Next was Allyson Felix, who with a running start is probably the fastest in the world. On the straightaway with her improved 100-meter running she was almost an unfair luxury to break the race open.
Third was Bianca Knight, probably the most unheralded of the group. Knight was on the team because she was a specialist. She is an excellent turn-runner and with her weakest part of the race, the start, negated she was able to keep the astounding run going.
Last and certainly not least was Carmelita Jeter, who is one of the fastest women of all-time. She, again, is not known for her start but rather her top-end speed. She sure flashed it, blowing away the Jamaicans and the record in one fell swoop.
She was watching the clock the whole way, knowing history would be made. Still, she and everybody watching had no idea that it would be made so emphatically.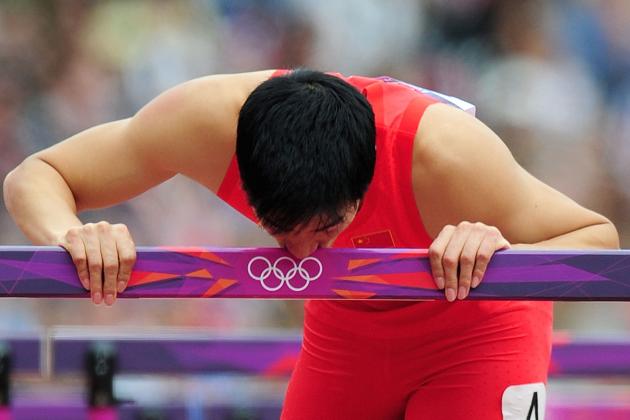 Stu Forster/Getty Images

Since winning a groundbreaking gold for China in the 2004 Olympics, injuries have conspired to make each successive games another heartbreak for 110-meter hurdler Liu Xiang.
In the 2008 Beijing Olympics, with the pressure and dreams of the host country squarely on his shoulders, Liu couldn't even compete after lining up on the track. His Achilles' injury prevented him from giving a stunned crowd in the Bird's Nest a chance to see him defend his title.
Worse, despite some encouraging results between 2008 and 2012, the injury was far from done torturing Liu.
As he attempted to run the event in this Olympics, it flared up on him again after an opponent's false start and he was unable to even clear the first hurdle in his race.
Unable to place any weight on his Achilles', he hobbled around before turning the moment into one of the most inspiring of the Olympics. After getting to the tunnel, he made a decision to do his best to finish the race.
Mustering all of his courage and determination in the face of what must have been overwhelming pain, he hopped his way over to the final hurdle. He kissed the Olympic rings on the final hurdle and showed that the injury couldn't drain him of his spirit.
Completing the moment were his competitors in the heat, who came to his aid and helped him make it to the medical personnel.
It was another unfair and awful twist in Liu Xiang's career, but he showed that it couldn't take away his fight and determination. If this is the last we see of Liu in the Olympics, we will remember his heartbreaking injuries. However, we might remember his courage in the face of them even more.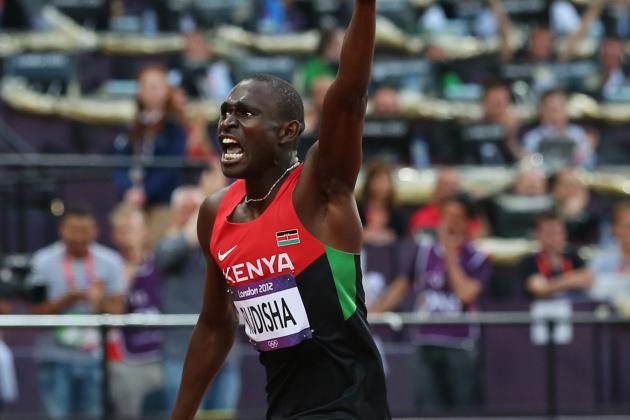 Alexander Hassenstein/Getty Images

The results were astonishing. With just eight starters, there were three national records, a world junior record, seven personal bests, and perhaps most astonishingly, a world record. The athlete who didn't set a personal best, did run his best time of the season.
It was all made possible by one Kenyan. David Rudisha elevated 800-meter running to new heights with a flawless performance. He did what few would have even attempted.
A world record without rabbits, competition or an optimal build-up. The performance was completely determined and uncompromising. After Sudan's Abubaber Kaki fought him for the early lead, Rudisha put his foot down and ran 23.4 seconds for the first 200 meters to protect his race plan.
He kept on moving with a 49.2-second first 400 meters. It was apparent the man meant business in the next 200 meters. He blew away the athletes hanging on his back with an absurd 25.02 200-meter split from 400 to 600.
Suddenly, he had a seven-meter lead and the two athletes who had tried to stick with him, Kaki and Ethiopian Mohamed Aman, were fading like mere mortals.
Rudisha kept his lead and pushed valiantly to set the world record in 1 minute, 40.91 seconds. Everyone else was towed to performances many of them surely couldn't have envisioned in their wildest dreams.
A 17-year-old Kenyan, Timothy Kitum, ran a massive personal best to run 1:42.53, one of the fastest of all time. Ahead of him was an 18-year-old Botswanan, Nijel Amos, obliterating his personal best with a 1:41.73 clocking.
Two Americans, Duane Soloman and Nick Symmonds, nobody would have pegged for running under 1:43 broke the barrier and didn't even land a medal.
British athlete Andrew Osagie ran 1:43.77 and finished last. That time would have easily won the last three Olympic finals.
Only these Olympics had the incomparable David Rudisha, a man who constructed the greatest 800-meter race of all time.
Stu Forster/Getty Images

It made sense that they did it together. Two athletes striving to break droughts that had beleaguered their countries for too long.
Galen Rupp and Mo Farah came together in Portland, Oregon, to try and go 1-2 on the podium, in an event that had been dominated by Kenyans and Africans for decades. Few would have thought that possible with national records, not medaling, having become the new standard of success.
Rupp, looked wildly out of place at the front of most 5,000 and 10,000 meter races for most of his career. His pale skin and blonde hair stood out and for a while it wasn't his running at the end that did.
Still, he'd made a solid progression of the ranks and his personal bests now put him in solid footing versus nearly any of the best of the world.
Farah, broke through in 2011 and entered the Games as a favorite or at least co-favorite with the great Ethiopian Kenenisa Bekele. His biggest challenge was keeping a narrow focus as the obsessive British public agonized over his every move.
Under Alberto Salazar's expert guidance, they arrived in London prepared to do something special. Rupp had broken something of a barrier in dispatching U.S. teammate Bernard Lagat in the 5,000-meter run at the U.S. Olympic Trials. He could now close with the best.
Farah's season had given little reason to doubt his fitness and preparation to attack the task at hand.
Still, winning and breaking a lengthy drought had to be done on the track and not on paper. The pressure and enormity of the stage could bring down many athletes.
As the 10,000 started off the pace settled into a lull. The Tanzanians including the great Zersenay Tadesse upset that rhythm, but Farah and Rupp stayed patiently a good distance behind.
Farah would relate later that he'd advised Rupp to sit tight when the American had expressed some desire to go onto the back of the Tanzanians fearing the race would get away.
His advice was golden and as the race reached its closing stages, both Farah and Rupp were perfectly placed to make history. With Farah seizing the lead at 400 with Rupp just a few steps back it came to fruition.
Farah saved plenty for the homestretch and pulled away as the British went bonkers for their champion. Meanwhile, Rupp blew by Ethiopian Tariku Bekele and ended long-suffering U.S. distance fans' wait with a silver medal.
Two training partners were atop the distance world, and for the first time in what seemed like forever their countries were too.
Pascal Le Segretain/Getty Images

Heptathlete Jessica Ennis was all over London. She was on billboards, the front pages of all the newspapers and led all of the Olympic coverage. She was beloved and admired. But this wasn't unconditional love—it never is in sports.
She had a simple directive as Great Britain's "golden girl": come back with gold or don't come back at all.
In front of the adoring crowds and nation, she had to win to prove herself as the best female athlete in the world.
It was enormous pressure for any athlete, but Ennis proved her greatness and toughness with a comfortable win in the grueling seven-event test.
She affirmed it with great performances in almost all of the events that led to a British record and a challenge to the vaunted 7,000-point club. An absurd 12.54-second showing in the 100-meter hurdles would have seen her as a strong medal contender in the individual event.
By the second day, she had it locked up barring disaster. Given her determination and sense of purpose, that was never going to happen.
That was when it really turned magical. Ennis' stirring come-from-behind win in the 800-meter run is one, in particular, that prompted hysterics in the crowd.
The title was hers anyway, but watching her give maximum effort to pass multiple runners on the homestretch was the perfect way to cap off a remarkable two days.
In the end, all of the media attention and pressure heaped on her was appropriate. She was correctly identified by everyone.
Jessica Ennis was the perfect face of the games and there was nobody who could have represented the host nation any better.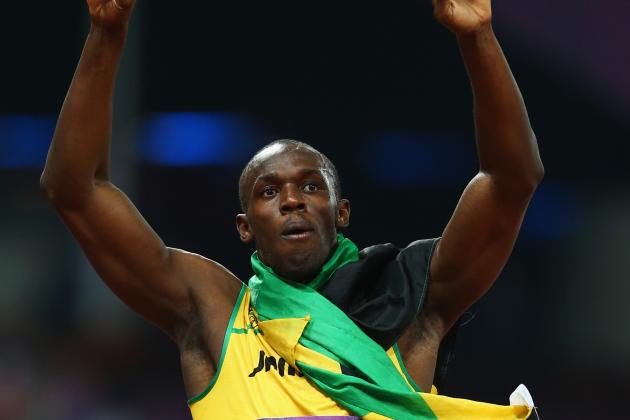 Michael Steele/Getty Images

There's not much I can say about Usain Bolt. I mean that literally because I ran out of superlatives and thesauruses to look for more.
Suffice it to say, the Jamaican cemented himself as the greatest sprinter of all time and the athlete of the games.
As usual, he ran video game times, amused, entertained and took center-stage whenever he took the track.
Facing his greatest rival yet in teammate Yohan Blake, he beat him in decisive fashion in both sprint events. Even after some drama with injuries and defeat in Jamaica, he approached the games with his typical bravado that is characteristic of a heavyweight fighter.
Off the track, he partied with Swedish handball players at 3 a.m. in the morning, continues to eat McDonald's and did all of the entertaining and maybe slightly maddening things one can do as a superhuman force.
Every time he took the track, the world watched with almost unreachable expectations and yet he surpassed them again and again.
It was another legendary performance, and until someone takes him off his perch as the world's most electrifying athlete he should finish at No. 1 in any list, including this one.