LeBron James and Team USA (7-0) have blown away the competition and are on the verge of a gold medal at the 2012 London Olympics.
However, the Americans now take on their toughest competition of the Games with a gold-medal final game against Spain (5-2). Both Pau and Marc Gasol have been making opponents suffer inside, while Jose Calderon continues to orchestrate the efficient offense.
After losing its first two games, Spain has won five consecutive games and come into this contest fresh off of a come-from-behind victory over Russia. Pau Gasol led the way in the victory with 16 points and 12 rebounds in what was Spain's most resilient victory of the Games.
Meanwhile, the United States are playing like a team that won't even be contested in the final. They outright embarrassed Argentina 109-83 after beating them by six points prior to the start of the Games.
Kevin Durant leads the way for Team USA with 18 points per game, and has been the outright star for this team throughout the Games. His play has propelled his teammates and the shooting has been jaw-dropping from the Thunder talent.
After both Spain and the United States have made their promising runs, it will all come down to this one surefire thriller in London.
This is everything fans need to be know about the gold-medal final at the 2012 London Games.
When: Sunday, August 12 at 10:00 a.m. ET (3:00 p.m. London)
Where: North Greenwich Arena, London, England
Watch: NBC Sports Network, NBC Basketball
Live Stream: NBCOlympics.com
USA Roster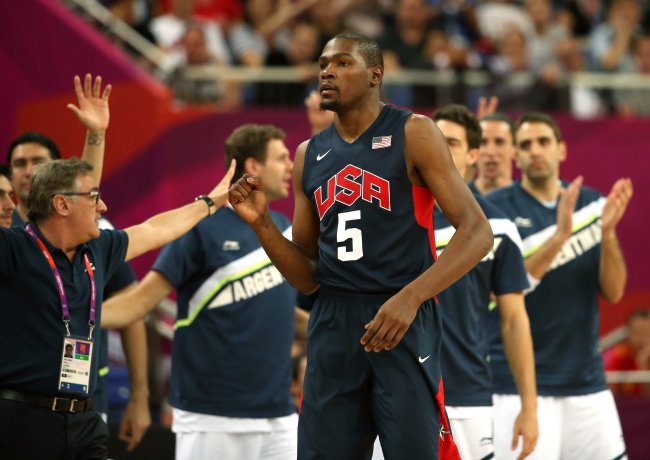 Christian Petersen/Getty Images
Guards: Chris Paul, Deron Williams, Russell Westbrook, Kobe Bryant, Andre Iguodala, James Harden
Forwards: Kevin Durant, Carmelo Anthony, LeBron James, Kevin Love
Center: Tyson Chandler, Anthony Davis
Spain Roster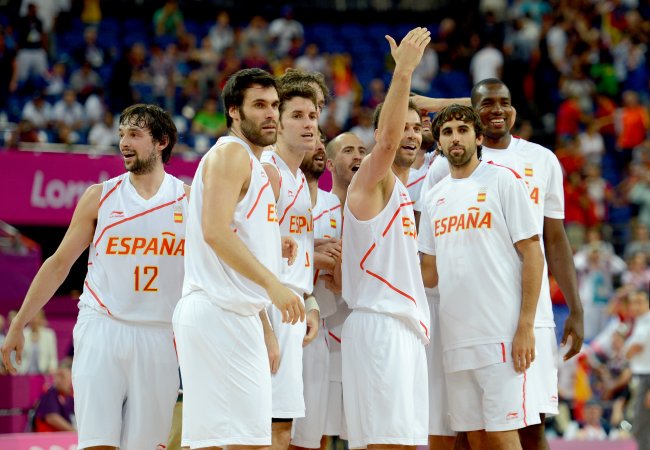 Lars Baron/Getty Images
Guards: Jose Calderon, Sergio Rodriguez, Victor Sada, Rudy Fernandez, Sergio Llull, Juan-Carlos Navarro
Forwards: Victor Claver, Fernando San Emeterio, Pau Gasol
Center: Marc Gasol, Serge Ibaka, Felipe Reyes
USA's Player to Watch: Carmelo Anthony
When Melo kicks it into fifth gear late in games, it's scary to watch.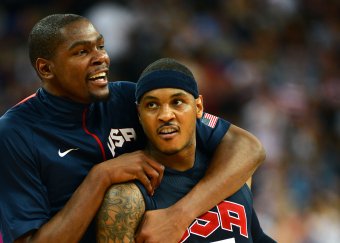 Lars Baron/Getty Images
His performance against Argentina in the semifinals was critical in the second half, and back-to-back three-point makes helped to break the Americans away.
Anthony's 17.4 points per game are good for sixth-best of any player in London and second-best on Team USA.
If he can get going in the second half like he did against Argentina, Spain will have little chance to keep pace with the Americans in the final.
Spain's Player to Watch: Pau Gasol
It was Pau Gasol's play that gave Spain the lift they needed to leave Russia in the dust, and it is exactly that type of performance that his team needs Sunday.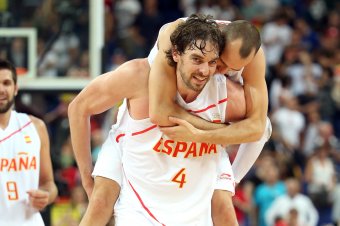 Christian Petersen/Getty Images
Gasol posted a double-double and totally dictated the play in the paint.
The one area where Team USA are lacking is in the frontcourt, which is where Gasol can try to create opportunities offensively. If he can do so early on, there is a chance that Spain can keep pace with the Americans in this contest.
Prediction: USA 105, Spain 95
It will be anything but close in this contest, as the Americans should run away with a win at London.
There is no team in the field that can keep up with this team's talent, and that is what will have the United States on top in the end.
Expect big games from Kevin Durant and Carmelo Anthony yet again, as they are as difficult to guard on the perimeter as any of the talents at the London Games.