Brazil vs. Mexico: Preview, Live Updates & Reaction from Olympic Soccer Final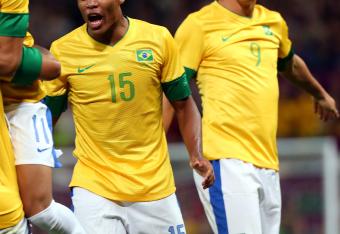 Stanley Chou/Getty Images
Mexico have triumphed over Brazil in the Olympic football final.
Brazil enjoyed regular spells of possession but a lack of cohesive unity and poor finishing proved costly to the five time world champions.
A poor defensive display from the back four did little to help the Brazilian cause.
The game got off to a dramatic start with Peralta punishing sloppy play from right back Rafael to score after 28 seconds; the quickest goal in the history of Olympic Football Finals.
From that point on Brazil enjoyed most of the possession and got forward regulalry, but their end product always fell short. A sloppy pass here and a clumsy shot there condemned them to going into half time facing a one goal deficit.
In a team of underperformers Hulk was the man who impressed the most. The Porto striker came on as a 32nd minute substitute and regularly asked questions of the Mexican back four, the problem being that his teammates were not playing with the same degree of urgency.
Mexico were everything that Brazil were not; well organised, united, strong and clinical. They had several opportunities to see the game off but it was not until the 75th minute that a second goal from Peralta condemned the Brazilians to yet another silver medal.
Hulk scored on the cusp of full time but it was to prove little more than a consolation strike for Brazil, who's hunt for Olympic Gold continues.
What does this result mean for Mano Menezes, is he the man to take Brazil to the next world cup?
Congratulations have to go out for Mexico. No one tipped them for success prior to kick off but from the 28 second mark onwards it only ever looked like there would be one winner.
Oh my goodness. Oscar had the chance to send the game to extra time, and what a chance it was. A superb cross from Hulk finds the Chelsea man's head deep in the six yard box, he was unmarked and unchallenged. It was a perfect cross and an easy finish. Oscar hit it over and the whistle blows.
The hunt for Brazil goes on. Mexico are Olympic Champions.
2-1.
Fabian had half a chance there to get a third for Mexico, got in behind the back two but skews his shot high and wide.
Have I spoke too soonn? Hulk scores on the 90th minute. Will that make a difference or is it little more than consolation?
Brazil have got no response. one minute to go and it's all over.
Marcelo gives away a stupid free kick. Peralta scores a header from the delivery. Not one Brazil defender moved. That was terrible from Brazil. Great run from the back of the box from Peralta and an emphatic header into the corner. It's no more than Mexico deserve. 2-0 with 15 mins to go. What a shock this could be.
Brazil deserve to be behind and Mexico look a dead cert for gold.
Corona shows Brazil how to defend from corners. Calm as you like as he gathers the ball.
Free header for Fabian and he hits it over. Terrible mistake, fantastic opportunity. Brazil's keeper was everywhere and Fabian had acres of space to take an unchallenged header. How did he get it over?
Brazil sacrifice defence for offence. Sandro is replaced by AC Milan's Alexandre Pato. 20 minutes to go, can he be the spark Brazil need to pinch glory?
Mexico score, but the linesman's flag is up. Brazil need to step it up still.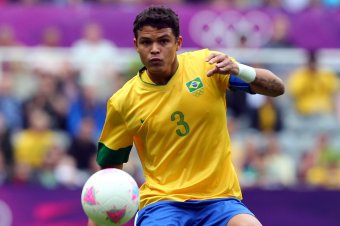 Stanley Chou/Getty Images
Horrible, horrible, horrible mistake from Thiago Silva. Fabian clean through on goal but the ball doesn't fall easily for him. Brazil keeper keeps the Mexican honest and forces Fabian into making a difficult bicylce kick that hits the bar.
Should have scored in my eyes, but the 'keeper did well. That's the thing with Brazil, they'll always give you a chance.
Mexico may have the lead but they're looking increasingly stretched. They need to regroup and try and hold onto some possession. At the moment Brazil's are beating themselves, but eventually they'll get it right with all the opportunities and possession they are getting.
All a bit scruffy from both sides, but a series of mistouches and deflections sees the ball arrive at Neymar's feet just outside the six yard box. Plenty of space, good angle, great chance to score. Neymar skies it.
Mexico look happy to sit back, dangerous tactic with half hour to go. If this continues I fancy Brazil to score.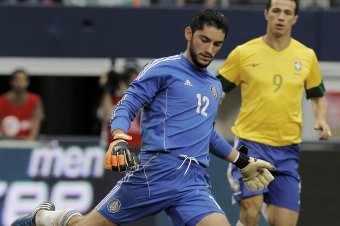 Brandon Wade/Getty Images
Looks like Neymar has just been flattened with a punch by the Mexico Keeper. Great ball from Oscar forced the 'keeper into action who punches clear with conviction, but followed through on Neymar.
He's 5ft9 and 8 stone 6. He needs to strengthen up because he shouldn't be hurt from that.
Oscar has been brilliant today, alongside Hulk he is the only Brazilian who can keep his head high right now. Feeds a great ball through to Neymar, but the 20-year-old Santos striker is off side. Definite opportunity for a goal if the run was better timed.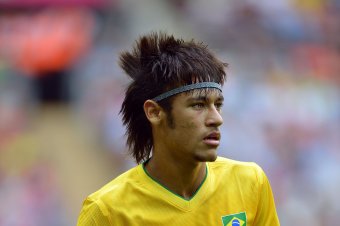 Jeff J Mitchell/Getty Images
Neymar didn't need to shoot then. Good effort considering it was between his feet whilst running with the ball but a through ball for Damiao could have engineered a one on one. Or am I being too harsh?
Hulk has easily been the best player in this final so far, he has engineered a lot of space since he replaced Sandro.
Both teams are having a little huddle ahead of kick off, will we see a Gold Medal awarded in the next 45 minutes?
Mexico take a 1-0 lead into half time.
Well Hulk's got another effort on target, but it was a weak header. The Porto man has changed things up though, there's more urgency to the Brazilians since he's came on and a goal could be just around the corner.
Neymar has all the makings of a great player, but is so so so light weight. I don't think he's diving, he is just weak. If he is to move to the Premier League he will need to bulk up- maybe that's why he wants to stay with Santos.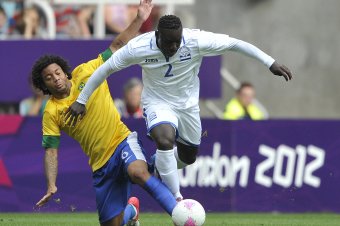 Francis Bompard/Getty Images
Marcelo may be the best left back in the world, according to Mourinho and Roberto Carlos, but for me I'd much rather have Ashely Cole. That tackle on Peralta was poor.
Lots of flashes of brilliance from Brazil, just now Oscar, Damiao and Marcelo linked up beautifully but the left back's shot was woefully wide. It's a shame because Oscar put in a great ball to Damiao who did equally well to hold off a defender and tee up Marcelo.
This article is
What is the duplicate article?
Why is this article offensive?
Where is this article plagiarized from?
Why is this article poorly edited?