From Derrick Rose to Michael Jordan: The Best of the Chicago Bulls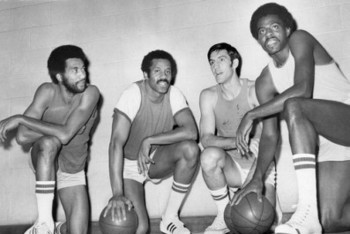 Photo credit to nbateamslist.com
Who are the ten greatest players in Chicago Bulls history?
A long line of talented NBA players have called the Windy City home over the past 45 years. Way back in the day, All-Stars such as Norm Van Lier and Chet Walker took the floor for the Bulls, but nowadays, Derrick Rose is the main man in town.
Ranking the greatest Bulls of all time was rather difficult since there are so many players who deserve a spot. Some impressive players failed to make the cut, including Tom Boerwinkle, Reggie Theus, Orlando Woolridge, Toni Kukoc and sharpshooters John Paxson and Steve Kerr.
Well, let's begin.
No. 10: Dennis Rodman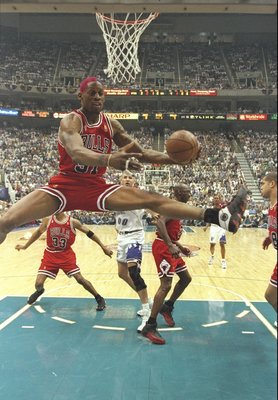 Brian Bahr/Getty Images
The Bulls traded for the colorful Rodman in 1995, sending Will Perdue out west to the San Antonio Spurs.
Wow, what a lopsided trade to say the least. Nothing against Perdue—he was a decent backup center—but Rodman is one of the best rebounders and defenders the NBA has ever seen.
"The Worm" helped Michael Jordan, Scottie Pippen & Co. win titles in each of his three seasons in Chicago, averaging a ridiculous 15 rebounds per contest.
The Bulls won those titles mostly because Jordan and Pippen were on the roster. However, if Rodman wasn't around, there's a good chance MJ and Scottie would own just three rings today instead of six.
No. 9: Derrick Rose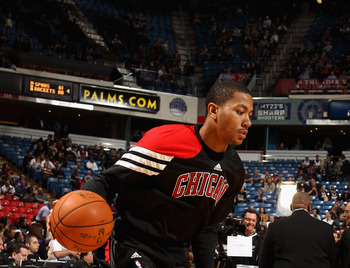 Ezra Shaw/Getty Images
Although Rose has only four seasons under his belt, he's already one of the franchise's all-time greats.
The super-quick and athletic point guard was taken No. 1 overall by his hometown Bulls back in the 2008 draft.
Rose picked up the NBA's Rookie of the Year Award and has been named an All-Star in each of the past three seasons. And nobody can forget that he was the league's Most Valuable Player in 2011.
Rose, currently sidelined with a torn ACL, should be placed a lot higher on this list by the time his career comes to a close.
8. Horace Grant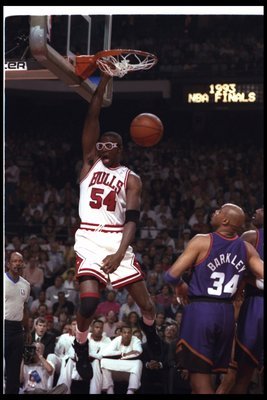 Jonathan Daniel/Getty Images
Chicago selected Ho Grant with the 10th overall pick in the 1987 NBA draft.
The goggle-wearing power forward later became the Bulls' third scoring option behind superstars Michael Jordan and Scottie Pippen.
Grant helped the Bulls win their first three titles in franchise history (1991-93), providing rebounding and tough defense to the lineup.
As a Bull, Grant was named an All-Star reserve once and earned a spot on the All-Defensive Second Team twice.
He's also the franchise's all-time leader in offensive rebounds with 1,888.
7. Artis Gilmore
Photo credit to nba.com
Gilmore, who was inducted into the Hall of Fame last year, is the only center to make an appearance on this list.
Following a five-year ABA career with the Kentucky Colonels, Gilmore was drafted by the Bulls in the 1976 dispersal draft.
He wound up spending seven seasons in Chicago, as he made the All-Star team four times as a Bull and was named to the NBA All-Defensive Second Team in 1977-78.
Gilmore remains the Bulls' all-time leader in both field-goal percentage and blocks.
6. Chet Walker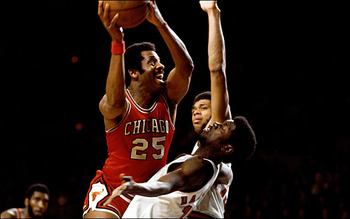 Photo credit to nba.com
Coming in at No. 6 on the list is "Chet the Jet."
Walker was shipped to the Bulls in 1969, two years after winning a championship with Wilt Chamberlain and the Philadelphia 76ers.
During his six-year stay in "Da Chi," the 6'6" forward averaged 20 points and six rebounds per game. He was also selected to four of his seven career All-Star squads.
Walker is currently fifth on the Bulls' all-time scoring list and third in free throws made.
5. Norm Van Lier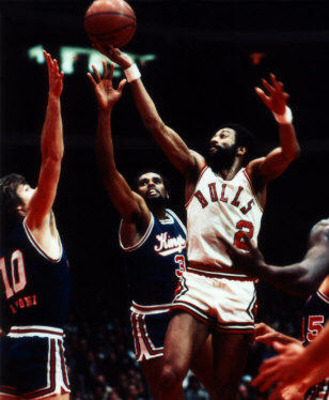 Photo credit to bcshof.org
While some fans would suggest Derrick Rose is the greatest point guard in Bulls history, others would give that honor to the late Norm Van Lier.
"Stormin' Norman" was traded by the Cincinnati Royals (now the Sacramento Kings) to the Bulls in 1971.
Van Lier was known for his D, as he was named to seven NBA All-Defensive teams during his career with the Bulls.
In addition, he was selected to three All-Star teams as well as one All-NBA Second Team.
Van Lier definitely deserves to have his No. 2 retired by the Bulls. Hopefully that will come to fruition in the near future.
4. Jerry Sloan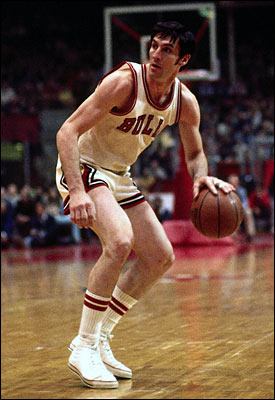 Photo credit to nba.com
If you've been following the NBA for several years, you're aware that Sloan has become a legendary coach.
However, long before he was on the sidelines for the Utah Jazz, Sloan enjoyed an excellent playing career with the Bulls.
The two-time All-Star was the first player selected by the team in the 1966 expansion draft. Sloan, who spent 10 seasons with the Bulls, was known for his hard-nosed defense as he earned a spot on six All-Defensive teams.
His No. 4 jersey is retired by the Bulls.
3. Bob Love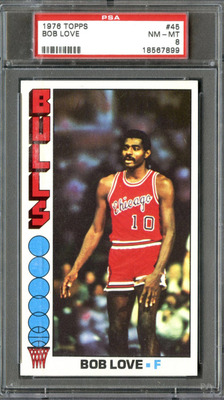 Photo credit to chi-sports.tumblr.com
You know who Kevin Love is, but what about Bob Love? Love's No. 10 jersey hangs from the rafters of the United Center, so he's obviously a Bulls legend.
"Butterbean" was traded to the Bulls in November 1968 in a deal which sent Flynn Robinson to the Milwaukee Bucks.
While in Chicago, Love earned three trips to the All-Star game and was selected to a pair of All-NBA teams as well as three All-Defensive teams.
The highly-underrated Love was truly a scoring machine in the '70s. He averaged at least 21 points per game for six consecutive years, including back-to-back 25 PPG seasons.
He's currently third on the Bulls' all-time scoring list with 12,623 points.
2. Scottie Pippen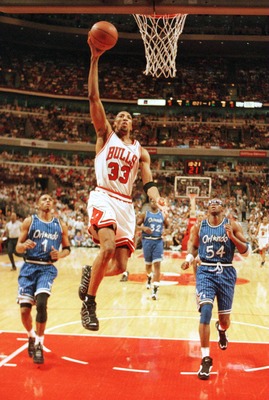 Jonathan Daniel/Getty Images
Pippen had stints with both the Houston Rockets and Portland Trail Blazers, but the best days of his Hall of Fame Career were in Chicago.
The Bulls acquired the University of Central Arkansas product in a 1987 draft-day deal which sent Olden Polynice to the Seattle SuperSonics.
During his stay in the Windy City, Pippen was named an All-Star on seven occasions and made eight NBA All-Defensive teams.
His outstanding defense and play-making skills helped the Bulls capture six titles in the '90s.
There's a statue of Pippen inside the United Center. He's a big deal in Chicago.
1. Michael Jordan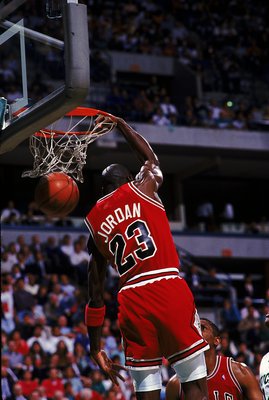 Getty Images/Getty Images
Who did you think was going to be No. 1? Luc Longley? Jud Buechler? Khalid El-Amin?
Michael Jeffrey Jordan is the best player to ever pick up a basketball, even better than fellow legends Wilt Chamberlain, Bill Russell and Kareem Abdul-Jabbar.
Following a marvelous collegiate career at North Carolina, Jordan was drafted by the Bulls with the third overall pick in the 1984 NBA draft.
While sporting a Bulls uniform, "His Airness" would go on to accomplish basically everything that a player could possibly accomplish.
He won five regular-season MVPs, six NBA Finals MVPs and a Defensive Player of the Year award.
Oh yeah, and Jordan was clearly the Alpha Dog on all six of the Bulls' title teams of the '90s.
Keep Reading

Chicago Bulls: Like this team?