7 Players the Chicago Cubs Need to Pursue to Make the Playoffs Next Season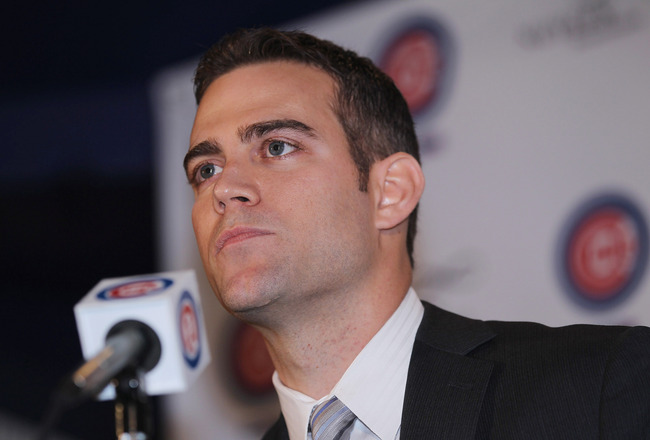 There are moves Theo Epstein can make this offseason that would give the Cubs a shot of playing October baseball in 2013.
Jonathan Daniel/Getty Images
The Chicago Cubs are once again one of the worst teams in the National League.
Not that this is surprising, of course. The Cubs put themselves on the right track towards a better tomorrow when they hired Theo Epstein away from the Red Sox and stocked their front office with assorted brainiacs, but nobody ever expected them to make any noise as soon as this season.
For that matter, nobody is expecting them to make any noise in 2013 either. The Cubs should be better, but they won't be ready to contend just yet.
Actually, I wouldn't be so sure.
The Cubs have the makings of a quality team. They have good young players like Starlin Castro and Anthony Rizzo in their lineup. In their starting rotation, they have a potential ace in Jeff Samardzija and it's looking like Matt Garza will be back in 2013 as well.
If the Cubs add some quality players to the mix this offseason, they'll be able to surprise everyone by contending in 2013.
I have seven quality players in mind for the Cubs. Observe...
Note: All stats come from Baseball-Reference.com unless otherwise noted.
Lineup Locks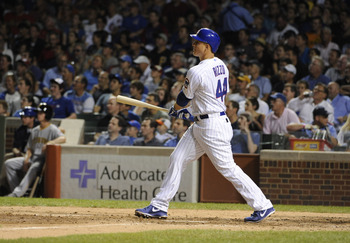 Anthony Rizzo
David Banks/Getty Images
Catcher: Welington Castillo
He's getting regular playing time now that Geovany Soto is out of the picture. Expect the status quo to hold into next season. However, the Cubs would be wise to go out and get a veteran catcher to aid his development. More on that in a moment.
First Base: Anthony Rizzo
He's lived up to expectations since his call-up. Safe to say he'll be around next season.
Second Base: Darwin Barney
Barney doesn't hit much, but you won't find a better defensive second baseman.
Shortstop: Starlin Castro
His baseball IQ isn't nearly as advanced as his physical tools, but he's not going anywhere.
Left Field: Alfonso Soriano
The Cubs would probably love to trade him this offseason, but that's not going to happen. The bright side for them is that Soriano can still hit. A .911 OPS since the middle of May is nothing to scoff at.
Center Field: Brett Jackson
He's getting regular playing time now, and he should open the 2013 season as Chicago's everyday centerfielder. Expect David DeJesus to get some action in center field too, however.
Third Base: Kevin Youkilis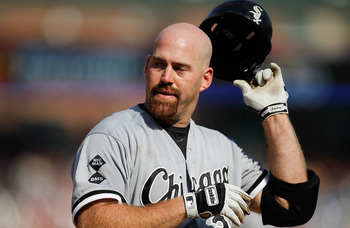 Gregory Shamus/Getty Images
Kevin Youkilis is making the most of his time in Chicago, posting an .870 OPS and hitting nine home runs in just 36 games. By comparison, he posted an OPS of .692 and hit just four home runs in 42 games with Boston before he was traded.
Nevertheless, it's doubtful that Youk will stick with the White Sox beyond this season. He has a $13 million option for 2013, and Nick Cafardo of The Boston Globe has reported that the White Sox are leaning towards declining it.
If so, Youk will hit the free agent market looking for a chance to start.
He may not have to look far. The Cubs could be looking for an upgrade at the hot corner this offseason, and the men calling the shots happen to know Youk very well.
Youkilis played a part in two World Series championships under Theo Epstein in Boston and one assumes Youk wouldn't mind a reunion with Epstein since it wasn't Epstein who drove him out of Boston on a rail earlier this season.
The Cubs wouldn't have to make a big commitment in order to bring Youkilis aboard. He could be had for a modest amount of money on a one- or two-year deal.
In return, the Cubs would be getting an above-average right-handed hitter and a scrappy veteran that their young players could take after.
Right Field: Jeff Francoeur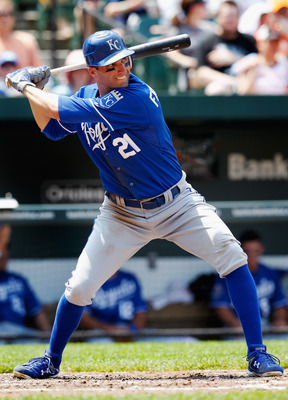 Rob Carr/Getty Images
Who's the worst player in Major League Baseball this season?
A case could easily be made for Jeff Francoeur. He's hitting just .244/.283/.383, and FanGraphs has his WAR calculated at -1.3. The only everyday player in baseball with a lower WAR is Michael Young.
Royals fans have long since grown restless with Francoeur. They want him out, if for no other reason than to make way for top prospect Wil Myers (which is a good reason, for the record).
The Royals didn't trade Francoeur at the deadline, in part because they were going to have a hard time getting anything of value for him. But there's a good chance he'll be available this offseason, and the Cubs could conceivably get him for very little.
It may not seem like such a great idea, but we're talking about the ultimate low-risk, high-reward move.
Francoeur is having an awful season in 2012, but he was quietly very good in 2011. He hit .285/.329/.476 with 20 home runs, playing above-average defense in right field. A change of scenery could get him going again.
Francoeur will be in salary drive mode in 2013. He'll be a free agent at the end of the season and he can use the 2013 campaign to try and prove himself worthy of a multi-year deal.
And remember, he's only going to be 29 on Opening Day in 2013. It's too soon to call him washed up.
Catcher: Kelly Shoppach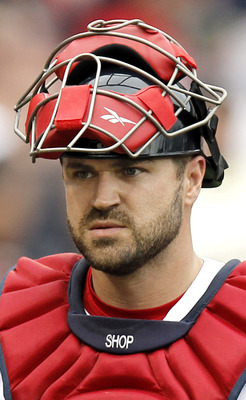 Winslow Townson/Getty Images
Welington Castillo should be the Cubs' everyday catcher in 2013. He's been billed as the organization's future catcher for a while now and he definitely has the tools to cut it as an everyday player. His bat could yield 20 home runs down the road and he has a gun for an arm.
But even if the Cubs do decide to go with Castillo as their everyday catcher in 2013, they'd be wise to go out and acquire a veteran who can assist with Castillo's development.
They won't need a star, just a serviceable player who's been around the block a few times with winning teams. Somebody like Kelly Shoppach would do nicely.
Shoppach is no Pudge Rodriguez offensively or defensively, but he's got pop in his bat (.492 slugging percentage this season) and experience to spare. He was on the Indians team that went to the World Series in 2007 and he also played on some quality Rays teams in 2010 and 2011.
There won't be much demand for Shoppach's services since potential starters like Russell Martin and Mike Napoli will also be on the block. He could probably be signed for one year for a small raise over the $1.135 million he's making this season.
He wouldn't contribute much numbers-wise, but he'd be a great guy to have around in the clubhouse.
Starting Rotation Locks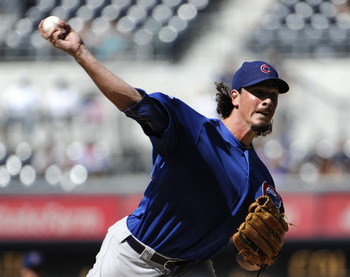 Denis Poroy/Getty Images
No. 1: Jeff Samardzija
Samardzija's 7-10 record and 4.21 ERA aren't that impressive, but he's shown good stuff in his first full season as a starter and should get even better as he gets more and more used to taking the mound every fifth day. In him, the Cubs have a potential ace in the making.
No. 2: Matt Garza
Garza could get traded this offseason, but we could also see the Cubs try to extend him before he goes out and ups his value with a great season. Either way, since the premise of this article involves the Cubs going for it in 2013, he stays.
No. 3: Travis Wood
Wood won't actually be the Cubs' No. 3 starter when the 2013 season opens up, but he'll at least be in the mix. He hasn't had a great season, but he's shown flashes here and there and he's still too young to give up on.
The Great Unknown Arodys Vizcaino
Vizcaino, who the Cubs got in the Paul Maholm/Reed Johnson trade with the Braves, underwent Tommy John surgery on March 20. It typically takes a full year to recover from TJ surgery, so Vizcaino probably won't be ready to contribute until May or so.
Starting Pitching Target No. 1: Anibal Sanchez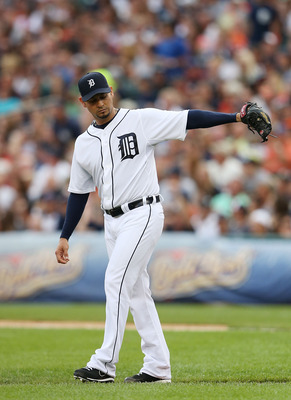 Leon Halip/Getty Images
Anibal Sanchez's foray into the American League isn't going so well, as he's been roughed up in two of three starts since joining the Detroit Tigers before the trade deadline.
This doesn't bode well for him, as he's set to become a free agent at the end of the season. His stint in the AL could cost him a shot at a lucrative multi-year deal, meaning he could be on the lookout for a one-year deal with which to prove himself all over again before re-entering the market in 2013.
Regardless of what kind of deal he's looking for, he should definitely be looking to make a return to the National League. It's where he belongs.
He'd be a sensible target for the Cubs. Sanchez was a Red Sox farmhand for a few years while Epstein was running the show. The fact that he could be had on a short bargain deal could appeal to the Cubs because they could always use Sanchez as trade bait in 2013 if things don't work out.
But since Sanchez is still young at 28, it's not insane to think that the Cubs would rather sign him to a multi-year contract.
Either way, Sanchez would be in line to become the Cubs' No. 2 or No. 3 starting pitcher, which would give the Cubs a sneaky amount of depth in their rotation. Sanchez's numbers don't look like much at first glance, but he has a 3.46 FIP since the start of the 2010 season, according to FanGraphs.
That ranks him ahead of pitchers like Yovani Gallardo and C.J. Wilson.
Starting Pitching Target No. 2: Ervin Santana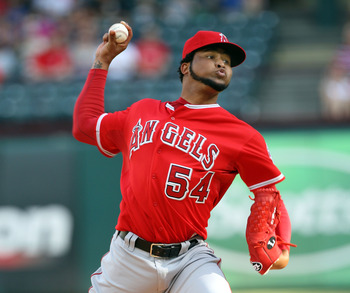 Layne Murdoch/Getty Images
Ervin Santana knows how Jeff Francoeur feels. According to FanGraphs' WAR calculations, Santana's -0.6 WAR is the worst mark among all qualified major league pitchers.
He has a $13 million team option for 2013. It's safe to assume the Angels won't be picking that up.
Sanchez may not be willing to accept a one-year deal, but Santana probably will be. He'll take whatever he can get, really, and a one-year deal would be perfect for him because it would give him a chance to re-enter the market again following 2013 at the mere age of 30.
A one-year deal with an NL club is going to be particularly appealing, as it would give Santana a chance to strut his stuff against weaker lineups that don't know him as well.
If Santana's 3.45 ERA and 0.84 WHIP in interleague play this season are any indication, he'd do well in a full season in the NL.
The Cubs could turn to Santana if they don't have much faith in Vizcaino being ready for starting duty at any point in 2013. If they sign him to a one-year deal, they could always trade him at the deadline if things don't work out (a la the Sanchez scenario previously discussed).
If things do work out, it will be because Chicago's Samardzija-Garza-Sanchez-Santana-Wood rotation got things done.
Bullpen Locks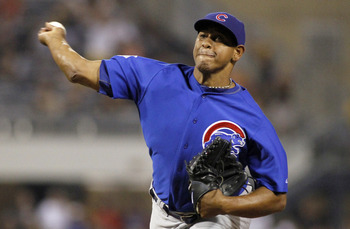 Justin K. Aller/Getty Images
Righty: Carlos Marmol
Marmol is another guy the Cubs probably wouldn't mind jettisoning, but his $9.8 million salary in 2013 and his unpredictability make him a very tough sell. He stays.
Righty: Manuel Corpas
Corpas has pitched well for the Cubs this season, so my guess is he'll be back in 2013.
Lefty: James Russell
He's been Chicago's best reliever this season, and he's under control through 2015.
Lefty: Scott Maine
Maine's numbers don't look impressive at first glance, but he has an ERA of 2.00 since July 5. He'll be back.
Bullpen Target No. 1: Ryan Madson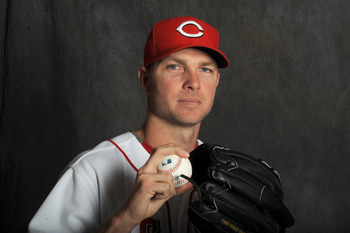 Rich Pilling/Getty Images
The Reds have baseball's most dominant closer in Aroldis Chapman. Unless the organization wants him to start in 2013 and beyond, it's likely that he shall remain Cincinnati's closer.
At this point, it's easy to forget that Chapman wasn't supposed to be the Reds' closer this season. They signed Ryan Madson to fill that role, only to lose him for the season in spring training due to Tommy John surgery.
He has an $11 million option for 2013. The Reds probably won't pick it up.
If they don't, Madson will be in the same boat he was in this past offseason. There won't be any multi-year offers coming his way, so he'll take the best one-year offer he can get and hope to have a good season.
The difference is that he'll come a lot cheaper this time around, and he'd be well worth a roll of the dice for the Cubs.
They'd probably have to wait until around May before finally getting a chance to enjoy Madson's services. They could immediately use him as their closer, thus moving Marmol to a setup role (i.e. a role where he would do less damage).
Madson was one of the best relievers in baseball in 2010 and 2011, posting a 2.45 ERA and a K/9 of 10.0. If he could recapture his old stuff, the Cubs would have one of baseball's elite closers.
Bullpen Target No. 2: Mike Adams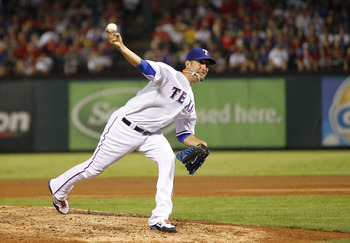 Rick Yeatts/Getty Images
The Cubs are going to need more than just a new closer if they're going to contend in 2013. They'll need a primary eighth-inning man as well.
To that end, there will be plenty of options available on the free agent market, including Jon Rauch, Mark Lowe, Vicente Padilla and Brandon Lyon.
The star free agent setup man, however, is going to be Mike Adams.
Since 2008, Adams boasts a 1.87 ERA and a 9.6 K/9. He reached his peak during his time with the Padres in 2011, posting a 1.13 ERA and a 5.44 K/BB in 48 appearances.
Adams can pitch in either league, but he's lethal in the National League. He's a little older at the age of 34, but he'd be well worth signing to a multi-year deal.
In a perfect world, he'd combine with Madson to form a killer late-inning duo. If Madson's arm were to act up, Adams could be used as a closer.
Given the other teams that are bound to be hounding after Adams this offseason, I'll grant that the idea of the Cubs signing Adams is a bit of a stretch. He'll probably be looking to play on a winning team and the Cubs may not offer him the kind of money that would change his mind.
If Adams is Plan A, Mark Lowe has to be Plan B. He won't be in demand nearly as much as Adams, but he's a lot younger and he'd certainly come a lot cheaper.
So the Cubs' New-Look Roster Would Look Like...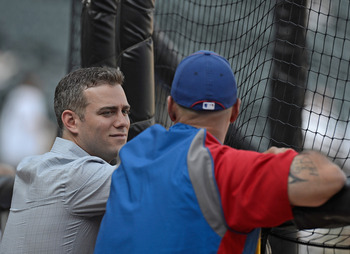 Jonathan Daniel/Getty Images
Lineup
C: Welington Castillo/Kelly Shoppach
1B: Anthony Rizzo
2B: Darwin Barney
3B: Kevin Youkilis
SS: Starlin Castro
LF: Alfonso Soriano
CF: Brett Jackson
RF: Jeff Francoeur
Rotation
1. Jeff Samardzija
2. Matt Garza
3. Anibal Sanchez
4. Ervin Santana
5. Travis Wood/Arodys Vizcaino
Bullpen
Ryan Madson (R)
Mike Adams (R)
Carlos Marmol (R)
James Russell (L)
Manuel Corpas (R)
Scott Maine (L)
If you want to talk baseball, hit me up on Twitter.
Keep Reading