Arizona Cardinals: Position Battles to Watch During Cards-Chiefs Preseason Game
Is John Skelton the Cardinals best option at QB?
David Richard-US PRESSWIRE
This 2012 preseason game between the Arizona Cardinals and Kansas City Chiefs features many battles you'll want to watch.
If this were a regular season game, those battles would be between the Cardinals and Chiefs players. Here in the preseason, however, the more important battles to behold are between teammates.
Young or old, rookie or veteran, it's not the name or tenure a player has that will determine his role with the team. His play on the field is what will gain him a spot on the roster these days, and some men's days may be numbered.
Whether the end result is being cut or being benched, that is yet to be seen. But the closer to regular-season play they get, the better idea we all will have as to which players should be playing where, which should be benched and which should be turning in playbooks.
Since it's all everyone is talking about, let's begin with the most obvious matchup to watch.
John Skelton vs. Kevin Kolb, QB
The Hall of Fame Game performance turned in by $63 million man Kevin Kolb was discouraging. As you fans know, he threw an interception on his very first preseason pass as the Cardinals quarterback, just one play after throwing a block to help LaRod Stephens-Howling gain extra yards.
The throw may have been the worst I have ever seen from a professional quarterback.
Jason Miller/Getty Images
It was the simplest of zone coverages. New Orleans Saints defensive back Malcolm Jenkins slid into the flat to take away the out-route being run by Andre Roberts. I'm sure as he threw the ball to the flat, Jenkins' eyes could not have been bigger.
Did he really just throw that? he must have thought.
NFL Analyst Michael Lombardi called the defensive play a "high school coverage," meaning it couldn't be simpler. It was a "Cover 2," and even a high school quarterback should be able to read it and look elsewhere.
Kolb did not, obviously.
Then, on his fourth attempted pass, he finally made a completion. But he scrambled to his right to avoid the pass rush, and in doing so was brought down by Saints defensive tackle Sedrick Ellis. He left with a bruised rib and diaphragm.
Kolb reportedly will play against the Chiefs, but if he's still "sore," it could limit his mobility. That mobility is the reason he's hurt to begin with, so if he cannot move around as well as he could possibly be required to at some point in Kansas City, his situation could get worse.
John Skelton, on the other hand, was poised in the pocket and drove the team 90 yards for the Cardinals' only touchdown of the game on one of his three full drives.
He was able to get all the first-team reps while Kolb nursed his bruise Monday and will start against the Chiefs. Kolb returned Tuesday.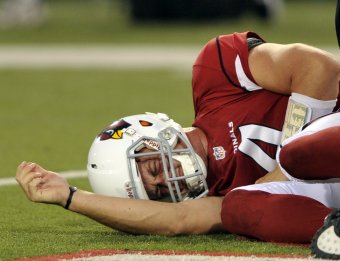 David Richard-US PRESSWIRE
If Skelton looks solid once again and Kolb cannot overcome his pain, this competition may begin to settle itself much quicker than anticipated.
At one point during the week according to Darren Urban of the Cards' official site, running back Ryan Williams, who continues to rehab his surgically repaired knee, practiced through some soreness. Whisenhunt praised him, saying the youngster "grew up into a pro" by pushing through the pain.
"Coach said that's what professionals do, work through problems and you practice," Williams said. "That really made me feel good."
Is it just me, or does that sound an awful lot like Whisenhunt taking a shot at Kolb?
Michael Floyd vs. Andre Roberts, WR
Michael Floyd didn't get any work with the first- or second-team QBs and receivers last Sunday, instead entering the game with third-stringer Rich Bartel. He caught one pass for 15 yards and looked good on two or three run-blocking situations.
That he didn't get the chance to work with Kolb or Skelton is curious.
Arizona drafted him at No. 13 overall to play, and continuing to work with guys who won't ever see a regular-season field could mean either he hasn't looked as good as everyone seems to think he has, or that the team is taking it slowly with him.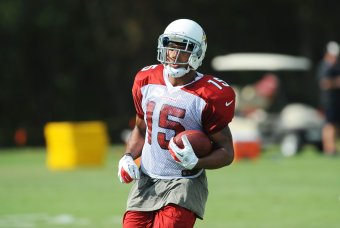 Denny Medley-US PRESSWIRE
Keeping him from working with Kolb and Skelton will only hinder his in-game growth. It's important to have someone who can get him the ball, and Bartel is not that guy.
Look for Floyd to get more early work in Kansas City. He may not start, but it would be wise to get him some playing time with the two quarterbacks vying for the starting job so he can gain chemistry with them.
Andre Roberts didn't impress, but he didn't do anything to leave fans calling for Floyd, either. This battle will get interesting if Roberts shows improvement throughout.
Paris Lenon vs. Stewart Bradley, ILB
The weak-side inside linebacker position is suddenly a hot-button issue for the Cardinals, and it's because Stewart Bradley finally appears to understand Ray Horton's defense. He was everywhere on the field last Sunday, recording seven total tackles, including one for a loss and a sack of Saints quarterback Chase Daniel.
Paris Lenon has been everything Arizona wanted and more, but Bradley is younger and is extremely motivated.
This is a major turn of events from what I projected would happen. Many of you likely remember me saying Bradley is better suited for a 4-3 defense as a Mike 'backer, and I may have underestimated him. I'll be the first to admit being wrong.
But in this case, I'm OK with being wrong. The defense has experienced an infusion of youth over the past two seasons, and replacing another aging veteran with younger talent only makes the unit more dangerous.
If Bradley continues his push and bumps Lenon from the top spot on the depth chart, the front seven will have successfully been revamped.
Jamell Fleming vs. Michael Adams, Nickel CB
As of now, Michael Adams is penciled in as the starting nickel cornerback. But after his performance against New Orleans—I counted three missed tackles—and the hype being created by rookie third-round pick Jamell Fleming, it will be difficult for him to keep his roster spot.
Even on special teams he is being out-played. Sixth-round draft pick Justin Bethel—listed as a safety—has already shown how he became the NCAA's all-time leader in blocked kicks, getting to a 54-yard attempt at the Hall of Fame game.
He was disappointed in himself, actually. According to Darren Urban, Bethel said, "I just wish I could have gotten it a little more so I could have tried to pick it up, but a block is a block."
Indeed.
Which Position Battle Are You Most Interested in Seeing?
But for Adams, despite being a great human being and a solid special-teamer, his time may be up soon because of Bethel and Fleming.
The potential outside edge rush of Bethel and Patrick Peterson on field-goal attempts would be intimidating for opponents. Throw in 6'8" Calais Campbell up the middle, who blocked three kicks of his own last season, and Arizona may not allow a single successful field goal all year.
In all seriousness, Fleming is a virtual lock to make the team, and if he can perform from the slot as a rookie, then Adams becomes expendable. Bethel making the squad would likely spell Adams' doom.
Rookie to Watch: Blake Gideon, S
As of now, the chances Blake Gideon makes the initial 53-man roster are slim. He would have to surpass free-agent signee James Sanders or veteran Rashad Johnson, and though he impressed last week against the Saints, playing well against the run and recording an end-zone interception, he may be relegated to the practice squad.
But there is an outside chance he impresses so much that Coach Whisenhunt is forced to make room for him. That might not be a bad thing. He was a four-year starter at Texas, starting 52 consecutive games, and he was a two-year team captain for head coach Mack Brown.
I don't see him pulling off the upset this season, but if he continues to improve and impress, a roster spot may be in his future.
This article is
What is the duplicate article?
Why is this article offensive?
Where is this article plagiarized from?
Why is this article poorly edited?

Arizona Cardinals: Like this team?