Texas A&M Football: Aggies Swing Games Will Determine Success in 2012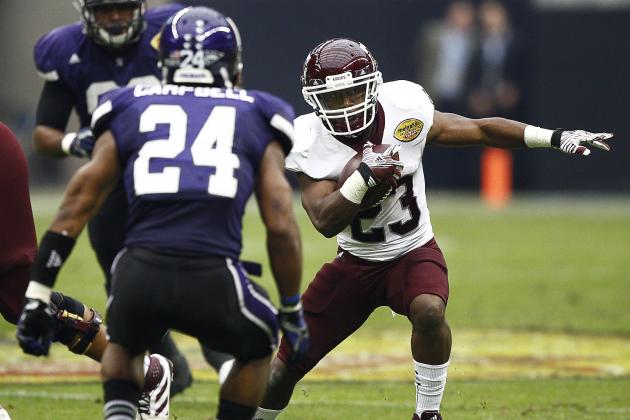 Bob Levey/Getty Images

August is finally upon us. The 30th—and an appointment in Shreveport—will be here before you know it.
Before the season starts let's look at A&M's schedule and determine the swing games.
Every year, you can divide up your opponents into three categories: 1) the games you are likely to win 2) the games you could easily lose and 3) the games that could go either way—the swing games.
A swing game is a contest that is projected to be decided by eight points or less. Your team may be favored or the underdog, but either way, it is by no more than a single score and conversion.
To a fan's eyes, these games are a lock, but the bookmakers, who get into comparisons as a business, see them quite differently.
According to my analysis, Texas A&M's case this year looks like this.
They have five games where they are likely to be favored by more than eight points—I see those as likely wins.
The Aggies have two home games and one road game in which they will be considered the underdog by more than eight points. They could easily lose these three.
That leaves four swing games.
Of these four games, two are home games. If they were played today, the Aggies would be a four-point favorite in one and the other would be even, given their 4.5 advantage on Kyle Field. Their other two games are on the road. The Aggies would be four and six-point dogs if they were played today.
The results of the Aggies inaugural SEC regular season will fall between 5-7 and 9-3, depending on the outcome of the swing games. If you would like to see if you agree with who these opponents will be, follow me!
Begin Slideshow

»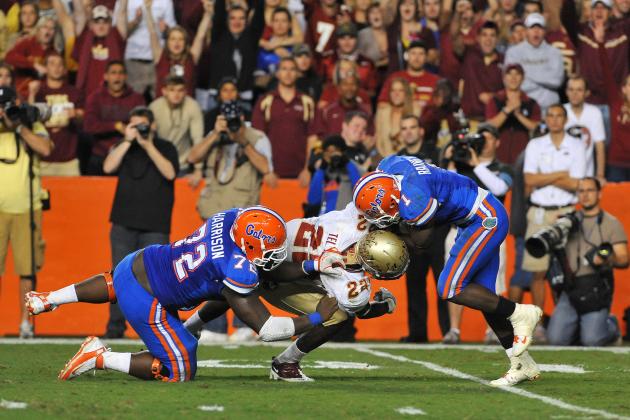 Al Messerschmidt/Getty Images

The Gators are an extremely talented team that regularly brings in top 10 or better ranked recruiting classes. Their real issue right now is they have gone through coaching changes and have struggled to find an identity on offense.
Since Urban Myer left at the end of the 2009 season, the Gators have changed their offensive identity three times. Gone is Urban Myer's spread option, in for a year, and now out is Charlie Weis' pro set. This year, Brent Pease is bringing in a multiple set offense, full of motions.
Pease was the offensive coordinator with Boise State before he accepted the Florida position. His offense there had the Georgia defense completely befuddled at the beginning of last season.
Texas A&M shares the same issues as Florida in changing schemes. What this early contest will likely boil down to is defense and how far along each offensive coach has his team at this point.
Florida had a top 10 defense nationally last season. Since they return most of those players, there is no reason to believe they will not be at least as good this year.
Were the game later in the year, I feel that Florida's offense would be better, and I would give them a clear edge in this game. Since it is played earlier, I think the Gator edge is almost negated by the Aggie home field.
This should be a good game to watch. Still, the odds makers will likely give a small edge (three points) to Florida.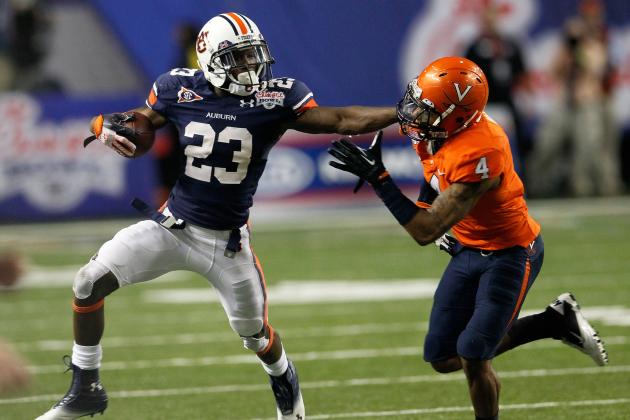 Kevin C. Cox/Getty Images

Most of the 7.5 point edge that I rate Auburn having right now is based on home-field advantage. The balance based on their offensive and defensive schemes is likely more mature than that of Texas A&M right now.
In 2010, Auburn had an almost magical 14-0 season and won the college football national championship. Like Florida's Tim Tebow, they were blessed to have a once in a lifetime, difference maker at quarterback. When that team needed a lift, mighty Cam heaved it up on his shoulders and carried it.
Unlike Tim Tebow at Florida, Cam Newton was only a one-year wonder at Auburn. After the magic, he was off to the NFL.
Last season, the Tigers rejoined the mortals and finished 8-5. Though Auburn isn't likely to improve much upon its record from 2011, the team will be better.
Fortunately for the Aggies, the Auburn game—as well as the final two swing games—come after the October 20 game against LSU—simply meaning that they will be on the latter end of the schedule, and both offense and defense should be in as good a shape as they will be this season.
The line that I have now is based on what we currently know. Obviously, it will change some, between now and October 27. The only question is which way will it go—up or down?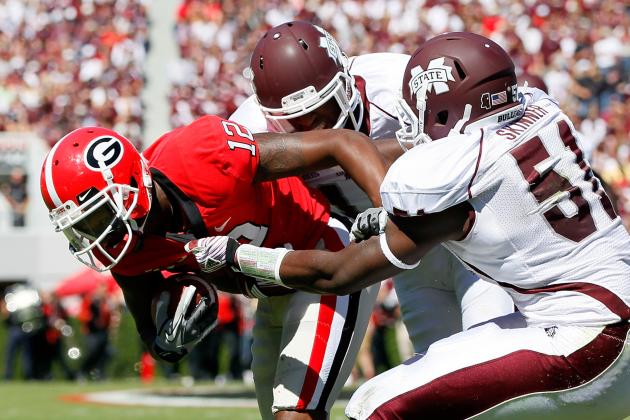 Kevin C. Cox/Getty Images

Beware of Dan Mullin's Bulldogs. These guys play better football than their record of 2011 represented.
Based on what I saw of Texas A&M last year, that is true of the Aggies as well. If this game were played in College Station, Texas A&M would be favored—but that isn't the case.
Mississippi State has a clear edge on defense based on last year's numbers and its returning players. The offense is anybody's guess, as the Sumlin system has yet to debut in College Station. This game should be a close, hard fought SEC-type game.
For the Aggies, the game will be sandwiched between your visits to the 2010 national champion, Auburn and the 2011 national champion, Alabama. No time to let up now!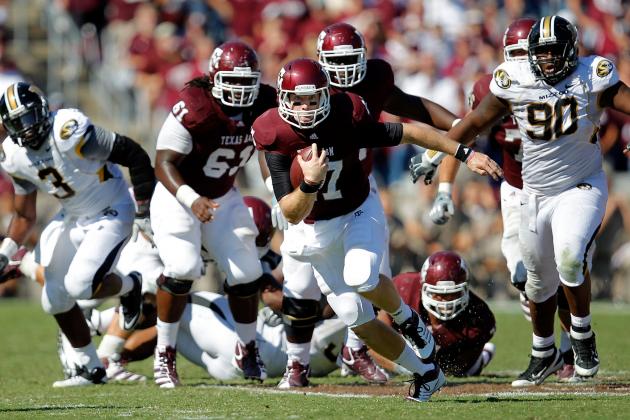 Sarah Glenn/Getty Images

Here is a team that you know pretty well. Last year's game is one that I watched. I really thought the Aggies were the better team, but they somehow let it get away.
This year, you get them at your place, and it's a conference game. I think the SEC intends for you guys to get a rivalry going—if you haven't already. All the ingredients are there. Now, a little A&M payback, and you will be off to the races!
Let's see, how is your first year in the SEC?
The Aggies get to play Florida, a team that won national titles in 1996, 2006 and 2008. LSU, won national titles in 2003 and 2007. Auburn won it in 2010, and Alabama has won 14 total, the last two coming in 2009 and 2011. Too bad you don't get Tennessee this year too. They had one in 1998 and almost got to play for another in 2001.
Oh well, save some for next year!
Welcome to the SEC, y'all!