Olympic Track and Field 2012 Day 7 Results: Medal Winners, Highlights and More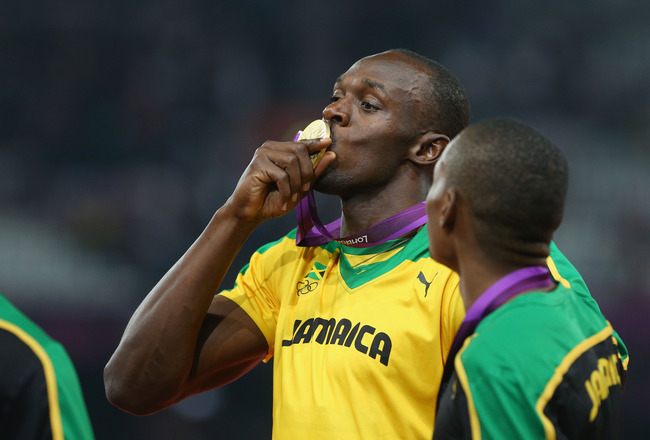 Cameron Spencer/Getty Images
There was no question who the star of track and field was on Day 7 of Olympic competition.
Usain Bolt destroyed the competition en route to winning his second gold medal in the 200-meter dash. The Jamaicans swept the podium as they flexed their muscles in sprinting events. Bolt has now solidified his status as one of (if not the) greatest sprinters of all time and will forever be etched into the history books.
As for the U.S., the Americans were awarded with four separate medals on Aug. 9. That brings the total medal count for track and field events to 24 in the London Games.
Follow along as we review every event that transpired at Olympic Stadium Thursday.
Men's Decathlon: 110m Hurdles, Discus Throw, Pole Vault, Javelin Throw, 1500m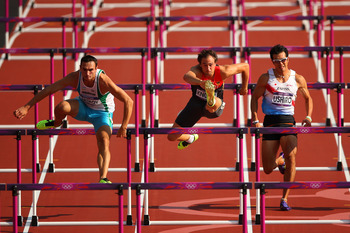 Cameron Spencer/Getty Images
110-Meter Hurdles
Rifat Artikov of Uzbekistan won the first heat with a time of 14.74 seconds; Germany's Jan Felix Knobel (15.03) and Latvia's Edgars Erins (15.22) rounded out the top three.
In Heat 2 it was South Africa's Willem Coertzen who blew away the competition with a 14.15. He was followed by Cuba's Yordani Garcia (14.24) and Leonel Suarez (14.45).
Heat 3 was owned by Ukraine's Oleksiy Kasyanov, who won with a time of 14.09—a personal best. Belarus' Eduard Mikhan was second (14.15), and Germany's Pascal Behrenbruch (14.33) finished third.
The fourth and final heat was by far the best, where the top two times of the day were posted. Americans Trey Hardee (13.54) and Ashton Eaton (13.56) finished first and second, respectively, with Germany's Rico Freimuth (13.89) finishing third.
Discus Throw
Freimuth made up for a poor hurdle showing by winning the discus throw with a 49.11 meter toss. Belgium's Hans van Alphen was a distant second with a 48.28 toss.
USA's Hardee (48.26), Russia's Sergey Sviridov (47.43) and Ukraine's Kasyanov (46.72) rounded out the top five.
Pole Vault
This was another strong performance from Eaton, who registered a jump of 5.20 meters—good enough for third place. Hardee registered a ninth-place finish (4.80).
Chile's Gonzalo Barroilhet won the event with a 5.40.
Javelin
Eaton had the ninth-best javelin throw (61.96), while American teammate Hardee had the third-best (66.65).
Cuba's Suarez led the way with a 76.94 toss.
1,500-Meter Run

Tough sledding for the Americans, as Eaton finished seventh (4 minutes, 33.59 seconds) and Hardee finished 18th (4:40.94).
Belgium's van Alphen won the event by blowing away the competition with a time of 4:22.50.
Final
The Americans didn't finish strong in the 1,500 race, but it was Eaton (8,869 total points) and Hardee (8,671) who stood at the top of the podium with gold and silver medals draped around their necks.
Cuba's Suarez (8,523) finished in third in what was one of the most hard-earned medals throughout the entire Olympics.
Women's High Jump: Qualification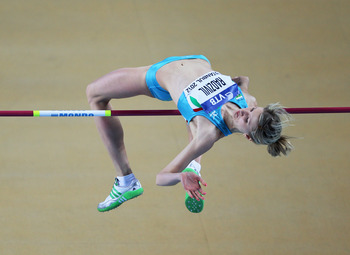 Michael Steele/Getty Images
Uzbekistan's Svetlana Radzivil blew away the competition in qualification by jumping 1.96 meters.
If she puts up a distance like that again in the finals, it will be incredibly tough to beat her. Not a single competitor was able to get as high as Radzivil.
Among the other 11 qualifiers, the U.S. will have medal opportunities with Chaunte Lowe (1.93) and Brigetta Barrett (1.93).
The finals will be Saturday, Aug. 11.
Men's 4x400-Meter Relay: Round 1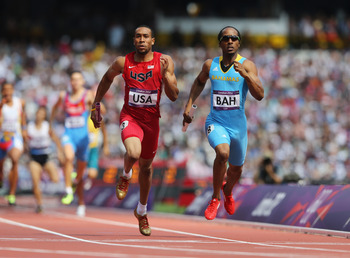 Streeter Lecka/Getty Images
The Americans have put themselves in position for gold.
In the second heat, the U.S. finished in a tie with the Bahamas, with a time of 2 minutes, 58:87 seconds. Russia also qualified in its heat.
The main story was Manteo Mitchell, who broke his leg in the middle of the race, yet was still able to help his team make the finals. It's one of those Olympic stories that gives you a greater respect for the sacrifice these athletes give for their country.
In Heat 1, it was Trinidad and Tobago that tied with Great Britain for a time of 3:00:38. They'll be joined by Cuba in the finals.
The final is scheduled for Friday, Aug. 10.
Men's Triple Jump: Final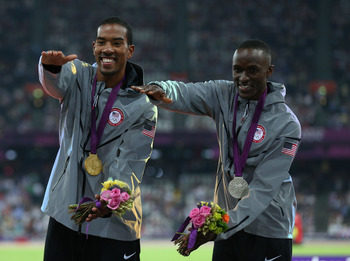 Cameron Spencer/Getty Images
Another event, another American gold medal, as Christian Taylor fended off the competition with a 17.81-meter jump. He beat U.S. teammate Will Claye, who registered a 17.62-meter final jump.
Italy's Fabrizio Donato won bronze with a final jump of 17.48.
The result comes as little surprise considering Taylor is the outdoor world champion, and Claye was the indoor champ. The friendly rivals didn't beat the world record of 18.29, but they expect to soon, according to Taylor (via Associated Press):
"Will and I ... It's special to share it with him," Taylor said. "We're getting people to talk about the triple jump again. That's a goal of ours.

"I definitely think the world record could come down this year, but we're taking it one day at a time."
Women's 800-Meter: Semifinals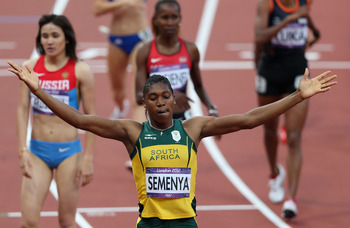 Clive Brunskill/Getty Images
South African Caster Semenya is on the brink of redemption.
After being forced to sit out a year after undergoing gender tests, she registered a season's best 1 minute, 57.67 seconds Aug. 9 to easily make the finals.
The 21-year-old only will be facing one American in the final: Alysia Montano, who narrowly made the final heat with a time of 1:58.57.
Russia's Elena Arzhakova (1:58.13) and Kenya's Janeth Jepkosgei Busienei finished second and third (1:58.26), respectively.
Men's 800-Meter: Final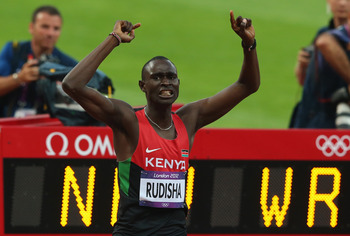 Alex Livesey/Getty Images
A world record was set in this event.
Twenty-three-year-old David Rudisha of Kenya registered a time of 1 minute, 40.91 seconds to break the mark of 1.41.01 that he set in 2010.
Botswana's Nijel Amos won silver with a time of 1:41.73, and Timothy Kitum of Kenya won bronze with a time of 1:42.53.
American Duane Solomon finished just outside the podium at fourth, with a time of 1:42.82.
Women's 4x100-Meter Relay: Round 1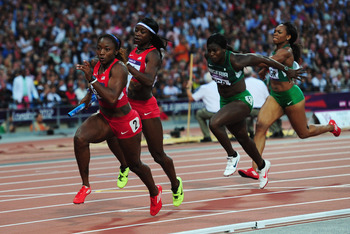 Stu Forster/Getty Images
The U.S. looked to be in terrific form in this relay, posting the best qualifying time of the day at 41.64 seconds in some extremely humid weather.
Former Texas track star Bianca Knight ran a blazing-fast third leg in what was one of the highlights of the race. The Americans enter the finals Aug. 10 as the favorites.
Trinidad and Tobago finished second (42.31), and Ukraine (42.36) rounded out the top three. These two teams will be the major threats to the Americans, along with Jamaica.
Men's 200m: Final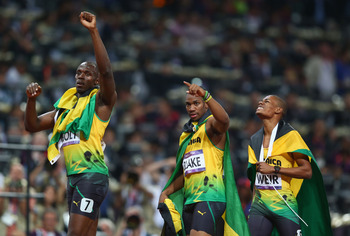 Michael Steele/Getty Images
Bolt did it again.
After crushing the competition in the 100, he had another dominant performance in the 200.
His 2012 world-best time of 19.32 gave him enough room to slow up at the end and blow a kiss. It was an incredibly performance and now the sprinter will forever be remember as one of the all-time great sprinters…if not the best.
If that wasn't impressive enough for Jamaica, they swept the entire podium.
Yohan Blake (19.44) took second and Warren Weir (19.84) received the bronze. It was the seventh time one country had swept the men's 200, but the first time a country outside of the U.S. completed the feat.
American contender Wallace Spearmon finished fourth with a time of 19.90. He was seen crying in disappointment at the conclusion of the race.
But it was all about Bolt, who called himself a legend in the post-race press conference.
It's hard to disagree.
Women's Javelin Throw: Final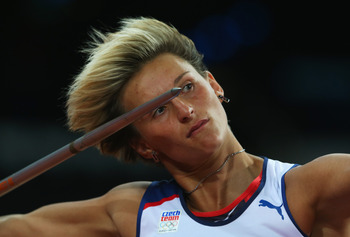 Alexander Hassenstein/Getty Images
Barbora Spotakova of the Czech Republic took home the gold hardware with a toss of 69.55 meters.
She comfortably won over Germans Christina Obergfoll (65.16) and Linda Stahl (64.91).
Not a single American was even in the finals after Missouri native Brittany Borman failed to qualify.
Keep Reading