Olympics 2012: Nation Power Rankings, Day 13 Edition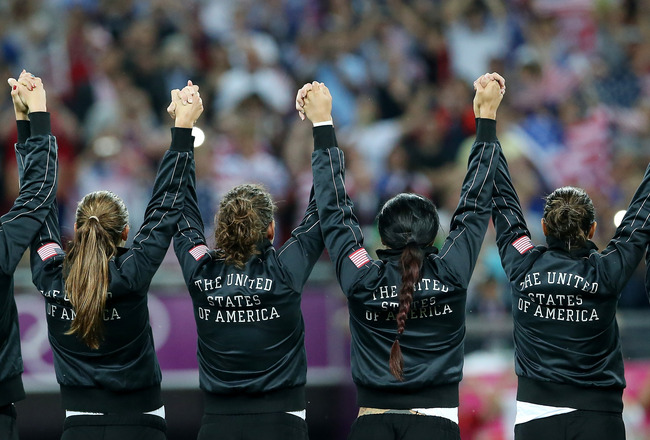 Ronald Martinez/Getty Images
It's hard to believe that we're almost to the finish line of the 2012 Olympics.
Day 13 proved to be another one dominated by USA, as the Americans piled up nine total medals, including five golds.
Usain Bolt, Yohan Blake and Warren Weir finished one, two and three in the men's 200-meter dash—a trifecta that was unexpected, considering America's Wallace Spearman and Frances Christophe Lemaitre had both posted faster times than Weir this year.
There were a couple of historic medals handed out, too.
Botswana won their first medal in Olympic history, as Nijel Amos finished in second place behind David Lekuta Rudisha—the new world-record holder for the men's 800 meters as of today.
Malaysia finally won a medal in a sport other than badminton, as Pandelela Rinong Pamg took third for her performance in the women's individual 10-meter platform competition.
All in all, Day 13 was truly memorable. Now, on to the rankings.
Honorable Mentions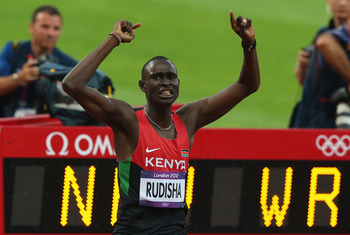 Alex Livesey/Getty Images
Day 13 was so full of so many remarkable performances that I had to create a new slide for honorable mentions.
With that in mind, these are the countries that need to be recognized for their performances, but that didn't quite make the top 10.
Kenya
Kenya has long been one of the top nations in middle- and long-distance running, and today proved to be no exception.
David Lekuta Rudisha broke a world record today in the men's 800-meter, posting a time of one minute, 40.91 seconds.
His fellow countryman, Timothy Kiton, posted a personal-best time of 1:42.53 to take home the bronze in the same race.
China
China has slowed down the last couple of days in regards to their haul of medals, but they've still been making the most of their opportunities.
They earned three medals this time around—one gold and two silvers.
Chen Ruolin once again showed that the Chinese are the best divers in the world with another masterful performance on the 10-meter platform, taking first in the women's individual competition.
Ren Cancan earned a silver for her work in the women's flyweight division in boxing, and Hou Yuzhou did the same in the less-than-57-kilogram division in women's Taekwondo.
Ireland
Ireland only earned one medal, but it was pure gold.
Katie Taylor showed that Irish men aren't the only ones capable of fisticuffs, beating Russia's Sofya Ochigava in the gold-medal match.
Japan
Japan won two medals on Thursday—one gold and one silver.
Saori Yoshida won the gold medal for Japan in women's freestyle wrestling (55 kilogram) by beating Canada's Tonya Lynn Verbeek.
The Japanese women's football team fell short of ultimate glory when they were defeated by USA in the gold-medal match two to one.
10. Afghanistan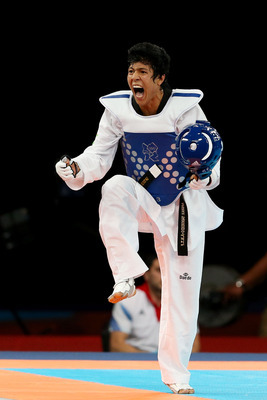 Scott Heavey/Getty Images
Rohullah Nikpah has the distinction and honor of being Afghanistan's first and only Olympic medalist.
He earned a bronze medal for his performance in the less-than-68-kilogram division of men's Taekwondo in 2008, and he equalled his '08 accomplishment this Day 13, earning another bronze.
Surely he's a national hero, and his accomplishment today—for himself, and country—is worthy of a spot on this list.
9. Jamaica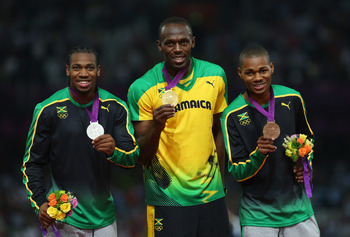 Cameron Spencer/Getty Images
Whatever's on the menu at the Jamaican track team's headquarters, that's what I want to start eating on a regular basis.
Oh, wait...never mind...I already eat McDonald's on a regular basis.
All kidding aside, what the Jamaican sprinters did in the men's 200-meter was simply remarkable.
Usain Bolt, Yohan Blake and Warren Weir finished one, two and three—a clean sweep for the island nation. It doesn't get any better than that.
In fact if it weren't for the fact that the Jamaican men's 4x400-meter relay team failed to make it to the finals, they'd be ranked even higher.
8. Australia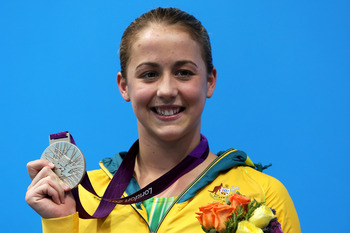 Clive Rose/Getty Images
The Australians had a good day.
First, they won the gold in the men's K4 1,000-meter race, winning over the Hungarian team by more than six-tenths of a second.
Then, the women's water polo team defeated Hungary in their bronze-medal match, winning by a score of 13-11 in overtime.
I wonder if Hungary has a bone to pick with Australia after these two losses? Kidding...
Finally, Brittany Broben took home a silver medal in the women's individual 10-meter platform competition, beating out the likes of Great Britain's Melissa Wu, Mexico's Paula Espinosa Sanchez and China's Hu Yadan.
Big-time wins for the Aussies on Day 13.
7. Malaysia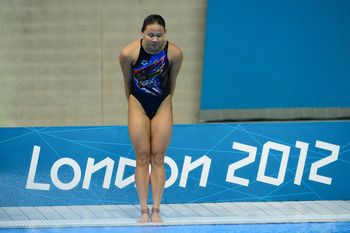 Kyle Terada-US PRESSWIRE
Rarely does one medal mean as much as the one Malaysia's Pandelela Rinong Pamg just won.
Pamg earned the bronze medal for her phenomenal performance in the women's individual 10-meter platform competition.
The reason that her accomplishment is so noteworthy is that she became the first person in Malaysian history to win a medal for a sport other than badminton. Malaysia had won five medals for badminton, including one this year, but it had struck out in every other sport...until now.
That's a big deal, and Pamg has surely become a national hero overnight.
6. Hungary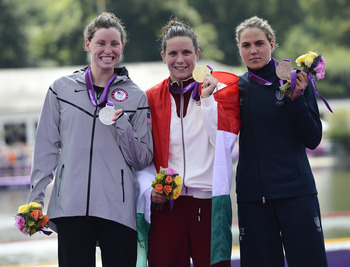 Andrew P. Scott-USA TODAY
Hungary proved that it has some excellent kayakers, taking one gold and two silvers in kayak events today.
Danuta Kozak won the women's single 500-meter event, beating Ukraine's Inna Osypenko-Radomska by more than a full second.
The women's kayak doubles team of Katalin Kovacs and Natasa Douchev-Janics took home the silver medal in the 500-meter race, and the men's kayak four team did the same in the 1,000-meter race.
The most impressive accomplishment of the day for Hungary came in the women's 10,000-meter open-water marathon, as Eva Risztov outlasted a tough field in the grueling event. She won by only four-tenths of a second over America's Haley Anderson, who came on strong at the end.
Hungary proves every four years that it is among the best in the world in water sports, and in London, it continues to impress.
5. Russia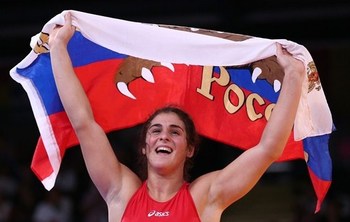 Photo Credit: AP
Russia has been a force to be reckoned with on a daily basis in the 2012 Summer Games, and Day 13 proved to be no different.
Natalia Vorobieva won the gold medal in women's wrestling (72-kilogram division), completely dominating her Bulgarian opponent, Stanka Zlateva Hristova, by a score of five to zero.
Russia also earned two silver medals—both from women's boxing—as Sofya Ochigava came in second place in the lightweight division, and Nadezda Torlopova did the same in the middleweight division.
Finally, Russia earned a bronze medal in men's canoeing, as Alexey Korovashkov and Ilya Pervukhin teamed up and finished third in the men's C-2 1,000-meter competition.
4. Germany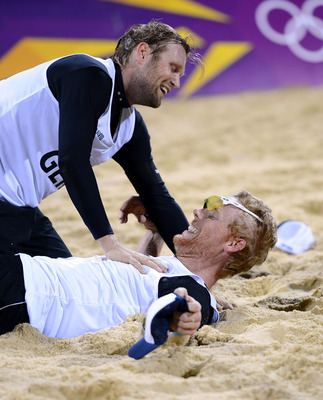 Christopher Hanewinckel-US PRESSWIRE
The picture says it all for Julius Brink and Jonas Reckermann, as they helped Germany to its first ever gold medal in men's beach volleyball. It is also only the second time the country has medaled at all in beach volleyball.
Germany proved to be superior on the water as well, earning two gold medals in canoeing.
Peter Kretschmer and Kurt Kuschela won the men's C-2 1,000-meter competition, and Franziska Weber and Tina Dietze won the women's K-2 500-meter competition.
The Germans weren't finished yet, either. They took both the silver and bronze medals in the women's javelin competition, as Christina Obergfoll came in second place behind Barbora Spotakova of the Czech Republic, and Linda Stahl finished in third for Deutschland.
3. Great Britain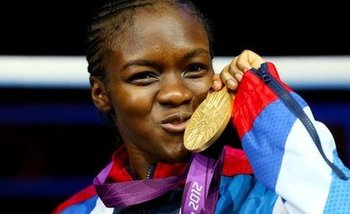 Photo Credit: BBC.co.uk
Great Britain's fighting women came out in force on Day 13.
First, Nicola Adams defeated China's Ren Cancan for first place in the women's flyweight division.
Then, Jade Jones took down China's Hou Yuzhuo in the women's less-than-57-kilogram Taekwondo gold-medal match.
Boom. Those are a couple of major victories for the host nation, but it wasn't finished just yet.
Team GB also earned a gold and bronze medal in the equestrian individual dressage competition, as Charlotte Dujardin took first place and Laura Bechtolsheimer came in third.
2. Botswana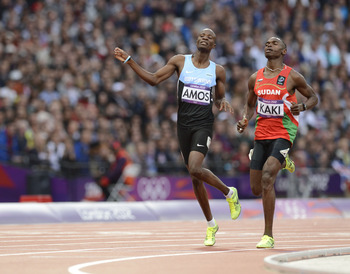 John David Mercer-US PRESSWIRE
Botswana's Nijel Amos is so happy after medalling in the men's 800-meter that he does his best impersonation of Austin Powers.
He ran the best race of his life, finishing with a time of one minute, 41.73 seconds—only about eight-tenths of a second off his Kenyan counterpart's world-record time in the same race.
As noted before, not only was his individual performance noteworthy, but his second-place finish earned his country its first Olympic medal ever.
That was good enough for me to give Botswana the No. 2 ranking for Day 13.
1. USA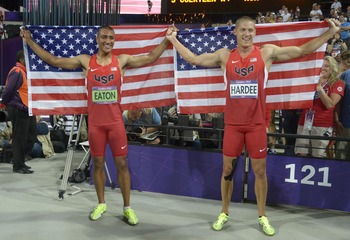 Kirby Lee-US PRESSWIRE
For the second consecutive day, USA stands atop the leaderboard. They simply dominated London on Day 13.
Ashton Eaton and Trey Hardee finished one and two in the men's decathlon, and Christian Taylor and Will Claye did the same in the men's triple jump.
Both the women's water polo and women's football teams won a gold medal in their respective sports.
Haley Anderson surprised everyone by finishing in second place in the women's 10,000-meter open-water marathon. She almost won, too, finishing only four-tenths of a second behind Hungary's Eva Risztov.
In Taekwondo, Terrence Jennings earned a bronze medal in the men's under-68-kilogram division.
Finally, Claressa Shields shocked Russian boxer Nadezda Torlopova (the No. 2 ranked boxer in the Games) to win the gold medal in the women's middleweight division—the lone gold medal of any American boxer in 2012.
Yes, it was a monster day for Team USA.
Keep Reading