Olympic Basketball 2012: 5 Ways USA Is Still Vulnerable in Gold Medal Game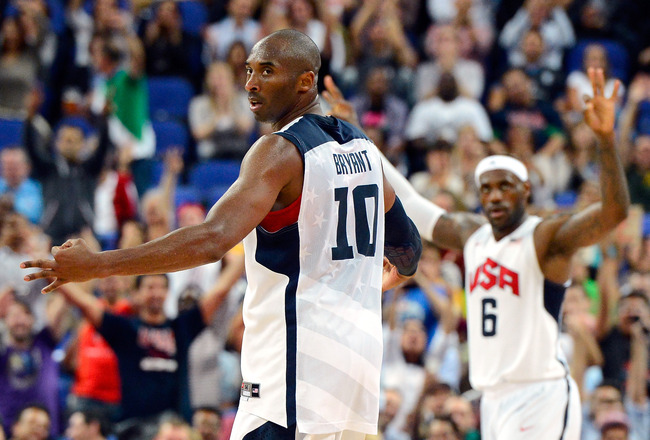 Ronald Martinez/Getty Images
Team USA vulnerable?
Let the oxymoronic incredulity subside for a moment, and remember that miracles do indeed happen—at least when it comes to sports.
That's what Argentina, Russia and Spain are currently banking on. Otherwise, they'd go ahead and call it quits, waive to the crowd one last time and pave the way for the NBA to show some extra indoor volleyball.
Truth be told, it wouldn't require a full-blown miracle for Team USA to fall short of its gold medal intentions.
It need only require that a roster full of larger-than-life stars remember its own mortality. Every single player on that roster has lost a few games in his time.
The gold medal game just might be the next one, and here's why.
The Gasol Brothers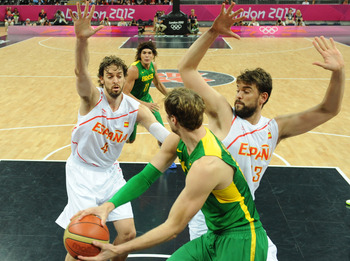 Pool/Getty Images
No, Spain hasn't reached the gold medal game just yet, but they stand a pretty good chance. The Russians will have their work cut out for them in the semifinals, the United States could soon thereafter.
Head coach Mike Krzyzewski likes to go with smaller lineups who can spread the floor, but his preferred lineups would be tested against Spain.
With Pau and Marc Gasol patrolling the interior and Serge Ibaka coming off the bench, Team USA may need to rely somewhat heavily on sparingly-used Tyson Chandler to keep the painted area under lockdown.
Of course, when the Gasols are involved, it's not enough to simply crowd the lane.
Both seven-footers are more than capable of stepping out to hit mid-range and perimeter shots. That makes them dangerous in pick-and-pop situations, and it will force the Americans to remain on their toes at the defensive end.
Complacency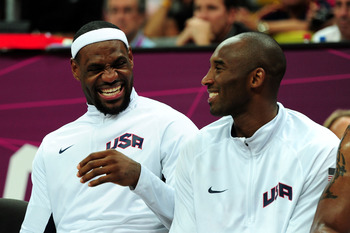 Mike Hewitt/Getty Images
Surely Team USA is mentally tough enough to avoid some measure of creeping complacency.
But how else do you explain what happened against Lithuania? After demolishing Tunisia and blowing out Nigeria by historic proportions, the United States edged out a mere five-point victory against the Lithuanians.
The roster of All-Stars didn't forget how to play the game. Nor did the Lithuanians draw on some hidden reserve of superhero powers.
This was, purely and simply, a mental hiccup. It was the kind of letdown that happens to the best of teams precisely because they are the best.
And yes, it could happen again.
Defensive Lapses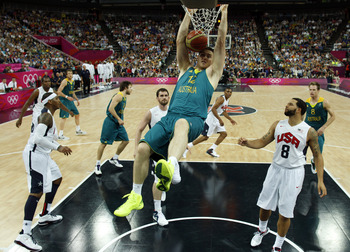 Pool/Getty Images
There are some extremely good defenders on Team USA's roster. Starting with Tyson Chandler, there are also a few guys who care deeply about getting stops.
Nevertheless, there are moments when this squad doesn't seem especially interested in rotating on the perimeter, opting instead to stand around and watch the other team go to work.
At its best, Team USA's stifling backcourt pressure can force turnovers or otherwise disrupt a half-court offense before it ever has a chance to get off the ground. We've seen the likes of Chris Paul and Russell Westbrook causing plenty of problems to those ends.
At its worst, the United States appears to be afflicted with whatever defensive passivity assistant coach Mike D'Antoni brings to everything he touches.
Which team will we see when the gold medal is on the line?
The Superstar Syndrome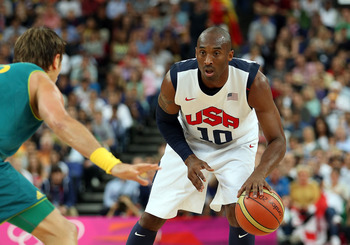 Christian Petersen/Getty Images
Here's the thing about the best players on the planet.
When that planet is watching, they want to prove they are indeed still the best players. Though every member of Team USA will say the right thing and, more often than not, do the right thing, there's still a temptation to take the game over.
That's exactly what Kobe Bryant did with his 20 second-half points against Australia.
The only problem is that we've seen Kobe try to do the exact same thing to no avail on several occasions—including the first half of that very same game.
If the gold medal game winds up being a close one, will someone like Bryant attempt to put his team on his shoulders in the worst possible way?
The Half-Court Game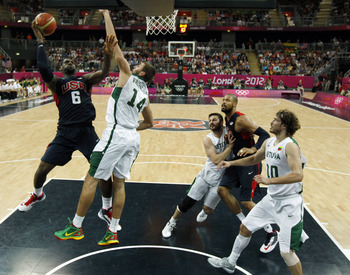 Pool/Getty Images
When the United States forces turnovers or pushes the tempo after missed shots, good luck trying to keep up.
There's just too much speed and athleticism for any other roster to run with this team, to say nothing of how well its stars can pass and finish at the rim. If they control the pace, they win the game. It's just that simple.
Team USA's half-court offense is a different story.
It falls short of qualifying as kryptonite, but there's a very real sense in which a slower game exposes the United States' mortality. Those are the times when it becomes something of a one-trick pony, relying on ball movement and perimeter shots to stay ahead.
So far, it hasn't mattered enough to significantly derail this team.
So far.
Keep Reading