Arkansas Football: What You Need to Know About Razorbacks DB Tevin Mitchel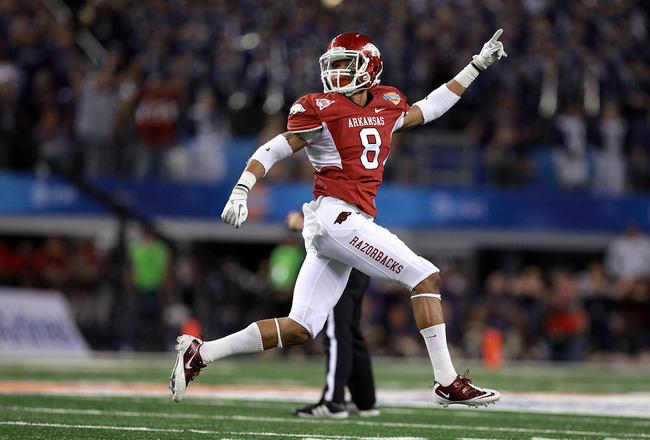 Tevin Mitchel excelled as a freshman last year and will look to continue his ascent in 2012.
Ronald Martinez/Getty Images
Arkansas cornerback Tevin Mitchel suddenly finds himself in the spotlight for 2012. Every player has a story, and it seems like Mitchel's is increasingly in demand.
Any time a freshman pushes his way onto the field, it's generally understood that he can play. That was certainly true in the case of Mitchel.
After recording 13 tackles and a fumble recovery against Texas A&M, Mitchel made his first start for Arkansas against Auburn in October of last year.
The Razorbacks would take that game 38-15, with Mitchel being named SEC Freshman of the Week. This type of performance was typical of Mitchel in 2011. He finished the season with 56 tackles—1.5 for a loss—and was named to the SEC All-Freshman Team.
Now a full-time starter, here are some key facts about Tevin Mitchel ahead of the 2012 season.
Last Season Wasn't a Fluke—His Ascent Has Always Been Fast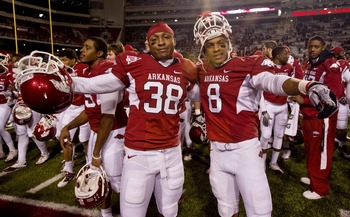 Mitchel (right) has had a rapid progression through the football ranks.
US PRESSWIRE
Mitchel had never played football when he arrived at Mansfield Legacy High.
His father, Eric Mitchel, was a Pine Bluff dual-threat quarterback star who went on to Oklahoma, where he played running back and backup quarterback before being drafted in the sixth round of the 1989 NFL draft by the New England Patriots.
Despite having never played a down, it was perhaps inevitable that Tevin would have some aptitude for football. However, although his speed was an asset—he runs the 40 in 4.4 seconds and was a track star before playing football—his coaches didn't know what to do with him.
After his first two seasons he had already played wide receiver and running back before coach Chris Nelson decided to try him out in the secondary.
Speaking to David McNabb at Vype Magazine, Nelson said the results were instantaneous:
"We put him in the defensive backfield, and he just took off. His explosiveness on defense, he's got great instincts, great feet, he can run really fast, but he likes to hit."
Mitchel had an immediate impact for Nelson and was selected to the 2010 Army All-American game. After initially committing to Nebraska, Mitchel then switched to Arkansas and hasn't looked back since.
Don't look for him to be slowing down any time soon.
He Plays with No Fear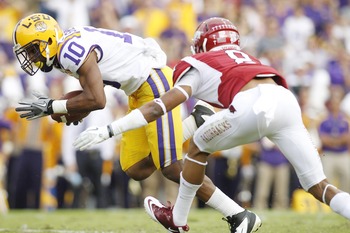 Mitchel isn't afraid to get his nose in and make big tackles.
Crystal LoGiudice-US PRESSWIRE
As he entered college it was noted that he was undersized for his position, so the initial plan was for Mitchel to redshirt his freshman year and bulk up in the weight room.
Evidently, he had other ideas.
"I don't want to be that player that redshirts," Mitchel told Robert Turbeville of Hawgs247 before the 2011 season. "I'm going to come out here and bust my butt every day and do what I have to do."
Mitchel's natural ability forced him into contention, regardless of size, which also translated to his on-field play.
In the game against Auburn he was outmatched physically, but showed a complete disregard for size and threw himself into tackles like a free safety. If he manages to gain weight and keep his speed, he'll be a fearsome prospect in the years to come.
If there is a criticism to be made of his freshman campaign it's that he was sometimes fooled by receiving routes, allowing himself to get turned around too easily.
This isn't a huge problem at this early stage in his career, and will be corrected with experience and study in the film room. At the rate he seems to be learning, expect to see an improvement this year.
He is also yet to register an interception for Arkansas, perhaps due to the fact that he seems a little wary to gamble and really attack the ball. Instead he allows the receiver to pick it out of the air and makes the tackle.
However, it's not like they got many yards after the catch last year, so it may be overly critical to mark this as a fault just yet.
His Maturity Belies His Years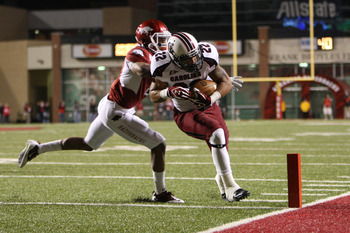 Mitchel is able to forget an earlier play and focus entirely on the next one.
Nelson Chenault-US PRESSWIRE
You can tell a lot about a player by how well he learns from his mistakes. Returning to the Texas A&M game I mentioned earlier, Mitchel hit Aggies running back Christine Michael in the back after Michael had already fallen to the ground.
The Razorbacks were hit with a 15-yard penalty and Ryan Tannehill put together a drive that led to an Aggies touchdown.
The Aggies sideline was jubilant, and then the cameras turned to Mitchel. He stood quietly, with look of grim determination on his face.
Instead of letting the mistake get him down, he got better and better in pass coverage as the game went on, as well recovering a fumble in the third quarter.
It was an impressive performance, and one that is typical of Mitchel's approach to the game. Speaking to Robert Turbeville, he dismissed the notion that the mistake played on his mind:
"I wasn't really worried about it. I know I made a mistake. You learn from mistakes, and I just shook it off and just kept looking forward."
In 2011, the Razorbacks posted their best record since 1977. Always an offensive threat, the 11-2 they posted last year had a lot to do with their improvement on defense, of which Mitchel played a large part.
If I had to guess, I'd say that Tevin Mitchel is already shaking that off and looking forward, too.
Keep Reading

Arkansas Razorbacks Football: Like this team?