6 Reasons to Believe Cam Newton Will Be Elite in 2012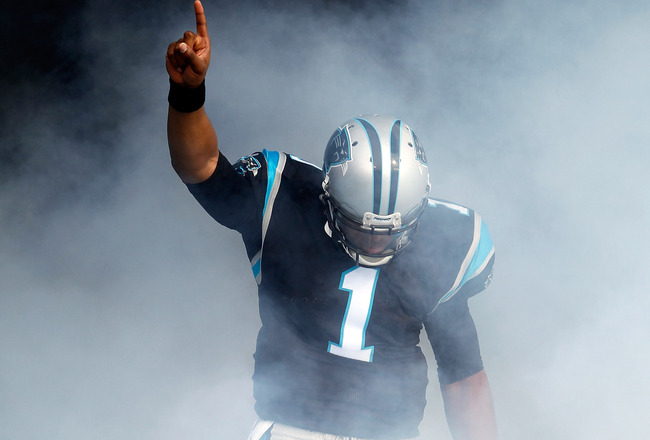 Streeter Lecka/Getty Images
Rookie of the Year, most passing yards by a rookie in his first game, most passing yards by a rookie in a season, most rushing touchdowns by a quarterback in a season, and Cam Newton has only just begun.
Last year, I was unsure about Cam Newton as the first overall pick. He would have been my second choice as A.J. Green was my main guy.
One year later, I still have Green ahead of Newton, but Newton was the right choice for the Carolina Panthers.
In his first season, Cam may have established himself as the most elite quarterback in Panthers history.
The next step is to move from the best of the Panthers franchise to the best of the entire NFL.
This is the year that Cam Newton establishes himself as a top quarterback joining Tom Brady, Drew Brees and Aaron Rodgers.
Improved Offensive Supporting Cast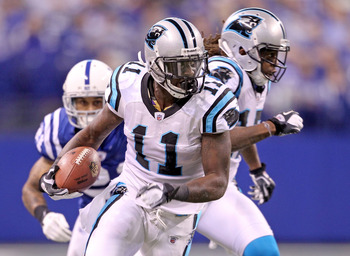 Andy Lyons/Getty Images
The first reason I believe this is the season Newton establishes himself as an elite quarterback is the improved personnel on offense.
Last season, Carolina was stuck with a very unproductive Legedu Naanee as the receiver opposite Steve Smith. He had trouble separating from cornerbacks and showed no ability to make a big play.
This season, the opposite receiver is Brandon LaFell. The 6'2" target out of LSU is finally being given his chance to shine.
LaFell has great hands, he does a good job blocking corners out with his body and he has shown on numerous occasions an ability to make big plays.
Last season, LaFell reached up for a catch and went on to outrun the Tampa Bay defense for a 91-yard touchdown. He also made an amazing one-handed catch on the sidelines back in 2010 against the Cleveland Browns.
LaFell will be joined by Mike Tolbert in the playmaker department.
Tolbert adds versatility with his ability to play fullback as well as catch passes out of the backfield. He even gives Carolina another option on the goal line.
The last improvement is not second round pick Amini Silatolu, though I expect him to retain his nastiness he demonstrated in college, but is Byron Bell.
The new right tackle filled in for Jeff Otah last year and the experience he gained from playing will be extremely helpful to his success this year. He will provide stability to the position and help form an offensive line that could finish as an elite unit at the end of the season.
Improved Defense and Special Teams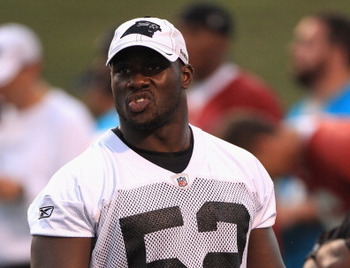 Streeter Lecka/Getty Images
For Cam Newton to become an elite quarterback, it will help if he has better field position to help score more points. An improved defense and better special teams play are how Carolina can improve in this area.
The defense is coming off a season where it lost captains Jon Beason and Thomas Davis in the first two weeks. The defense also lost Ron Edwards before the season began leaving little experience at the defensive tackle position.
Now, all three of these players have returned and they are bringing reinforcements.
The Panthers used their first draft pick on linebacker Luke Kuechly out of Boston College. He will start immediately at the weak side linebacker position.
Adding Kuechly to a corps that includes Beason and James Anderson means that the Panthers will have an elite group if healthy.
The Panthers also added corner Josh Norman out of Coastal Carolina. Norman provides size to the secondary and I expect him to be used frequently in nickel packages to start the season until he shows he can play on the other side of Chris Gamble.
Even a mediocre defense will be a drastic improvement over last year's squad and will put the Panthers in the playoff hunt.
Then, forcing offenses off the field is one way to improve field position, while an improved special teams unit is the other.
The Panthers put a focus on special teams and focused on the unit in free agency, but most of the players signed were to improve the coverage teams. The playmaker added to this year's special teams came through the draft in receiver Joe Adams out of Arkansas.
Adams has solid hands, great speed and is shifty. He will make an exciting and explosive punt returner who already has a return where he made eight University of Tennessee players fail in their attempts to tackle him on a punt return.
Adams has all the skills to be the next Steve Smith.
One Year Makes a Difference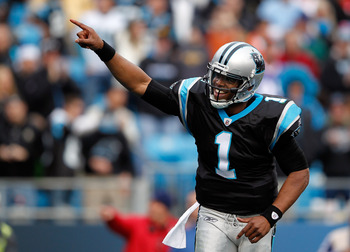 Streeter Lecka/Getty Images
While the personnel moves are important, it is how Newton uses his year of experience that will allow him to take the next step to becoming an elite quarterback.
Newton now knows the speed of the game.
Newton now knows how blitzes look in the NFL.
Newton now knows what he needs to do to be the leader on and off the field.
Newton will be ready this year. With a year of film on defenses and on himself, Cam will play like he has the cheat codes to a video game.
He will take the helm as the quarterback instead of being put behind the wheel as a rookie.
A Full Offseason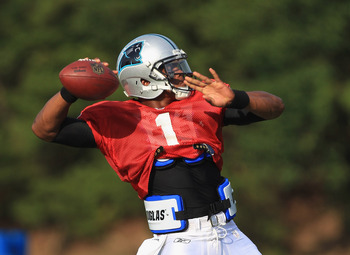 Streeter Lecka/Getty Images
If what Cam Newton did last season was not amazing already, add the fact that he only had training camp and the preseason to learn everything.
Now, he has had a full offseason.
He has had the time to actually talk to his coaches and coordinators about plays instead of asking Chris Weinke about them.
He has had more than a month to learn offensive line calls and learn the timing of his receivers.
He has had time to bond with his teammates, and with this time he has gained trust, and now the team has seen that Cam Newton will be the leader they need in order to win.
He will have improved reads, increased knowledge of the playbook and a better overall knowledge of how to win in the NFL.
Momentum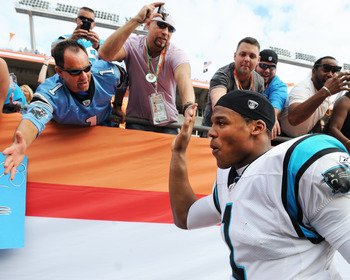 Al Messerschmidt/Getty Images
Every team makes personnel changes. Every team has an offseason.
What Cam Newton has that only few other quarterbacks have is momentum.
He has momentum from the awe-inspiring rookie season he had in 2011.
He has momentum from the improvements he will have seen in himself that occurred with a year of experience and a full offseason.
He has momentum from his teammates who watched and assisted in what I think is the greatest rookie season in at least the last 30 years.
Most of all, Newton has momentum exploding out of the people of Charlotte and out of Panthers fans everywhere.
As a Panthers fan I know this. I feel that this year can be the most memorable year in Panthers history.
I am more proud right now to be a Panthers more fan than ever before, and the team just came off a 6-10 season. What 6-10 team has ever had this kind of momentum flowing through it?
With this momentum flowing through Newton, he will believe in his ability to be elite because everyone around him believes he can be elite.
Ability to Avoid the Sophomore Slump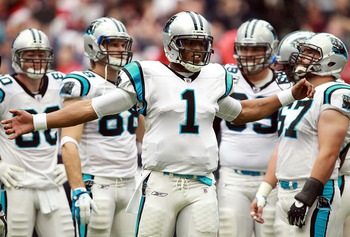 Ronald Martinez/Getty Images
All of the previous factors presented in this article combine to eliminate the one obstacle facing Cam Newton, and that is the "sophomore slump."
This term refers to the struggles numerous NFL quarterbacks have endured in their second year in the league.
I have heard and read hundreds of comments over the offseason about how teams will have Newton figured out because they will have a year's worth of game film on him.
To me, this is like saying that because opponents will have game film on him that he will not be able to adjust.
To me, this says that Cam Newton will be the same player he was last year, so it will be easy for teams to stop him.
My response is that Cam cannot be figured out. He cannot be stopped just because someone watched him destroy defenses last year.
My response is that all the teams are already behind. They are behind because Cam Newton is already improving his accuracy. He is already improving his decision-making process.
Plus, Cam is a new breed of quarterback. He is a threat with his arm and with his legs. Michael Vick is a runner that can pass, but Cam Newton is a passer that can run.
If Calvin Johnson is Megatron, then Cam Newton is Optimus Prime. He is a passer that can run and even catch, and he will do whatever it takes to lead his team to be the best.
After this season, teams will be spending more time at fortune tellers than in the film room because predicting the future will be the only way to stop Cam Newton and the 2012 Carolina Panthers.
Keep Reading

Carolina Panthers: Like this team?