Previewing the Cleveland Browns' Preseason Week 1 Game vs. Detroit Lions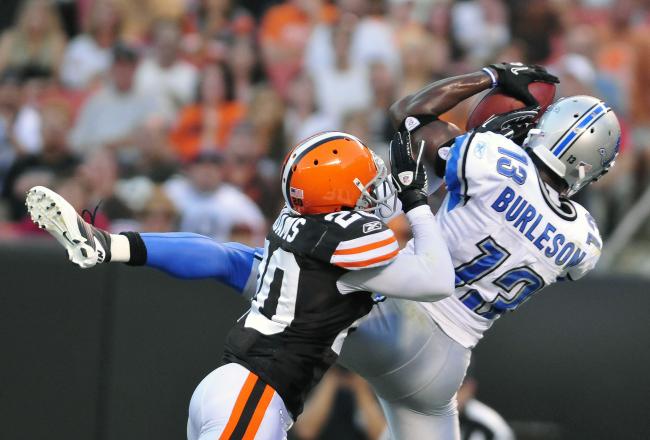 It's practically a tradition: The Browns facing the Lions in the preseason.
Jason Miller/Getty Images
What a seven days for the Cleveland Browns. They were sold, they may be losing their top cornerback for the first four games of the season, linebacker Chris Gocong tore his Achilles' tendon and Trent Richardson is getting scar tissue in his knee cleaned up.
Oh, and they have a football game this week, taking on the Detroit Lions on Friday night.
Luckily, with all of this recent turmoil, this is just a preseason game, and the first one at that. The preseason is mainly a time of player evaluation and experiments in play-calling, a time to find what—and who—does and does not work.
As such, here are three things you should pay closest attention to in the Browns' Friday contest against the Lions.
Brandon Weeden, Of Course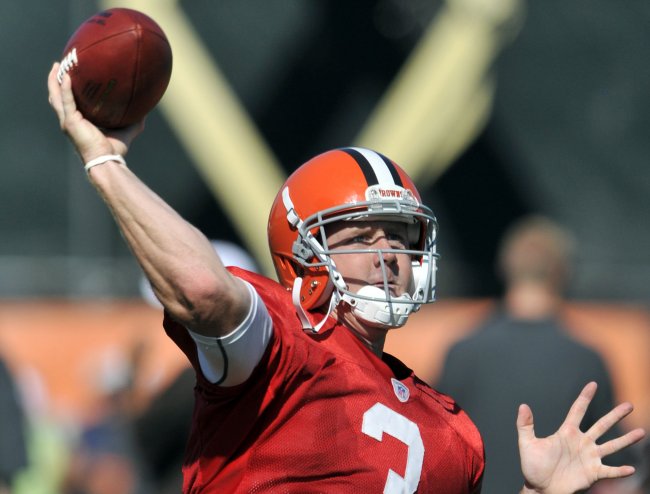 David Richard-US PRESSWIRE
Any team fielding a rookie quarterback needs to see how he'll fare in actual, live-game situations, so of course the Browns will be throwing Brandon Weeden directly into the fire on Friday.
Though Weeden shouldn't get more than two series (and perhaps, at most, a full quarter of play), there are still things to look for. Arm strength, clearly, will be a highly scrutinized aspect of Weeden's play, as well as his ability to react to the inevitable pressure of the Lions' defensive front seven.
Also worth watching is his chemistry with his receivers. Do his dropbacks and progressions line up with the routes they are running? If Weeden is out there with former Oklahoma State teammate Josh Cooper, does he target him because he's already comfortable with him, or does he spread it around?
And, most importantly, can Weeden get the ball down the field? A scoring drive is something that would engender much more confidence in the somewhat controversial first-round pick.
The Run Game
David Richard-US PRESSWIRE
We all know that Trent Richardson won't be on the field on Friday (and likely not at all during the preseason, now that he's
undergone surgery
to clean up scar tissue in his knee), but that doesn't make it pointless to watch how the Browns run the ball.
The likely starter is Montario Hardesty, the oft-hurt 2010 draft pick. Hardesty has looked fully healthy in training camp this year, but the real test will come when he's actually being pursued and hit by opposing defenses.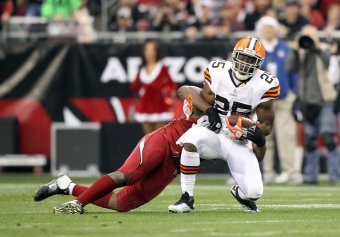 Christian Petersen/Getty Images
Though there's little chance we'll see enough of Hardesty for any real wear and tear to make itself known, just keeping an eye on his speed and lateral movement will at least indicate how much we can believe the reports coming out of camp.
Behind Hardesty are Brandon Jackson, Chris Ogbonnaya and Adonis Thomas. Hardesty appears to have the No. 2 spot behind Richardson locked down, which makes these three firmly on the roster bubble. Who stands out, makes plays and—most importantly—can do so even with second-string offensive linemen blocking for them will heavily determine who earns a spot come September.
This is but the first of a series of major tests these three backs will face over the course of the preseason. With Richardson's health all of a sudden in question and Hardesty's perennially there, who the Browns have backing up the two is extremely important.
Stopping the Run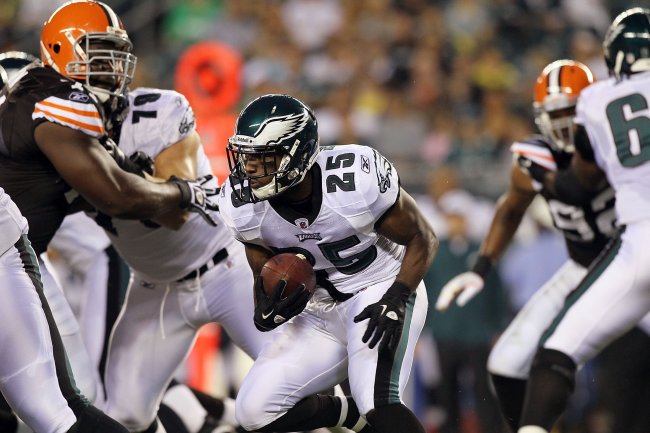 Jim McIsaac/Getty Images
The Browns did much this offseason, via both free agency and the draft, to help improve their defensive run-stopping. That effort took a major hit when Gocong tore his Achilles' tendon last week, but they appear, at least on paper, to have good enough depth this year to make up for his loss.
While the Lions aren't known to be the most effective or bruising team on the ground, that's a reputation they're trying to shake this year. It's not just about watching the first-team defensive front seven in this situation—the second- and third-strings are also worth paying attention to.
Should the Browns still struggle to keep a team like the Lions (that isn't known for running) from gaining meaningful yards, then clearly they haven't made enough progress to that end. On the other hand, if they can hold them down on the ground throughout the game, it will at least indicate that they've actually made improvements.
With the Philadelphia Eagles and LeSean McCoy on tap for Week 1 of the regular season, the Browns cannot afford to make slow gains in stopping the run. They need to prove they've fixed this area from the minute Friday's preseason game begins.
This article is
What is the duplicate article?
Why is this article offensive?
Where is this article plagiarized from?
Why is this article poorly edited?