Tennessee Football Training Camp: Injuries, News, Analysis and Position Battles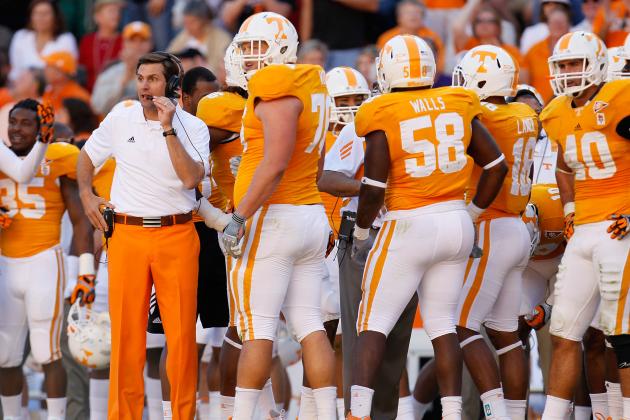 Kevin C. Cox/Getty Images

The year was 2007, and it was the last time the Tennessee Volunteers won double-digit games or finished the year with a bowl victory. One of those is likely to change this season, as they return 18 starters, including 10 on the offensive side of the ball that should make up one of the better units in the country this year.
Tennessee is also looking to get back many injured players, including wide receiver Justin Hunter and linebacker Herman Lathers.
While it should be a great season for Tennessee, the Vols still have to have a great fall camp to make these dreams a reality.
Stay tuned for all of the latest updates, news, injuries and more that involve your Tennessee Volunteers, as we head into the regular season.
Begin Slideshow

»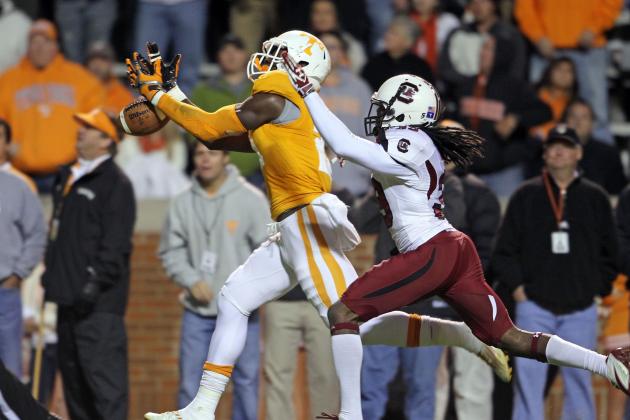 Andy Lyons/Getty Images

Just when you thought things were looking up for the Tennessee Volunteers, wide receiver Da'Rick Rogers has been suspended indefinitely from the team for a violation of team rules. It is still unclear how long he will be suspended for, but this certainly can't be great for a team that entered 2012 with so much promise.
Rogers led the Volunteers in receiving last season, hauling in 67 passes for 1,040 yards and nine touchdowns.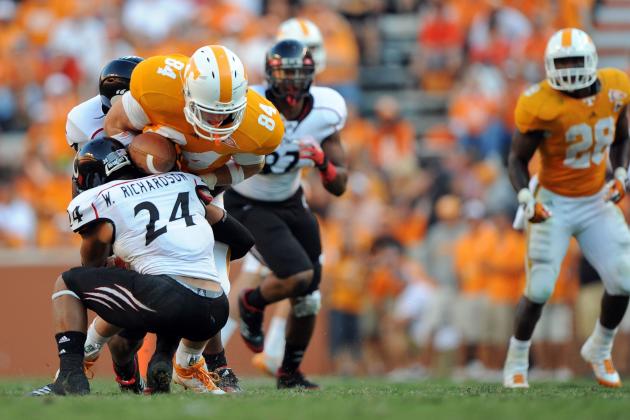 Randy Sartin-US PRESSWIRE

Starting tight end Mychal Rivera has missed most of camp with an injury, and now backup Brendan Downs will miss majority of the season with a dislocated patella he suffered in last week's scrimmage. This leaves the depth at the tight end position extremely thin, but Rivera is expected to be ready for the season opener.
Speaking off the scrimmage, quarterback Tyler Bray faked a sprained ankle so some of the backups could receive more reps. Quarterback Justin Worley stepped up to the plate and completed 15 of his 28 attempts for 229 yards and a pair of touchdowns.
Defensively, Byron Moore was the star, as he intercepted two passes and had one pass deflection.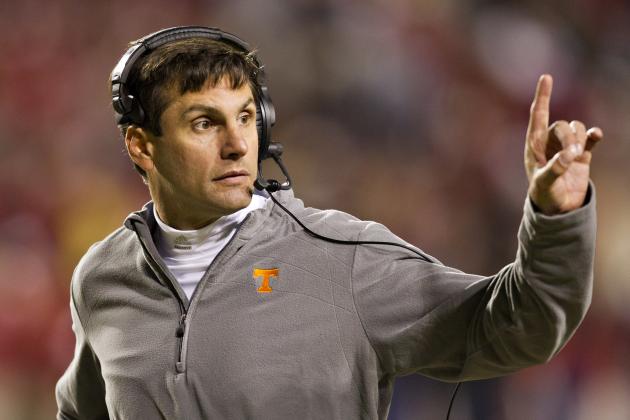 Wesley Hitt/Getty Images

Offense coming together
The Tennessee Volunteers have been accused of being young the past couple of seasons, but returning many starters from a year ago sure should help with experience in 2012. Offensive coordinator Jim Chaney says that his offense is a lot more mature this season. (Via Chris Price of Scout.com)
The maturity of this group — they are going out and going to work every day. Chaney told reporters Tuesday. Sometimes you have to jump start them a little bit. It seems like in previous years it has been a constant jump-start. They seem a little more mature, a little more determined to be good and I have enjoyed that.
Another thing that seems to be improved, according to head coach Derek Dooley, is the running game. The Volunteers averaged only 90 yards on the ground a season ago, but seem to be turning the corner throughout fall camp. (Via Danny Parker of Scout.com)
I am happy (with the run game) but I am hoping that we can keep building on it. Coach Derek Dooley said after the scrimmage. It wasn't a surprise. I have said that we have three guys that can help us win and run the ball and we have to do a good job around it of blocking and throwing the football because we aren't going to line up two tight ends and pound it. We aren't those kind of guys
Injury update
Tight end Mychal Rivera and wide receiver Cordarrelle Patterson continue to wear no-contact jerseys, but are back on the field practicing. Sophomore running back Tom Smith did not practice on Tuesday, but is expected to resume practice sooner than later.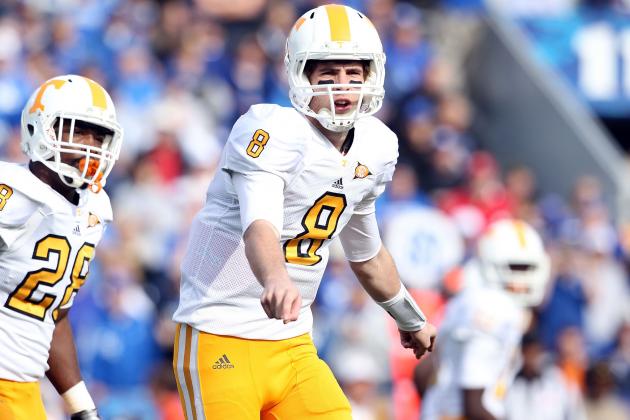 Andy Lyons/Getty Images

Many expect the Tennessee Volunteers to be an improved team, mainly because of the pieces on offense. During the first scrimmage of the season, quarterback Tyler Bray and company did not disappoint.
Bray completed 18 passes, with 13 of them going to wide receivers Da'Rick Rogers and Justin Hunter. Rodgers led the offense with six receptions for 105 yards.
"We're just out there having fun," Hunter said. "We're a little closer than last year, and now we really know what we need to do." (Via utsports.com)
The running game also improved, rushing for 295 yards, with junior Rajion Neal leading the way with 134 yards on the ground.
The running game opens up the passing game for me. Bray said. You go to play action, you can dump it over the middle all day. Today's scrimmage was one of the best, if not the best scrimmage that the running game has had. The line blocked great and I can't ask for anything more.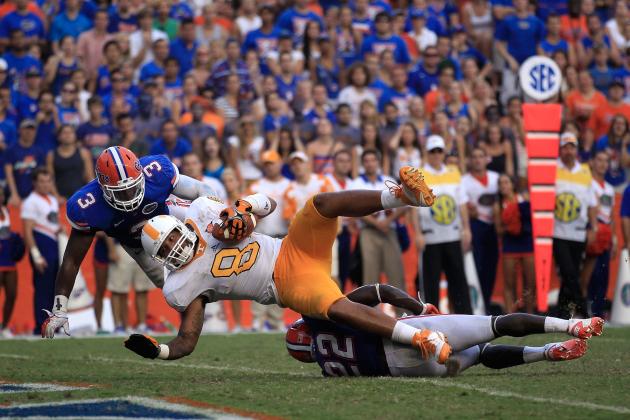 Sam Greenwood/Getty Images

Mychal Rivera Hurts His knee
The bad news is that Mychal Rivera has hurt his knee.
The good news is that he is expected to miss only a few days, and this will give a chance to some of the younger players to get reps they usually wouldn't receive.
A number of UT defensive players are helping to fill the void left by Rivera, via Edward Aschoff of ESPN:
"With Rivera out, we're thin at that position," Dooley told reporters. "We have a lot of defensive lineman. Just like Justin King, I think Joe Ayers can give us a little value, especially as a bigger, physical guy to help us block."
Rivera has been a consistent player through his first two seasons with Tennessee, catching 40 passes for over 400 yards in his career. He also looks to be a huge factor in the offense this year, especially with two great receivers demanding most of the attention.
Corey Miller Is Back on the Field
The junior defensive lineman missed the entire spring due to academic issues but is back on the field this fall with his teammates.
"It's good getting him back," Dooley said (via Daniel Lewis of nooga.com). "He's not a huge guy, but he's got some good twitch. This is his second chance. He kind of messed up in the classroom, hopefully he learned from it."
Miller has played in 25 career games, finishing last season with 15 tackles and a sack.
Justin Hunter is 100 Percent
For those that were wondering how wide receiver Justin Hunter was doing and if he will be ready for the regular-season opener, worry no more.
The junior receiver is doing great and says he is 100 percent recovered from an ACL tear he suffered last season (via SI.com):
"I've been out there running with the team and everything with no pain, no tweaks or anything like that," Hunter said. "I'm jumping the same, jumping actually, I think, I'm a little bit higher than I was. My speed hasn't decreased as I was running, so I think everything is good."
Hunter has the skill set to become one of the best receivers in the country this year.
He was off to a fast start before suffering a season-ending injury last season in Week 3. He finished the year with 17 receptions for 314 yards and two touchdowns.
This article will be updated throughout fall camp to provide you with the latest news, injuries and everything else that involves your Tennessee Volunteers.