How Dangerous Can the Boston Red Sox Offense Be at Full Strength?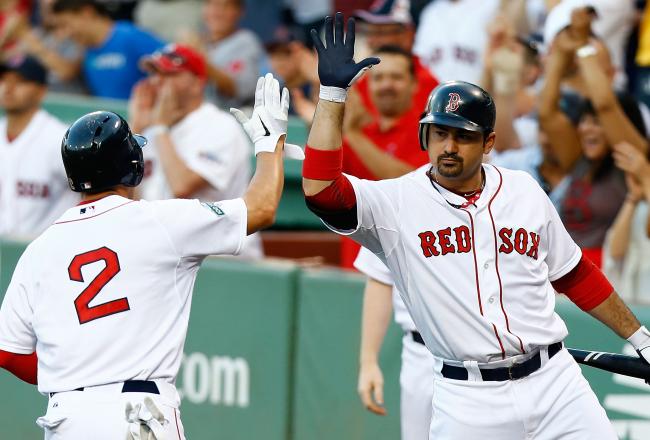 Jared Wickerham/Getty Images
Many moons ago, the Boston Red Sox were looking forward to having a daily lineup that featured the likes of Jacoby Ellsbury, Carl Crawford, Dustin Pedroia, Adrian Gonzalez, David Ortiz and Jarrod Saltalamacchia.
Want to know how many times Bobby Valentine has been able to pencil those six guys into the same lineup this season?
Zero. Nada. Zip. Zilch. And other synonyms of "zero" as well.
Does this explain Boston's mediocre showing thus far in 2012? No. The Red Sox have been beset by roster problems and bad vibrations since Day One, and the truth is that their lineup problems are rather petty compared to the injury and pitching woes that the club has had to deal with this season.
Still, not having the lineup be at full strength all season hasn't helped. And who knows? Maybe a little extra offense here and there would have translated to two or three more wins, which means the Red Sox could conceivably be dealing with a two- or three-game deficit in the AL wild card race instead of a 4.5-game deficit.
Maybe a little extra offense is what they need to make a move in the final seven weeks or so of the regular season. Just throwing it out there.
The good news for the Red Sox is that their offense will finally be at full strength in the very near future. The only guy who's missing at the moment is David Ortiz, who has been out since July 16 with a bad Achilles. According to Peter Abraham of The Boston Globe, Big Papi is optimistic that he'll be able to play in Cleveland against the Indians this season after getting an injection on Monday.
Al Messerschmidt/Getty Images
The Red Sox will certainly be glad to have him back. Ortiz is having one of the best seasons of his career, hitting .316/.414/.609 with an AL-best 1.024 OPS to go along with 23 home runs and 58 RBI. According to FanGraphs, the only player in the AL with a higher weighted on-base average than Ortiz is Superm...er, Mike Trout.
Welcoming Ortiz back will be easy. The hard part for Valentine will be figuring out how to arrange his lineup once he has Big Papi at his disposal once again.
My best guess is that it will look something like this (h/t to Baseball-Reference.com for the numbers):
1. Jacoby Ellsbury, CF (.264/.318/.372)
2. Carl Crawford, LF (.289/.321/.500)
3. Dustin Pedroia, 2B (.268/.325/.408)
4. Adrian Gonzalez, 1B (.307/.351/.457)
5. David Ortiz, DH (.316/.414/.609)
6. Cody Ross, RF (.271/.337/.517)
7. Jarrod Saltalamacchia, C (.231/.288/.486)
8. Will Middlebrooks, 3B (.292/.322/.510)
9. Mike Aviles, SS (.256/.283/.400)
Or, if you prefer to ignore the numbers and focus instead on individual accomplishments and achievements, Valentine will soon be able to trot out a lineup that features the 2011 AL MVP runner-up, a four-time All-Star, the 2008 AL MVP, another four-time All-Star, the best DH of the past decade, the 2010 NLCS MVP and a legitimate AL Rookie of the Year candidate.
In other words, a pretty good lineup.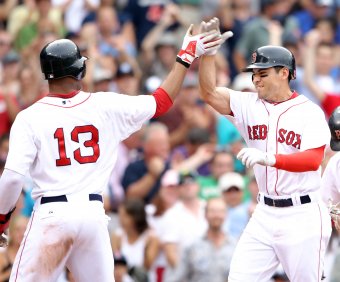 Elsa/Getty Images
If Valentine chooses to keep Ellsbury and Crawford in the first two spots of his batting order, he's going to have more speed at the top of his lineup than any manager in baseball. To boot, it's worth keeping in mind that Ellsbury is hitting a solid .284 since the All-Star break with eight doubles, and that Crawford is sitting on a 1.066 OPS over his last 11 games.
Pedroia has also been swinging the bat well lately, hitting .308 with an .823 OPS in August thus far. Since he last had to play right field on June 19, Gonzalez is hitting .386/.417/.548 with six home runs and 33 RBI in 42 games.
And then there would be Ortiz, who was having a better season than any slugger in the American League before he got hurt.
The bottom of this proposed lineup doesn't look like much at first glance, as Saltalamacchia and Middlebrooks both strike out too much and Aviles has only taken 16 walks all season.
But it's not that bad. Saltalamacchia and Kelly Shoppach both pack a ton of power, and they're largely responsible for the fact that Red Sox catchers boast a .482 slugging percentage. According to FanGraphs, only White Sox catchers have a higher slugging percentage among AL teams.
Middlebrooks may be a hacker, but good things happen when he makes contact. He has a .339 BABIP, which isn't that far off from Gonzalez's .344 BABIP.
Aviles isn't much of a hitter, but he's a much better fielder than he gets credit for. Per FanGraphs, there are only two shortstops across MLB with higher UZRs than Aviles' UZR of 7.1.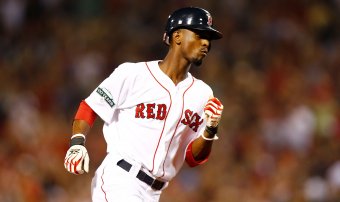 Jared Wickerham/Getty Images
If Valentine is looking for more offense on a given day, he could always plug Pedro Ciriaco in at shortstop and in the No. 9 spot. Ciriaco is hitting .338 with an .814 OPS and six stolen bases in limited action. He's not as good of a defensive shortstop as Aviles, but Ciriaco can hold his own.
So, on any given day, Bobby Valentine is going to be able to put together a lineup that features speed at the top, power in the middle, and a hearty mix of power, speed and versatility at the bottom. That's the kind of lineup that pitchers aren't going to look forward to facing, and things are made all the more frightening by the amount of bona fide stars Boston's lineup is going to feature on a daily basis.
Keep in mind that it's not as if the Red Sox have been helpless offensively this season. They came into their Wednesday matinee against the Texas Rangers ranked second in the AL in runs scored, fourth in team batting average, seventh in on-base percentage and third in slugging. Boston's collective OPS of .762 ties it with the Los Angeles Angels for fourth in the AL.
So despite the fact the Red Sox's offense hasn't been at full strength all season, it's been one of the AL's elite offenses anyway.
At full strength, it goes without saying that Boston's offense is going to be even better. The real question is whether they're going to have the best offense in the Junior Circuit, which naturally means having the best offense in all of baseball.
On paper, which MLB team has the best offense?
That honor belongs to the Texas Rangers right now, as they lead all of baseball with 556 runs scored and they boast a collective OPS of .784. The Yankees have a higher OPS at .793, but their offense isn't nearly as versatile as the Rangers' offense is. The Rangers can hit the long ball (127 home runs), and they also have a .282 average with runners in scoring position (compared to .247 for New York).
But Texas' offense is only at full strength when Josh Hamilton is swinging a hot bat, and he hasn't been swinging a hot bat for about two and half months. Since May 14, he has a .226 average and a mere .711 OPS. The Rangers have done well to weather his slump, but their lineup just doesn't have its usual explosiveness with a slumping Hamilton in the middle of it.
So the door is wide open for the Red Sox to establish themselves as MLB's most frightening offensive team once Ortiz comes back and their lineup is at full strength for the first time all season. It all depends on him being himself, Ellsbury continuing to shake off the rust, and Crawford, Pedroia and Gonzalez all staying hot.
It also depends, of course, on everyone staying healthy. And to that end, recent history is not on Boston's side.
That's your cue to cross your fingers, Red Sox fans.
If you want to talk baseball, hit me up on Twitter.
This article is
What is the duplicate article?
Why is this article offensive?
Where is this article plagiarized from?
Why is this article poorly edited?

Boston Red Sox: Like this team?