NFL Predictions: Why Brandon Weeden Will Disappoint Cleveland Browns in 2012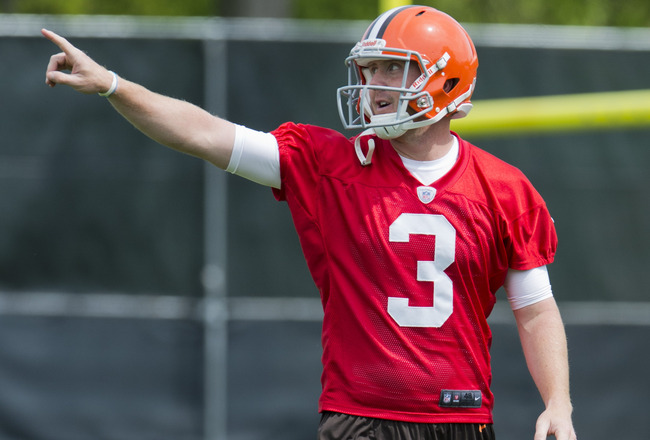 Brandon Weeden (No. 3)
Jason Miller/Getty Images
For Cleveland Browns fans, the thought of yet another quarterback failing them is an unbearable notion.
Years of quarterback futility are enough to strike pain into the heart of even the most calloused Browns fan.
Yet, after two disappointing seasons with Colt McCoy at the helm, another highly-touted college prospect is set to do the same in 2012—this time in the form of Brandon Weeden.
The former Oklahoma State Cowboy arrives in Cleveland as a 28-year-old rookie. Weeden played five seasons of minor-league baseball before returning to school to pursue a career as an NFL quarterback.
He produced monster numbers during his final two years in the collegiate ranks. He completed just under 70 percent of his passes, while throwing for over 9,000 yards and 75 touchdowns.
These statistics reveal remarkable accuracy and conference-leading production.
But the age-old questions remain: Will this production translate in the NFL? Or will he fizzle away into obscurity as the dreaded "product of a college system"?
Let's detail the three reasons why Brandon Weeden will indeed disappoint the Cleveland Browns in 2012.
Product of Spread Offense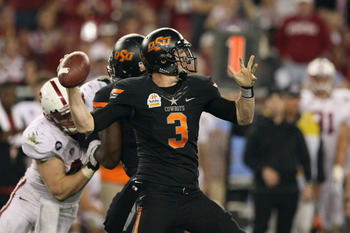 Weeden operated out of a spread offense at Oklahoma State.
Donald Miralle/Getty Images
I might as well come right out and declare that spread systems rarely translate into the pro levels. This is especially true of the Big-12 Conference.
From 2000 to 2009, the six different quarterbacks who led the conference in passing have a grand total of one completed pass in the NFL.
A prolific passer like Graham Harrell—who threw for over 5,700 yards with 48 touchdowns and a 71.8 completion percentage for Texas Tech in 2007—has yet to register a single snap in the NFL.
These quarterbacks operate in pass-heavy systems, against defenses that are completely incapable of stopping them.
For example, Weeden attempted 564 passes compared to just 380 rushing attempts for the Oklahoma State offense in 2011. He and his bevy of receivers feasted on their nine weak Big-12 opponents who allowed over 30 points per game, with Texas Tech and Kansas allowing more than 60 points in each contest.
Teams in this conference (and elsewhere in the NCAA, for that matter) routinely exploit inferior defenses with unbalanced, passing-dominant spread offenses. Weeden and Oklahoma State were no different.
This unrealistic dynamic simply does not exist nor succeed at the NFL level, which brings me to my next point…
Dominant AFC North Defenses, Deficient Cleveland Offense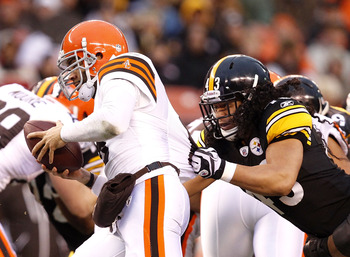 The Steelers' Troy Polamalu will be all over the rookie QB.
Matt Sullivan/Getty Images
Weeden will unfortunately experience a rude awakening when the 2012 season begins.
The Browns three AFC North opponents all bring top-10 defenses against the pass and rush to the table. Pittsburgh ranked No. 1 and No. 8 in 2011, while Baltimore owned the No. 4 and No. 2 positions. Cincinnati held the No. 3 and No. 10 ranking.
All three will be formidable once again in 2012, with the Bengals notably improving in the passing category with numerous offseason additions to the secondary.
Who will Weeden have at his disposal on the outside to attack these defenses? He'll certainly be without the services of the 2011 version of his college teammate Justin Blackmon.
As it stands, Cleveland's roster sports a collection of No. 2 and No. 3 receivers. Greg Little is solid, but doesn't exactly strike fear into opposing defenses. Mohamed Massaquoi has never materialized into a legitimate second-round wideout either. Weeden can only hope that the 31-year-old Benjamin Watson provides a reliable target at tight end.
The Bengals and Ravens (even with the loss of Terrell Suggs) also bring a ferocious pass rush. The Browns, meanwhile, gave up 39 sacks last year; and outside of Joe Thomas, have serious issues in that department moving forward.
Rookie Mitchell Schwartz cannot make up for the deficiencies of Shaun Lauvao and Jason Pinkston, let alone be a substantial improvement over the departed Tony Pashos all at the same time.
Moreover, Weeden will require a stout offensive line to propel a consistent running game with such few playmakers at wide receiver. His men up front, though, were even worse in this area than against oncoming pass rushers (per ProFootballFocus).
Unfortunately, No. 3 overall pick Trent Richardson will no longer have the luxury of running behind a massive Alabama offensive line.
He will represent the only real source of playmaking ability on offense. As great as he is, it is hard to fathom Richardson carrying the team entirely on his back as a rookie, especially against the defenses in this division.
A severely lacking offense, combined with league-leading defenses bringing their merciless best will have Weeden and his fellow rookie wishing they were back in their comfy college abodes.
History of Drafted Quarterback Failures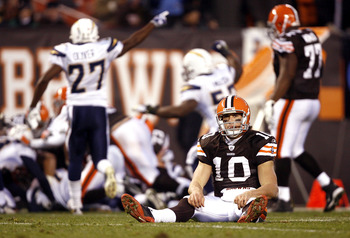 Does this ring a bell?
Matt Sullivan/Getty Images
In 1999, the Browns returned to football after a three-year hiatus. They began their new era by drafting Tim Couch with the No. 1 overall selection.
Let that mark the decade-plus curse on Cleveland Browns quarterbacks.
The former Kentucky star produced just one winning season in his brief five-year career. He sheepishly left town with a 22-37 record and the label BUST written all over him. Fans are still irate over this pick
Cleveland then selected a quarterback in a more modest fashion in 2004. It tabbed Luke McCown in the fourth round. Mr. McCown has been an NFL vagabond at best, starting a total of nine games without any success (0-4 with the Browns).
He somehow remains in the league today.
Charlie Frye didn't resurrect the franchise either the very next year. He managed to play in the state of Ohio for nearly two whole seasons. However, he also managed to throw more interceptions than touchdowns and lose more games than he won.
And for the purposes of brevity, Brady Quinn (2007)—Mr. First Round Fighting Irish Heartthrob himself—and Colt McCoy (2010), the once record-setting Texas QB, both failed in short order for the Browns franchise as well.
(Well, at least they did so in somewhat un-catastrophic fashion. McCoy deserved another chance.)
Now it's Brandon Weeden, the sixth quarterback taken, and the third in the first round by Cleveland in the last 13 years.
Weeden's certainly better qualified than McCown or Frye, and is much less overhyped than Couch. I'd like to say he is an improvement over McCoy, but a much younger Colt never had a chance to develop with a respectable offensive around him.
Will Cleveland endow Weeden with the necessary weapons, or pull the plug on the 28-year-old after a couple years as well?
I sincerely hope for the sake of Browns fans and the NFL at large that the Cleveland brass affords Weeden the opportunity to succeed. Mike Holmgren is too savvy of an executive not to.
Then again, as the 22nd overall pick, Weeden bears a striking resemblance to a certain Brady Quinn, a 22nd overall pick himself.
Will the NFL gods look favorably on the Cleveland Browns and Weeden this time around?
My gut says no. Both the ethereal and discernible odds are just too stacked against them.
Add me on Twitter @jlevitt16
Keep Reading

Cleveland Browns: Like this team?