Dallas Cowboys Training Camp: Three Lingering Questions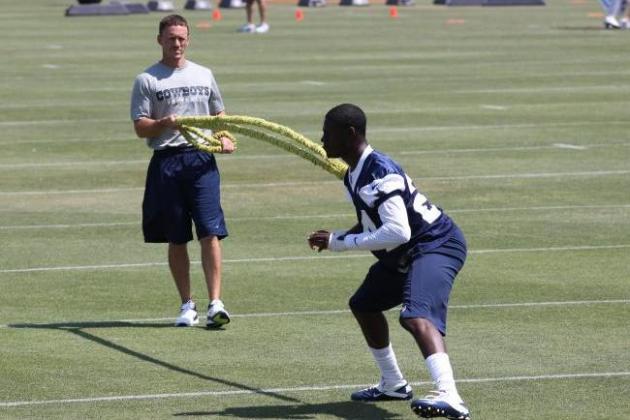 Matthew Emmons-US PRESSWIRE
Things are about to get crazy in the NFC East. We've got three preseason games Thursday and Friday and a ton of story lines to cover. So before teams put a temporary pause on their camps to focus on their preseason debuts, let's take a look at three questions that we're still asking in each training camp. For alphabetical purposes only, we start with the Dallas Cowboys.
Begin Slideshow

»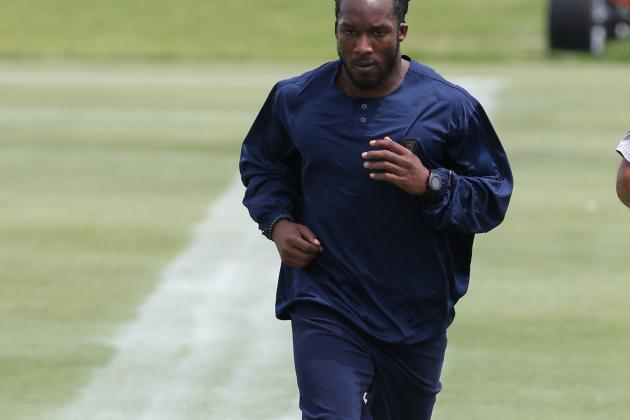 Matthew Emmons-US PRESSWIRE

There's little doubt that the Cowboys are skilled enough at cornerback to feel secure about the position for years to come, but there are expected to be growing pains early.
Top pick Morris Claiborne is out with a sprained MCL, and he's barely been able to practice with the team all offseason. When he was on the field early in camp, he lacked consistency and was burned often. It'll take time for Claiborne to adjust, and that adjustment period keeps getting delayed.
Meanwhile, Mike Jenkins—who was the team's top corner last year—is still out with a shoulder injury that could keep him off the field throughout the preseason. His status for Week 1 is in doubt.
With question marks attached to both Claiborne and Jenkins, a lot falls on big-shot free-agent signing Brandon Carr and regular nickel man Orlando Scandrick. A Claiborne-Scandrick duo to start the year wouldn't be outrageous, but there's no depth beyond that.
They'll hope and pray that Claiborne and Jenkins heal fast. And if that fails, it'll put a lot of pressure on unproven young players such as Akwasi Owusu-Ansah, Teddy Williams, CJ Wilson and Mario Butler.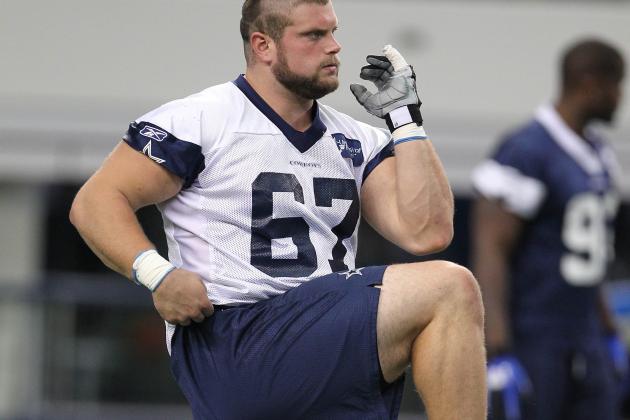 Matthew Emmons-US PRESSWIRE

You don't need an All-Pro center to be successful, but you do need someone dependable. And considering the trouble Phil Costa had last year, the fact that Mackenzy Bernadeau, Bill Nagy and Kevin Kowalski have all been hurt is quite a concern for Dallas.
They've tried guards David Arkin and Harland Gunn out at the position in camp, but the exchanges haven't been clean enough.
We'll be monitoring Costa all preseason. Bernadeau is being eased back now, and there's a chance he'll get some first-team reps going forward. We'll keep an eye on him, too.
The Cowboys didn't necessarily expect to have their center issues put to bed 10 days into camp, but there's been little to no progress. In fact, they're probably worse off now than they were at the end of last year. That should change in the coming weeks, but it remains a large question mark right now.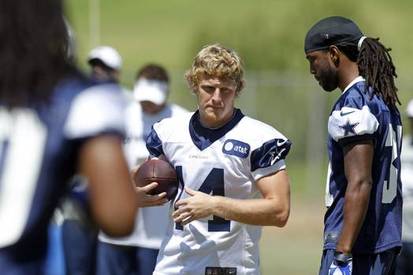 Image courtesy Michael Ainsworth of the Dallas Morning News
This isn't urgent. It really isn't. The Cowboys certainly didn't know at this point last year that Laurent Robinson would be the third receiver, because Robinson wasn't even on the roster yet.
That said, it'd be nice if someone would emerge from the pack that is clumped behind Dez Bryant and Miles Austin.
Right now, for various reasons, Kevin Ogletree, Andre Holmes, Dwayne Harris, Raymond Radway, Danny Coale and Tim Benford are all failing to step up. In fact, the current leader of the pack might even be undrafted rookie Cole Beasley, who left the team briefly earlier in camp but has returned with an extra bounce in his step.
The small SMU product has drawn comparisons to Wes Welker, and he'd be an ideal safety valve in the slot. But it's still early, and it has to worry the team a little that his "heart wasn't in it" less than a week into his pro career.
There's still quite some time for a guy like Beasley to either emerge and grab hold of the spot or fade and become another fleeting August memory. And the same applies to pretty much every other receiver on the roster not named Bryant or Austin.