Florida Football Training Camp: Injuries, News, Analysis and Position Battles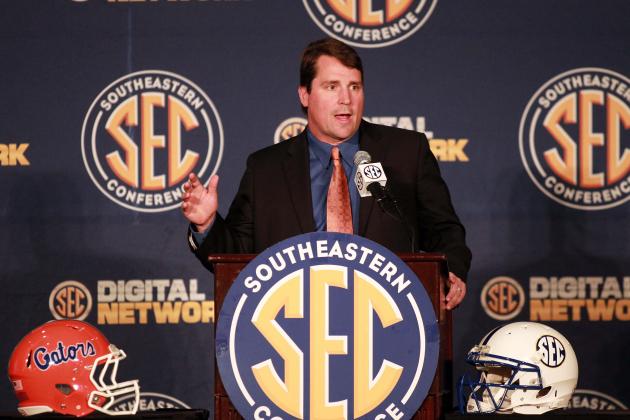 Marvin Gentry-US PRESSWIRE

Despite not having the greatest season in the world in 2011, the Florida Gators seem to be a team that is heading in the right direction. Head coach Will Muschamp knows what he wants out of his team and a defense that ranked eighth in the country a season ago returns 10 starters.
While it appears that the Gators are ready to make another run at an SEC East title, there are things that this team must improve on heading into the season.
Here are the latest updates, news, injuries and more involving your Florida Gators football team as they head into fall camp.
Begin Slideshow

»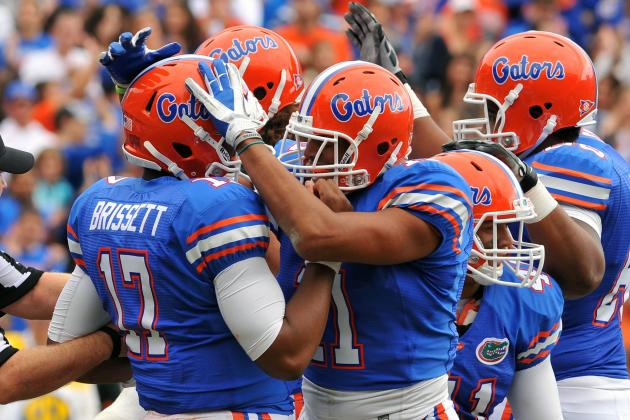 Al Messerschmidt/Getty Images

For those wondering about who is going to be the starting quarterback, you will get the best of both worlds during the season opener. The battle between Jacoby Brissett and Jeff Driskel will continue throughout the regular season, as both players will see action in the week one matchup against Bowling Green. (Via Michael DiRocco of ESPN)
"They both deserve the right to play," Muschamp said. "They've earned that, and they both deserve the right to start. They both have had really good camps.
"Both guys are very even, and our football team's got great confidence in both of them."
This really does not come as a surprise if you have been watching the competition closely during camp. And although both are expected to play, Driskel is still recovering from a shoulder injury he suffered last week. He will have it looked at on Monday and if he isn't cleared for contact, it will likely be Brissett who gets majority of the reps in the season opener.
Al Messerschmidt/Getty Images

The big question that has followed the Florida Gators around for the past few months involves the quarterback position. Who is going to be the guy that leads this Florida offense, Jacoby Brissett or Jeff Driskel?
According to head coach Will Muschamp, a decision will likely come in the next week. (Via Robbie Andreu of Gatorsports.com)
We have to start figuring that out as we move forward. Muschamp said. I think both guys, looking at it right now, are very even in what they want to do. Brent (Pease) and I will sit down like we have after every practice, and again the next morning, and discuss where we are, what is going well and what is not.

I'd probably take (the decision) into the next week. We'll see what happens. I'm not ready to comment on that. I think we have a press conference Monday of game week. We'll see Monday (Aug. 27).
Colin Thompson out
Freshman tight end Colin Thompson is once again going under the knife and is expected to miss up to two months of action. This will be the second surgery Thompson will have to repair a fractured bone in his foot. (Via Michael DiRocco of ESPN)
I met with (head team physician) Mike Moser several days ago and generally this is a six-week procedure, but he's re-doing a procedure so he said, 'Will, it's probably going to be longer than that. Muschamp said of the surgery in which Thompson will have a screw inserted to stabilize the break.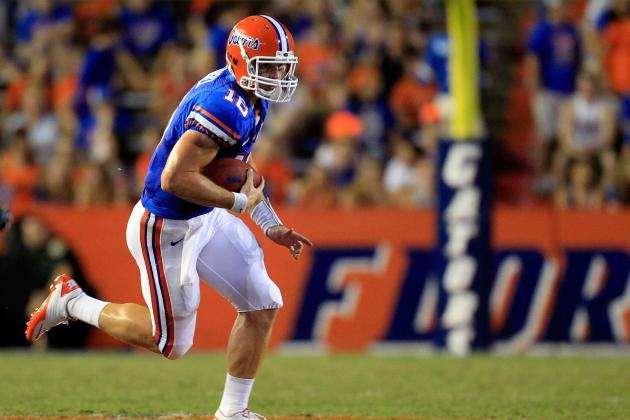 Sam Greenwood/Getty Images

The Florida Gators ran their first scrimmage of fall camp and there still is no separation of the quarterback position. Both candidates played in the scrimmage without no-contact jerseys, as coaches wanted to see how the young players were able to handle the pressure of the defense. (Via Cody Jones of Scout.com)
Both quarterbacks were pretty evenly distributed through the explosive plays and how they played. Will Muschamp said. They're both completing between 63-65% of their passes and both are dead on statistically as far as attempts, completions and everything. They managed our football team well.
As practice continues to drag out, it is looking more and more like the Gators will go with a two-quarterback system this year.
Jordan Reed injury
Tight end Jordan Reed left practice with a twisted knee, but is only expected to miss a couple of days of practice.
"He'll be fine," Muschamp said. "He was a little sore, but there are no issues, no surgery, no nothing. There are no other significant injuries at this time." (Via Robbie Andreu of gainesville.com)
Marcus Roberson at punt return
Florida finished ninth in the SEC in punt return yardage, averaging just 7.12 yards a return. While the Florida coaching staff continues to search for answers on special teams, it appears that Marcus Roberson will be the go-to guy.
Right now, he would be the guy. Muschamp said. Andre Debose has been back there and done some really nice things. I feel comfortable with him. Pop Saunders would be a guy. Loucheiz Purifoy has done it a little bit. Trey Burton has done it a little bit. (Via Robbie Andreu of gainesville.com)
Roberson did not return a single punt last season.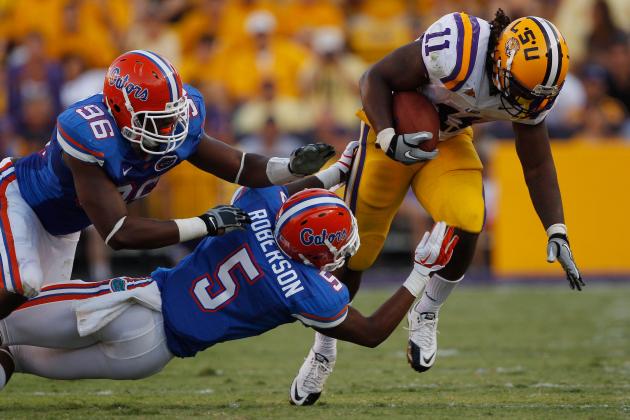 Chris Graythen/Getty Images

Cornerback depth
Florida returns 10 starters from a defense that was ranked eighth in the country a year ago. And while it appears that the defense is all set, the cornerback position has four players that are fighting for only two starting spots. (Marcus Roberson, Jaylen Watkins, Cody Riggs and Loucheiz Purifoy)
"Nobody has a job," Purifoy said. "We switch every day. We all get the same amount of reps. If one group goes first one period, then the next group goes first the next period." (Via Michael DiRocco of ESPN)
The cornerback depth is so deep that true-freshman Brian Poole has been moved to the safety position to try and give him a chance to see the field this season.
Injuries
Senior defensive tackle Nick Alajajian will miss all of the 2012 season due to a knee injury. Junior defensive end Kedric Johnson will miss a significant amount of time due to a knee injury as well. And running back Chris Johnson suffered a sprained neck, but should be able to resume practice in no time for the Gators.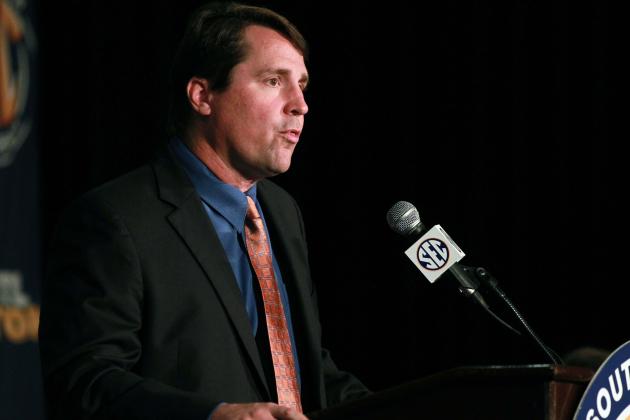 Marvin Gentry-US PRESSWIRE

Ja'Juan Story is transferring
Ja'Juan Story no longer wants to be a Florida Gator. The redshirt freshman has yet to play a single down for Will Muschamp, but has said that he will soon be taking his talents elsewhere.
Ja'Juan came me to Thursday afternoon and indicated that he wanted to transfer. Muschamp said in a statement through the school. He just felt like this wasn't a good fit for him and he needed a fresh start. Ja'Juan is a good student and was a good teammate and we wish him the best of luck. (Via Edward Aschoff of ESPN)
Story was a 4-star recruit from the 2011 class.
Sharrif Floyd moving to defensive tackle
Floyd played the final 11 games of the season at the defensive end position, racking up 46 tackles and 1.5 sacks. Although he was effective, he felt he would be a lot more comfortable on the inside of the line at the tackle position. It seems like Floyd has finally received his wish, as it appears he will play defensive tackle this year for the Gators.
It makes me a better player because now I understand what a defensive end goes through and how much running it is. Sharrif Floyd said with a laugh. I'll actually be able to cherish the fact that I'm a three-technique this year. It's what was best for the team. If it was supposed to be done again, I would do it again. (Via Cody Jones of Scout.com)
Sam Greenwood/Getty Images

There is no No. 2 back as of yet
Mike Gillislee is the most experienced back on the Gators roster, and will be the starter once the regular season begins. After that, there really isn't somebody that sticks out as a true backup.
Head coach Will Muschamp expects players such as Matt Jones, Mike Brown, Trey Burton, Omarius Hines and Hunter Joyer to all contribute, according to Matt Watts of the Miami Herald.
James Wilson a possible starter?
Offensive lineman James Wilson has dealt with injuries throughout his entire career. He is entering his sixth-year of eligibility in 2012.
While many didn't expect much from him this season, he is finally healthy, in shape and could play a big role for this Gators team this season.
From Hays Carlyon of Jacksonville.com:
"He played very well for us late in the year, really well for us late in the year," Muschamp said. "He's a guy that can get some girth and movement inside against bigger tackles in our league."
The offensive line is an area of concern for this Gators team. Wilson has started six games in his career and played in a total of 38.
Jon Halapio a leader on the team
Usually, the leader on a football team is either the quarterback or somebody who is a little more known around campus. On the Gators football team, one of the leaders is offensive lineman Jon Halapio.
From Zach Abolverdi of GatorSports.com:
"Jon would be the one guy that I think offensively, certainly, our guys see as a leader," Muschamp said.
Halapio has played in 28 games throughout his career, starting 20 of them.
Dominique Easley is ready to go
Easley missed all of the spring with the torn ACL he suffered at the end of last season. The good news is that he is participating in fall camp and is expected to see more time at defensive end this season.
From Kevin Brockway of GatorSports.com:
"In regular downs 1st-and-10, second down, he'll be on the edge," Muschamp said. "Then in pass rush situations, he and Shariff will be in there (at tackle)."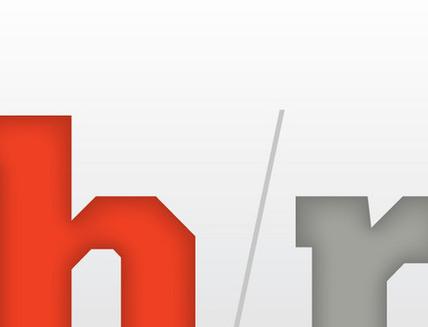 This article will be updated throughout fall camp to provide you with the latest news, injuries, and everything else that involves your Florida Gators.