Arkansas Football Training Camp: Injuries, News, Analysis and Position Battles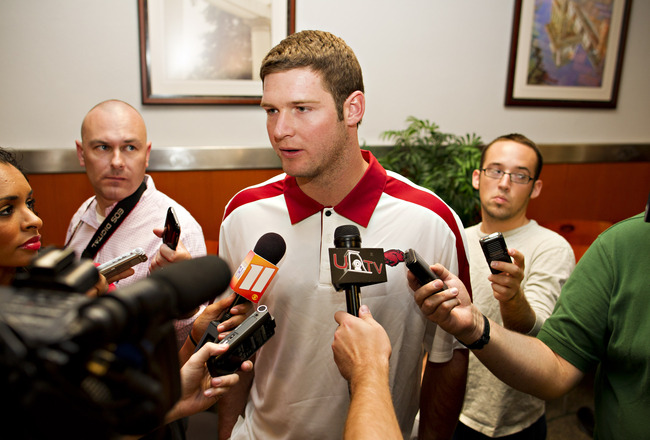 Wesley Hitt/Getty Images
Despite a couple of off-field issues, Arkansas remains one of the dark horses to win the SEC this season.
The Razorbacks have one of the best offenses in the country that returns eight starters and gets a healthy Knile Davis back in the backfield. The negatives are that the defense still needs work and there is a new coach in John L. Smith. It's yet to be determined if that will play much of a factor.
With the season set to begin in just a few weeks, here are all of the latest updates, news, injuries and more involving your Arkansas Razorbacks throughout fall camp.
August 22, 2012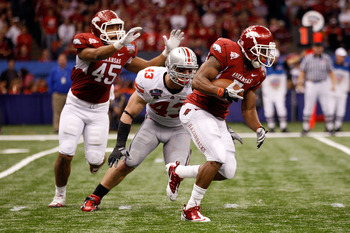 Chris Graythen/Getty Images
With fall camp coming to an end, the Arkansas Razorbacks are beginning to prepare for the season opener against Jacksonville State. Offensive coordinator Paul Petrino really likes what he has seen from his offense so far, particularly in the running game. (Via Dudley E. Dawson of Scout.com)
"It was really a couple of third downs that we didn't execute like we could," Petrino added. "I thought we ran the ball the best we had all pre-fall and spring so that was encouraging."
As for running back Knile Davis, who is still recovering from an ankle injury, he has yet to participate in full-contact, but Petrino said he is still playing physical in the practices.
He has been working hard, getting a lot of reps out there today. Petrino said. He wasn't tackled to the ground, but – especially in inside the run – there was some whacking going on. He was involved in some of it and looked really well. He is definitely on course to go out there and play well for us.
As for the wide receiver position that took a hit during the offseason, Petrino said he already knows who the starters are going to be. (Via Robbie Neiswanger of Arkansas News)
"It will still start with Cobi Hamilton and Chris Gragg." Petrino said. "They will be the two top guys. … There's going to be enough competition that we're going to be good at receiver. I'm very confident of that."
August 20, 2012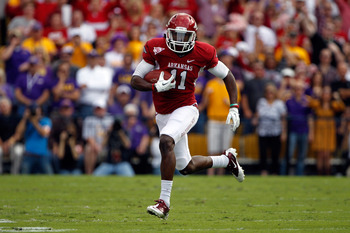 Chris Graythen/Getty Images
Arkansas recently held a Fan Day scrimmage at Razorback Stadium, where about 15,000 people decided to show up. While the quarterback play was on point, the star of the practice was wide receiver Cobi Hamilton, who hauled in 11 passes for 165 yards and two touchdowns. (Via Robbie Neiswanger of arkansasnews.com)
This whole scrimmage started Monday, preparing ourselves for the scrimmage because we know we didn't have a lot of success last weekend. Hamilton said. We wanted to come out here, we knew there were going to be a lot of people out here, we wanted to show people what we were about. What this offense is capable of.
Quarterback Tyler Wilson completed 22 of his 37 attempts for 252 yards and three touchdowns.
"We had a fast start and we kind of got in that mode where we've got to be really careful," Wilson said of the starters.
Running back Knile Davis was held out of the scrimmage, as the coaching staff continues to be cautious of his ankle injury he suffered last season. But according to Clay Henry of Scout.com, Tenarius Wright, Eric Bennett and Alonzo Highsmith are doing just fine and will be available to practice this week. All three players have missed majority of fall camp with injuries.
August 15, 2012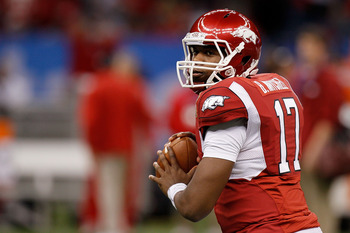 Kevin C. Cox/Getty Images
Defense needs to be tougher
There are very few question marks on the offensive side of the ball when it comes to Arkansas, but the defense must improve if this team wants to be taken seriously as a BCS contender. Defensive coordinator Paul Haynes knows this, which is why he is demanding that this unit plays with more energy and toughness in fall camp. (Via Arkansas News)
There's only one way to play this game defensively. Haynes said. That's with a lot of energy and fast. We're trying to make sure this culture on defense is fast, tough and physical. That's the only way you can play defense.
Arkansas returns six starters from a defense that was ranked ninth in the SEC last season.
Brandon Mitchell enjoying the WR position
Brandon Mitchell began his career at the quarterback position, but with his build at 6'4", he is now receiving reps at wide receiver. With a little more than a week at his new position, he is getting a little too comfortable, heckling the defensive backs and claiming that the position is "too easy". (Via Robbie Neiswanger of Arkansas News)
It feels great to actually really be a contributor. Mitchell said. It's been great being a leader behind Tyler and helping to contribute in the leadership role standpoint as a backup quarterback, but to actually get out there and make plays and make a real difference in the game, I'm really enjoying it.
Injury report
Tenarius Wright, Alonzo Highsmith and Eric Bennett were all back on the field this week, but with all three recovering from injuries, they were limited in practice. Defensive coordinator Paul Haynes wants to take the cautious approach to make sure they are all healthy when it really counts. (Via Arkansas News)
"We're just kind of being safe with them to make sure we get them 100-percent and not something that's not going to be nagging all year." He said.
August 13, 2012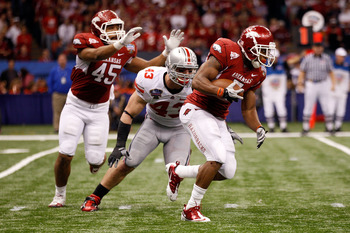 Chris Graythen/Getty Images
While we know running back Knile Davis is healthy after missing the 2011 season with an ankle injury, the coaching staff wants to be very careful with him. Which is why he is still not available for full-contact just yet.
"He's not aware of it yet," Smith said following the Razorbacks' first scrimmage of fall camp in Razorback Stadium. "He'll tell if I share it with him. He's a tattletale." (Via The Washington Post)
Davis has been participating in fall camp, which is an improvement over the spring, but full-contact is the next step that Davis is looking to clear. Like the rest of us, his teammates are also waiting for Davis to get the green light.
Whenever he has full contact, it's going to be trouble for the defense. Senior receiver Cobi Hamilton said. I'm very anxious. I think me and the whole world is ready to see what he's going to do, including the rest of this offense. With him getting back in this offense, it's going to be a real fun year.
August 8, 2012
Chris Graythen/Getty Images
Tenarius Wright injured
Although Monday's practice wasn't full contact, senior linebacker Tenarius Wright was a little shaken up after a hit on running back Knile Davis. He has been held out of camp ever since.
From Chris Bahn of ArkansasSports360.com:
"I didn't even know he was hurt until after practice," Davis said. "I saw he wasn't in there. We'll see. I don't know what happened to him."
Brandon Mitchell at wide receiver
Brandon Mitchell came to Arkansas to be a quarterback. However, with the starting quarterback already decided, and with the wide receiver position the way it is, expect to see him play wide receiver this year.
What else would you do with somebody who is 6'4" and 230 pounds?
From Matt Jones of NWAOnline.com:
'You look at him and watch him go through individual drills, and he's really going to give us some help catching the ball,' John L. Smith said. 'He's a big target, very athletic and he's a hard body to fight through.'
Arkansas better on defense
We know Arkansas has one of the best offenses in the country, but the defense is what many are questioning about this team. The Razorbacks finished eighth in the SEC last season in total defense and 47th in the country.
Coach John L. Smith says that the defense has improved, but should stop gambling so much (via Clay Henry of Scout.com):
We are better up front. That's the first thing that comes to mind. We have to stay healthy, but we are going to have to gamble less. We don't have to move every play. We can sit back in vanilla and make the other team earn it. Yes, we are better on defense.
Arkansas returns six starters on the defensive side of the ball.
Updates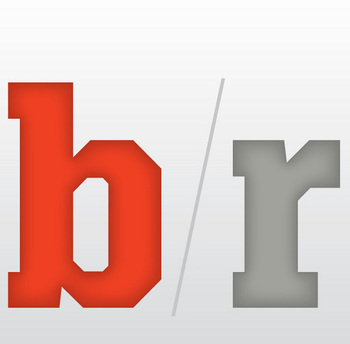 This article will be updated throughout fall camp to provide you with the latest news, injuries and everything else that involves your Arkansas Razorbacks.
Keep Reading

Arkansas Razorbacks Football: Like this team?