Louisville Basketball: 4 Vital Upgrades Louisville Needs to Win It All in 2013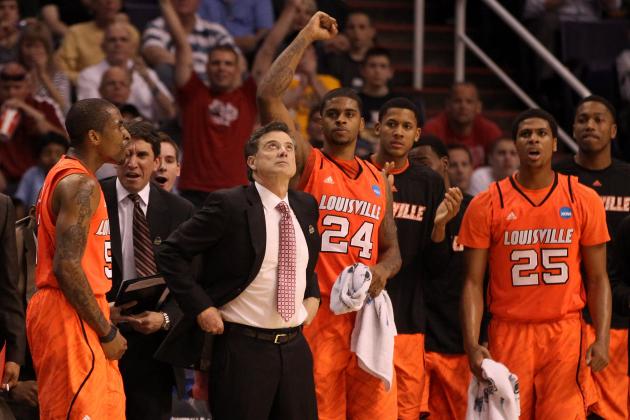 Christian Petersen/Getty Images

The Louisville Cardinals had a memorable 2011-12 season, capped off by winning the Big East Tournament and making it to the Final Four.
Head coach Rick Pitino returns almost all of his major weapons, plus he has added some nice pieces through transfers and incoming freshmen.
The Cards' success last year was based on being a defense-first team. They fiercely challenge every step and shot, causing their opponents to simply surrender.
They are a perfect example of a team who's defense sets up everything else they do.
In fact, the biggest areas of improvement for Louisville come on the other end of the court.
To get back to the Final Four, Pitino's squad will need to address some significant issues on the offensive end.
Here are 4 vital upgrades that Louisville needs to make if they have a chance at winning it all in Atlanta.
Begin Slideshow

»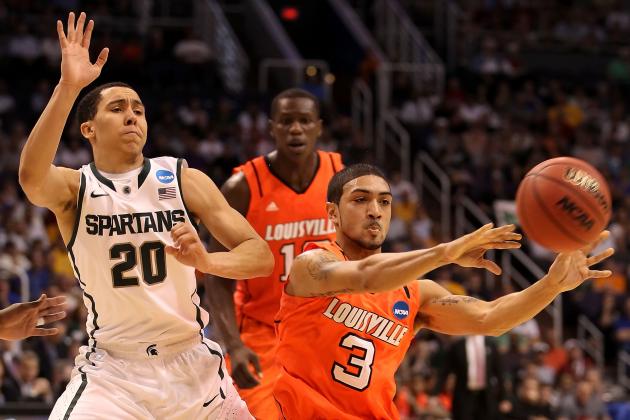 Christian Petersen/Getty Images

The Cardinals had the fourth most turnovers (562) in D-1 hoops last year.
They had a mediocre assists-to-turnover ratio (.95; ranked 179th nationally).
Translated, Louisville gave it away more than they set themselves up to score (532 assists).
Peyton Siva (pictured), the Cardinals' point guard, is a tough competitor who, at times, is sloppy with the ball.
He led the Big East in turnovers (116) last year.
Even though he is a huge reason for Louisville's success last year (He was named the conference tournament MVP), he is also one of the players who can make or break the Cardinal's achievements in 2012-13.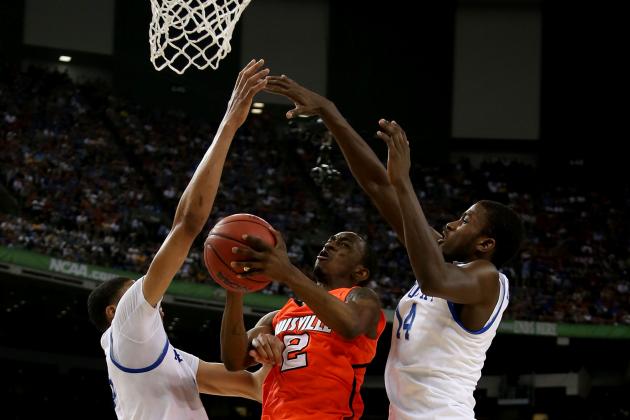 Chris Graythen/Getty Images

You've heard of "high volume shooters?" Those players who put up a lot of points but require a lot of attempts to do so?
Louisville could be considered a "high volume shooting team"...except they shoot a lot (2281 FG attempts; No. 3 nationally) but don't score a lot (68.8 ppg; No. 169 in the nation).
Not a great combo.
By comparison, Kentucky shot less but scored about 9 points more per game.
Russ ('I-never-met-a-shot-I-didn't-like') Smith (pictured) launched the most shots on the team last year (419 FGs attempted), yet he only played 21.5 mpg.
If Louisville has their sight set on returning to Atlanta, they need to clean up their shot selection and practice a little bit of shooting restraint.
Gregory Shamus/Getty Images

As a team, the Cards shot 42.2 percent from the field in 2011-12, No. 236 of all D-1 teams.
Yahoo! Sports' Pat Forde suggested that the 2011-12 Cardinals might have been "the worst-shooting team Pitino has had."
With a high percentage of last year's team returning, hopefully Louisville spent the off-season locked in the gym, working on their shooting.
George Mason-transfer Luke Hancock (pictured) will help the overall shooting scene. As a sophomore in 2010-11, the 6'6" wing shot nearly 50 percent from the field.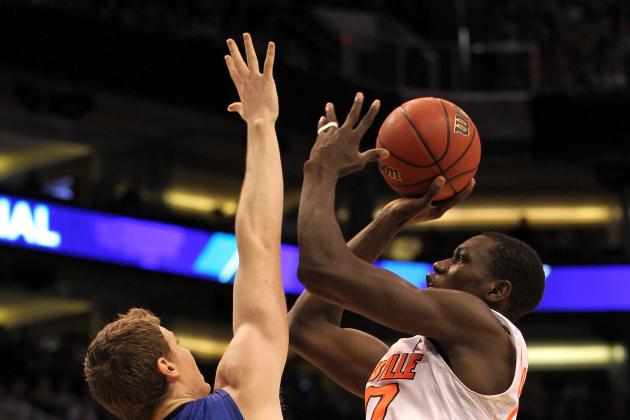 Jamie Squire/Getty Images

The worst part of the Cardinals' attack is three-point shooting.
Last year, Louisville shot 31.8 from beyond the arc (No. 274 in the country). That's ugly.
And yet, they still lofted 733 three's (No. 32 nationally, and the second most in the Big East).
The only player who saw regular minutes for UL last year who shot above 40 percent from downtown was Gorgui Dieng (pictured), who was 1-for-2 (50 percent).
While Dieng might want to fire up a few long-range jumpers, he is not the solution to the Cards' distance deficiencies.