Arizona Cardinals: Making the Case for John Skelton as Starting QB
Christian Petersen/Getty Images
When the Arizona Cardinals traded away Pro Bowl cornerback Dominique Rodgers-Cromartie and a second-round pick for Kevin Kolb last year they felt that they had landed their quarterback of the future who would lead them back to the Superbowl.
Kolb seemed like the real deal after playing well in Philadelphia though he eventually lost his starting job to Michael Vick while out with a concussion.
His stats as an Eagle did not jump off the page at you (seven games played, 1,197 yards, seven touchdowns and seven interceptions), but it was enough for the Cardinals to sign him to a $63 million contract extension.
You can't blame the Cardinals for jumping on the opportunity to sign Kolb to the big extension. They were coming off a year where Derek Anderson and Max Hall saw time as the No. 1 QB on the depth chart.
Kolb's time under center in the desert has been plagued by injury and mediocrity, leaving the door open for John Skelton, the 155th overall pick by the Arizona in the 2010 NFL Draft, to take a run at the starting job.
Skelton may not have gone to a big name school (Fordham), be a household name or have a sample size as a starter that is big enough for the Cardinals to make a decision right away. However, there are a variety of things that sets Skelton apart from Kolb that should give him the edge to win the starting job.
He Can Take a Hit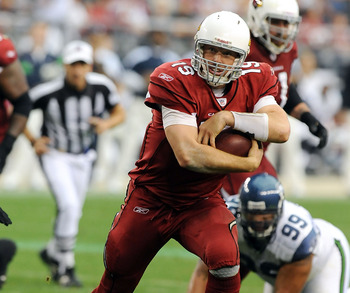 Norm Hall/Getty Images
Kevin Kolb's play has not been disastrous as a starter with the Arizona Cardinals (1,955 yards, nine touchdowns and eight interceptions).
The problem has been keeping him on the field.
This came back into focus during the Hall of Fame Game, Sunday. Kolb rolled out of the pocket and got stuck by Saints defensive lineman Sedrick Ellis just after releasing the ball.
The injury is apparently minor, and Kolb is expected to play Friday against the Kansas City Chiefs.
Kolb did not do much to impress before that point. He left the game going 1-4, with an interception.
Even if you have a Hall of Fame quarterback under center, it does nothing for the team if you cannot keep him on the field.
Kolb is still young, but he has already suffered multiple concussions that have kept him out of games. How many more can he sustain before he ultimately calls it quits?
If the Cardinals are looking for a quarterback who can stay on the field for the entire season next year, they should go with Skelton.
Size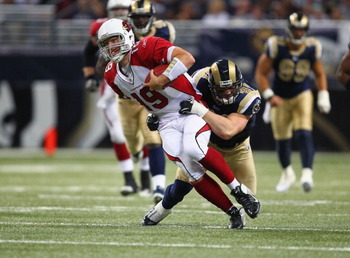 Dilip Vishwanat/Getty Images
Kolb is not a small quarterback at 6'3", 218 lbs, but he is no John Skelton.
Skelton is 6'6", 244 lbs and is the size of most of the defensive players trying to tackle him.
The Cardinals ranked second to last in sacks allowed last year with 31, and it does not look like they are going to take a giant step in improving that next season.
When Kolb sees Patrick Willis, Justin Smith, James Laurinatis or Chris Long coming straight for him unblocked, his first thought will be to avoid the hit.
Skelton's size allows him sit in the pocket longer and lets him deliver the ball without getting happy feet or conceding to the pressure.
Skelton Can Make the Hard Throws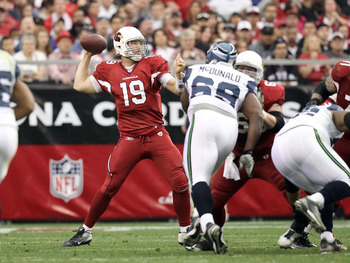 Christian Petersen/Getty Images
While Skelton did not put up a huge display of what he is capable of in the first preseason game, he looked good going 4-6 for 32 yards.
Cardinals fans have seen flashes of brilliance from the third-year quarterback during his time in Arizona, and they know that he can make the tough passes. This is due to just his sheer size and strength.
His prototypical size as a quarterback and better-than-average arm strength lets him put balls where Kolb simply may not be able to, especially outside the hashes.
Also, at 244 pounds, it is more likely he will be able to make the tough throws with a defensive lineman in his face or around his feet.
It also doesn't hurt that he has Larry Fitzgerald out at wide receiver, who will catch anything thrown within his general vicinity.
His Ability to Stretch the Field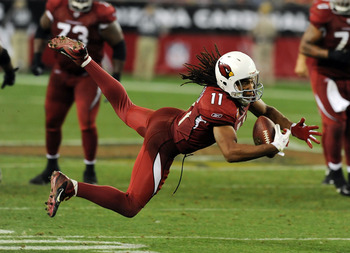 Norm Hall/Getty Images
When you have one of the best deep threats in the game in Larry Fitzgerald, the ability to stretch the field is paramount.
Skelton has a longer and more accurate deep ball than Kolb and will make better use Fitzgeralds's talents.
Last year Fitzgerald still managed to rack up 1,411 yards and eight touchdowns with inconsistent quarterback play.
If Skelton and Fitzgerald can have an entire season to build a repertoire with each other, they will both put up improved numbers, and the offense will flourish.
He's Still Getting a Shot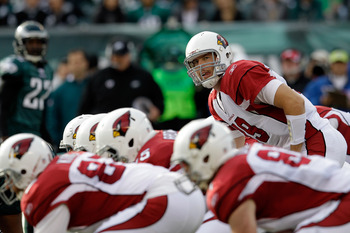 Rob Carr/Getty Images
Not many teams would give a fifth-round pick an opportunity to start after giving the player they deemed the "quarterback of the future" an enormous contract, but that is exactly what the Arizona Cardinals are doing.
The Cardinals have given Kolb every chance to stay atop the depth chart, but Skelton always finds a way to remain a contender for the starting job.
The decision for the two QBs to alternate starts was made by head coach Ken Whisenhunt long before Kolb went down Sunday with a rib injury.
Just the fact that Skelton is still in the mix is a testament to his hard work, talent and persistence.
When opening day rolls around September 9, Arizona Cardinals fans should expect big No. 19 under center.
Keep Reading

Arizona Cardinals: Like this team?