Ohio State Football Training Camp: News, Analysis, Injuries and Position Battles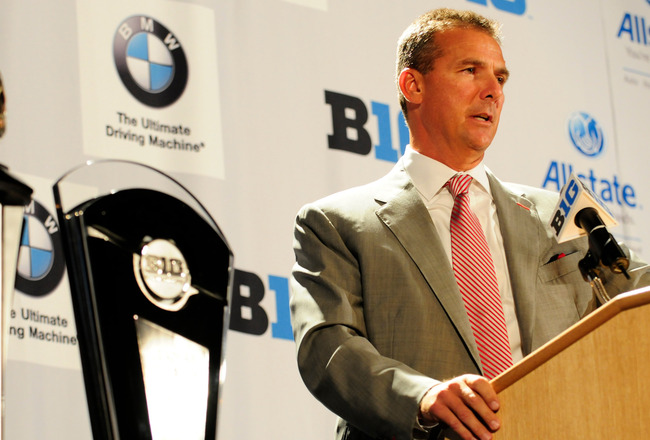 Reid Compton-US PRESSWIRE
Ohio State looks to put the worst season in recent memory behind them this season, as they return 16 starters and have one of the best head coaches in Urban Meyer calling the shots.
The Buckeyes aren't eligible to compete for a conference title or bowl game this season, but this year will be the first step for where this program is heading. Meyer certainly expects this team to begin competing for national championships and Big Ten titles as early as year two.
With fall camp fully underway, here are the latest updates, news, injuries and more involving your Ohio State Buckeyes.
August 20, 2012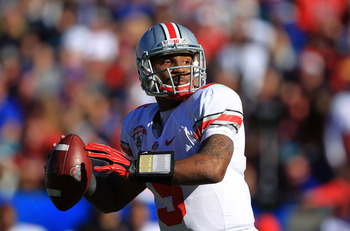 Scott Halleran/Getty Images
We know what quarterback Braxton Miller is capable of, as he rushed for over 700 yards last season as a true-freshman. But in practice, head coach Urban Meyer wants him to get a little more comfortable in the pocket, which is why he is telling his sophomore quarterback not to run and the defense not to hit the potential Heisman candidate. (Via Austin Ward of ESPN)
Our quarterbacks, on purpose, they're caged tigers right now. Meyer said. They get quick whistles, they've got black shirts on them where they're not allowed to be touched, and obviously in our style of play, that changes the whole game.

We're scrambling, but we're not running.
The goal is for Miller to develop into a better quarterback, somebody who is capable of staying in the pocket, not running every chance he gets and of course keeping his eyes down field at all times. But at the same time, Meyer says he is not planning on changing his quarterback's style completely.
"We open that cage on Sept. 1," Meyer said. "Up until then, they won't be touched."
Captains
With the season less than two weeks away, Ohio State has decided to name its captains for the 2012 season. The five leaders on this team include running back Jordan Hall, linebacker Etienne Sabino, fullback Zach Boren and defensive linemen John Simon and Garrett Goebel.
August 17, 2012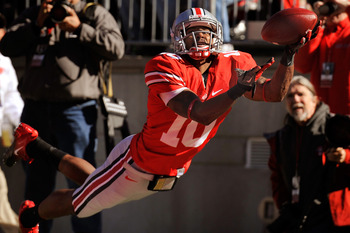 Jamie Sabau/Getty Images
With no postseason for the Ohio State Buckeyes to look forward to at the end of the season, the team has another goal to keep them motivated throughout the year. It is called sending the senior class out with an undefeated season. (Via Jeff Svoboda of Scout.com)
We want to win as many games as we can for the seniors. Wideout Corey Brown said. We are going to work to go undefeated. There's no doubt that we're going to try to win every game. Our main goal is to win as many games as possible for the senior class.
Brown, who is a junior, is not the only one who feels this way, as it seems to be the motto for the 2012 season.
Win as many games as possible for the seniors. Sophomore defensive tackle Michael Bennett said when asked about the team goal. That's what we're harping on every practice, every play, everything. We just want these seniors – because they got a hard bargain. We're trying to give them everything we can.
With all of the talent that is returning and a favorable schedule; it will be interesting to see if this team can fulfill its goal.
August 15, 2012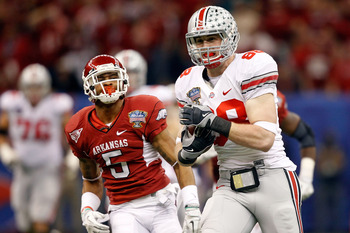 Matthew Stockman/Getty Images
Battle remains at right tackle
True-freshman Taylor Decker and former backup tight end Reid Fragel are the two players who are competing for the starting right tackle position. While both are trying their best to gain a competitive edge, it just simply is not a situation a head coach wants to be in with the season starting in two weeks. (Via Bill Rabinowitz of Buckeye Extra)
It's not a battle of all-Big Tens yet. Coach Urban Meyer said with typical bluntness. One guy is learning how to play (the position). One guy is a freshman. They're trying hard. They're talented guys. They're great people. But our production at right tackle is not where it needs to be.
Coaches want to see more of Bradley Roby
Bradley Roby is capable of playing either the cornerback or wide receiver position, but will likely end up on the defensive side of the ball and kick return this year. And while Roby believes he can be very effective in all three areas of the game, the coaching staff just wants to see him dominate the cornerback position before he thinks about offense. (Via Tim May of Buckeye Extra)
"That's the confidence I'm talking about, you love guys like that," Fickell said, smiling. "But let's be great at one thing before we become a jack of all trades but a master of none."
Roby played well last season, finishing the year with 47 tackles, six passes defended and a forced fumble, but head coach Urban Meyer will like to see more consistency.
"Right now you are seeing him challenged, and he answered it. He had a heck of a day before the scrimmage and then the scrimmage (on Saturday). He looked like the way he's supposed to look."
August 13, 2012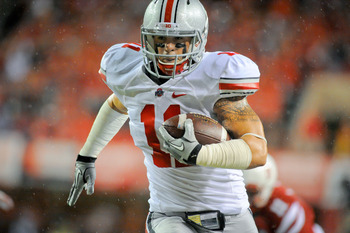 Eric Francis/Getty Images
Jake Stoneburner playing wide receiver?
Jake Stoneburner is one of the best tight ends in the country, but head coach Urban Meyer is an offensive genius. So when he said that Stoneburner will be playing a new position this season, it is really hard to argue with the guy.
"Jake Stoneburner is now, we officially moved him out with the receivers," Meyer said Sunday during Ohio State's media day in Columbus. (Via Brandon Castel of the-ozone.net)
Stoneburner will still be used as a tight end at times, but it is time to use that size and great hands as more of an offensive threat in 2012.
He'll practice (with tight ends) at times, because we'll use him as a surface tight end, but we have two very good tight ends in (Jeff) Heuerman and (Nick) Vannett. So he's going to be our (Aaron) Hernandez-type guy who can do some things. Meyer said.
Two quarterbacks on the field
Myer is always trying to think outside of the box when it comes to his football teams and certainly isn't afraid to try new things. So when he said that he may use quarterbacks Braxton Miller and Kenny Guiton on the field at the same time, it shouldn't have surprised anyone.
Braxton doesn't know it yet, and neither does Kenny. Meyer said. But I have it on a piece of paper. We'll have that chat probably pretty soon. I just want to see if they keep developing. If both guys are in our best 11, then it's our job to find a way to get them on the field. (Via Matthew Hager of Scout.com)
Things should be interesting for the Buckeyes this season.
August 9, 2012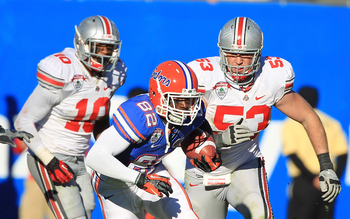 Scott Halleran/Getty Images
Linebacker Ryan Shazier played in every game as a freshman, but really did majority of his work in the final few games. He finished the year with 56 tackles and three sacks, however, 33 of those tackles came in the final three games, giving Buckeye fans hope of having a solid starting linebacker in 2012.
If you thought Shazier was great last year, wait till you see him this season after putting on 25 pounds during the offseason.
"Just eating a lot more," Shazier said when asked about his newfound physique. "I'm a lot more hydrated. I drink a lot of fluids, and I just listen to Coach Mick. He's got me a lot stronger and a lot faster." (Via Jeff Svoboda of Scout.com)
He also stayed in the film room and learned a lot about his play that he will take into this year as well.
I really can see a lot of mistakes I made. Shazier said after practice Tuesday. Even when I was watching the Florida and the Penn State games, I see a lot of gaps I should have filled, a lot of tackles I missed and everything when I look back it. (Via Austin Ward of ESPN)
Shazier is expected to be the starting middle linebacker once the season begins. And if he carries the work ethic into the regular season that he has during the offseason, the Buckeyes may have something special on the defensive side of the ball.
August 8, 2012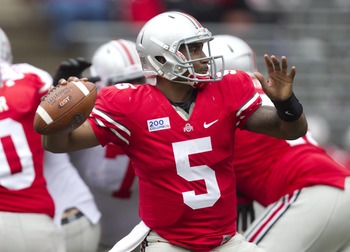 Greg Bartram-US PRESSWIRE
Players back on the field
It has not been a great offseason for Buckeye players, especially with arrests taking place. Running back Bri'onte Dunn was recently arrested and charged with possession of drug paraphernalia. Tight end Jake Stoneburner and offensive lineman Jack Mewhort were also arrested and suspended from the team for allegedly urinating in public and running from police.
Good news they are back on the field practicing in fall camp and are expected to be ready to go once the season begins.
"Obviously not until when it goes, but as of right now, when we start school in the fall they'll be on scholarship," head coach Urban Meyer said (Via Austin Ward of ESPN).
Braxton Miller getting a little cocky
With Urban Meyer now coaching the sophomore quarterback Braxton Miller, many believe it is only a matter of time before he becomes one of the best players in the country at his position. He played well as a freshman last year for what he had to work with, but is already developing more of a swagger to his game.
"Braxton had a really good day. And he feels good about it. And he made the comment to me that he knows what he's doing," Meyer said with a slight smile. "Well, he doesn't know yet. There's still a lot more to go. I winked at him and said, 'Yeah, right, pal.'" (Via The Washington Post)
Bring in the young guns
Ohio State put together one of the best recruiting classes in the country last year, and Meyer says there is a good chance you will see many of those players suite up in the first game against Miami of Ohio.
"From what I've seen so far, there'll be a bunch — OK, not a bunch, but a good chunk — of freshmen who'll play in that first game." Meyer said. (Via The Washington Post)
Evan Spencer looks good
You know Urban Meyer wants a bunch of speed on offense and wants playmakers. Wide receiver Evan Spencer is somebody who could fit the bill in 2012.
"Evan Spencer ran a 4.4-something," Meyer said. "Evan Spencer has to run a 4.4 out there. There's some fast times that our strength coach gave me this year, like fast times. They don't play real fast, and our job as a coach is to get them to play fast." (Via Austin Ward of ESPN)
Spencer caught three passes last season for 78 yards and a touchdown.
Updates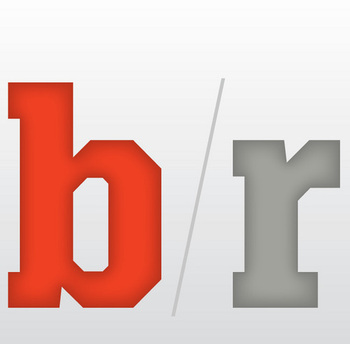 This article will be updated throughout fall camp to provide you with the latest news, injuries, and everything else that involves your Ohio State Buckeyes.
Keep Reading

Ohio State Football: Like this team?