Michigan Football Training Camp: News, Analysis, Injuries and Position Battles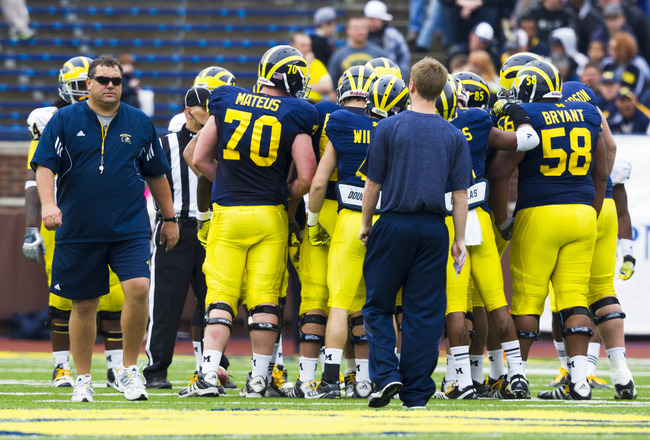 Rick Osentoski-US PRESSWIRE
The Michigan Wolverines are out to prove that last season was no fluke. They have a much tougher task ahead of them schedule wise, but return 14 starters from a year ago, including eight on the defensive side of the ball.
Head coach Brady Hoke has quickly become one of the more respected head coaches in the country and is looking to build off of an 11 win season that included a BCS bowl victory.
With the season just three weeks away from kicking off, here are some of the key updates throughout fall camp until the season finally arrives.
August 21, 2012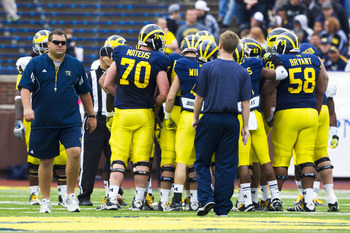 Rick Osentoski-US PRESSWIRE
Ondre Pipkins is a true-freshman who has been doing a great job throughout camp competing for playing time at defensive tackle. But he had suffered a neck injury last week that had left him hospitalized for further testing.
The good news is the Pipkins is back at practice three days later and was watching his team from the sidelines. The freshman did not participate in practice, but seeing him out of the hospital so soon has to be a good sign for this Michigan team.
Pipkins is competing for playing time at defensive tackle and will likely begin the year as a backup behind senior Will Campbell.
August 20, 2012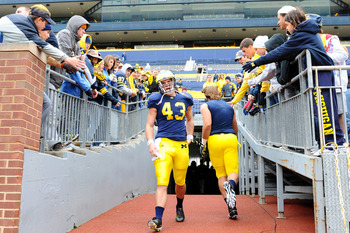 Tim Fuller-US PRESSWIRE
Punter Will Hagerup was one of the best punters in the Big Ten in 2010, but missed the first four games due to a suspension in 2011, which did not help the Wolverines overall average. And although he is entering his third year as a potential starter, head coach Brady Hoke says it is an open competition at the position.
He has been competing with sophomore Matt Wile, a battle which he seems to be losing. (Via Kyle Meinke of AnnArbor.com)
Missing the first four games was very disappointing for me. Said Hagerup, who also was suspended for one game as a freshman. I never could really get that consistency going. Never had that one game where I really got back into things. And I think that's what's big in the nonconference games, is to get your step back a little bit.

Missing that, for me, turned out to be a bigger deal than I thought it would be.
Hagerup punted 29 times last season, averaging 35.9 yards per attempt. Wile punted the ball 17 times, and averaged 41.5 yards per kick.
Somebody picks Michigan No. 1
The new AP Poll was released during the weekend and the Wolverines came out with an overall ranking of No. 8 in the country. But somebody gave the Wolverines a first-place vote, which happened to be Bob Asmussen, a long time reporter for the Champaign News-Gazette.
Here are some of his reasons as to why he picked Michigan as the best team in the country. (Via Kyle Meinke of AnnArbor.com)
"First of all, Brady Hoke has done a great job," Asmussen said of the second-year Michigan coach. "I think when he came in there, it could have been a disaster. And instead, he managed that season last year. So, I'm impressed with the way he's turned that thing.

"I think they have extreme momentum going into the year, coming off the bowl and they played well down the stretch last year. I like that, and I think that's important to this team because, they obviously lost their way under (Rich Rodriguez).

"I like what he does, I like the staff he has there. So start with the coaching. I think it's fantastic, and everywhere (Hoke's) gone, he's done this. He's been good, and now he actually has the bodies to help him win a national championship."
Hopefully for Wolverine fans, Brady Hokes club can make Asmussen look good in the season opener against Alabama, a team that is ranked No. 2 in the new poll.
August 17, 2012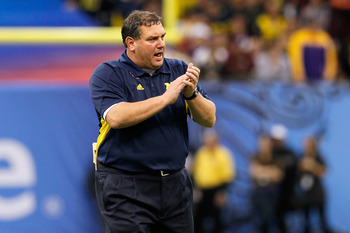 Kevin C. Cox/Getty Images
Ondre Pipkins suffers neck injury
Freshman defensive tackle Ondre Pipkins has suffered a neck injury in this mornings practice, but seems to be fine after undergoing several tests. (Via Michael Rothstein of ESPN)
"He had movement in all of his extremities," coach Brady Hoke said in a statement.
Pipkins was an ESPN top 300 player of the 2012 recruiting class and was expected to play a significant role on this Wolverines defense.
Chris Wormley out for season
Freshman defensive end Chris Wormley will not see any playing time this year due to an ACL injury he suffered this week in practice. Surgery is expected at some point, but according to Wormley's high school coach, Joe Palka, the injury could have been much worse. (Via Mark Snyder of the Detroit Free Press)
"It's about as good a medical report as can be expected – there's not a lot of swelling and only damage to the ACL," Palka said. "It could have been worse."
Wormley was a 4-star recruit out of Toledo, OH.
Roundtree and Toussaint updates
Wide receiver Roy Roundtree had minor knee surgery just a few days ago, but is doing well and is expected to be ready for the season opener against Alabama. (Via Rachel Lenzi of toledoblade.com)
"Him feeling better, and the doctor feeling good and comfortable about it," Hoke said. "He's with the rehab specialist every day, and we obviously communicate."
As for running back Fitzgerald Toussaint, who has recently been allowed to practice with the team, there is still no word on whether or not he will miss any of the regular season.
"He's out there, like the others, running around," Hoke said of Toussaint, who began practicing Monday.
Not sure what that means, but we will likely receive news on his status sooner than later.
August 15, 2012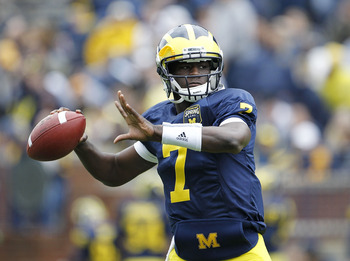 Leon Halip/Getty Images
While Denard Robinson hopes to be more of a complete quarterback this season, the Michigan offense also hopes to become more explosive. What is one of the ways the Wolverines hope to throw defenses off and put more points on the board?
Use two quarterbacks.
Michigan fans will see even more plays with Robinson and quarterback Devin Gardner on the field at the same time. (Via Kyle Meinke of annarbor.com)
"They say we're going to expand on that as well," Gardner said Sunday at the team's media day. "It's just going to give the defense a lot of things to think about."
The potential with having two dual-threat quarterbacks on the field is endless. It really keeps the defense on its toes and makes defensive backs heads spin. The Wolverines experimented with this last season and averaged eight yards a play when they were in this deuce formation.
Even the plays that weren't good set up plays that were good. Offensive coordinator Al Borges said recently. There were guys we'd run a play that wouldn't yield much, only to be set up by another play that did. It's not always the play -- sometimes, it's the residual effect of the initial play.
Notes
Freshman defensive end Chris Wormley will likely miss the entire season with a torn ACL. Running back Fitz Toussaint looks better than ever in fall camp, although there is no guarantee he will be available week one against Alabama. The starting left guard position remains a three-way battle between Elliott Mealer, Joey Burzynski and Kyle Kalis.
August 13, 2012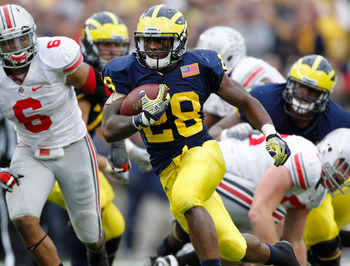 Gregory Shamus/Getty Images
Fitzgerald Toussaint and Frank Clark have been cleared to practice with the team, but wide receiver Roy Roundtree has underwent arthroscopic knee surgery and is expected to miss two weeks.
While Clark and Toussaint are now available to practice, that does not mean that they will be available to play in the season opener against the Alabama Crimson Tide. Head coach Brady Hoke has still not made a decision on when they will be cleared to play.
"They are still guys, who as teammates, we love them, but there's consequences for their behavior, and they are paying a price," Hoke said. "They will continue to pay that price for a little bit." (Via Michael Rothstein of ESPN)
As for Roundtree, Hoke says he is doing fine and he should be ready for the big game.
"Everything went great, and he feels great," Hoke said. "It's one of those things he didn't do it practicing. Just needed to get it done and felt it a little bit walking back to the huddle.
August 8, 2012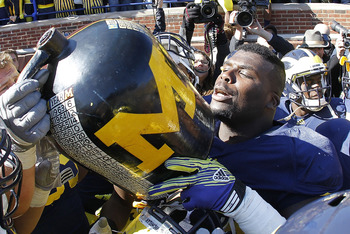 Leon Halip/Getty Images
Will Campbell is out to prove himself
Will Campbell was a 5-star recruit a few years ago and was expected to become an instant force on the defensive side of the ball. Throughout his Michigan career he has been almost nonexistent, racking up just two sacks in three years. Wolverine fans can expect a different player this time around.
"He's got a great attitude. He's really become a tremendous leader of our football team in a lot of ways," head coach Brady Hoke said. (Via Brad Galli of wxyz.com)
He has also trimmed down quite a bit, which also comes with a few more perks besides becoming better on the football field.
"Will shows off his stomach more than I do," quarterback Denard Robinson said. "You can really tell he lost that weight. He didn't just do it for himself. He did it for the team. You can trust him, respect him for that."
More confident Denard Robinson
Robinson is by far one of the most electrifying players in all of college football. He has been a Heisman candidate the last couple of years and can make plays happen when there is nothing there. But he has often been criticized for his sub-par throwing abilities and leadership on the football field. Players and coaching staff have noticed a change in fall camp.
"Denard's really picked it up," receiver Roy Roundtree said after Michigan's first fall practice. "He's a lot more vocal than he has been in the past. You can actually hear him now." (Via Dave Hogg of FoxSports.com)
Roundtree isn't the only one to pick up on the change, either.
"I think we've seen Denard step up as a leader since the spring," Michigan coach Brady Hoke said Monday. "His maturity level is high, and even though we are just one day in, he did a really nice job today of getting the offense where it needed to be, and calling plays in the huddle. There's more confidence this year."
No update on Fitzgerald Toussaint
While many Wolverine fans are hoping and praying that running back Fitzgerald Toussaint is able to play in the season opener against Alabama, things aren't looking good right now. He remains suspended from the team for a recent DUI arrest and was not present during the team's first practice. Coach Hoke says there is no timetable for when he or defensive end Frank Clark will be back on the team.
Thomas Rawls looking good so far
While Toussaint remains inactive, it is running back Thomas Rawls that is expected to be his replacement. He only carried the ball 13 times last season for 79 yards, but is making a big impact so far in fall camp.
"That's a tough guy," senior quarterback Denard Robinson said. "When he runs the ball, you really get out the way. That's what kind of guy he is. He's an aggressive runner, and if sees a guy -- he just might try to run him over." (Via Kyle Meinke of annarbor.com)
Updates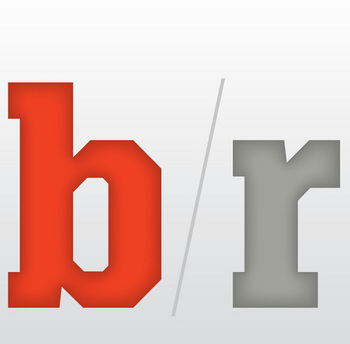 This article will be updated throughout fall camp to provide you with the latest news, injuries, and everything else that involves your Michigan Wolverines.
Keep Reading

Michigan Wolverines Football: Like this team?