Liverpool Transfer News: Brendan Rodgers, Lucas Leiva, Luis Suarez and the Youth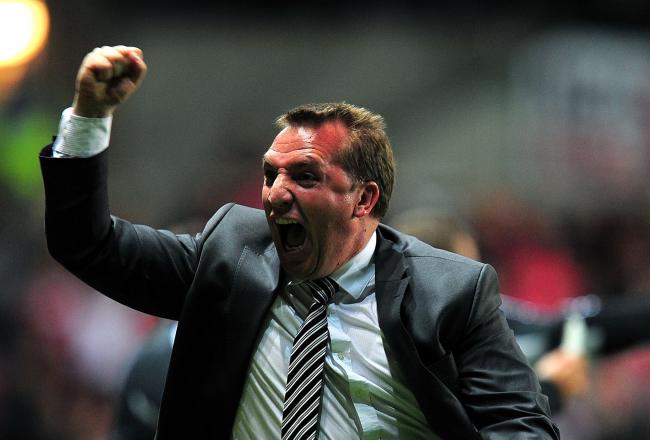 Stu Forster/Getty Images
Brendan Rodgers must be having an entirely different view of situations now as compared to the day when he first took over.
A lot has changed, and fortunately for Liverpool fans, not all for the worse.
Rodgers has lost a few players from his squad, and it is safe to say that they still need replacing.
Fabio Aurelio has departed, although his loss is a minute setback. A positive fan will always say that he could have fit the system, but if Rodgers is destined to bring back the Holy Grail, it is time to look forward to better options.
Maxi Rodriguez and Dirk Kuyt have left Anfield, leaving some space behind as well as much-needed goal-scoring ammunition. Kuyt might not have contributed many goals this past season, but he was always a valuable contributor. You just have to see the number of goals he was involved in since coming from Feyenoord.
The fans and Rodriguez will always remember the two hat tricks he scored while a Red. The sweetly hit third one from distance against Fulham to wrap up as good a performance as the fans have seen in recent years is particularly etched in my memory, at least.
Then there is Alberto Aquilani, who has finally been absolved of some sin as he makes his way back to Italy with Fiorentina. He was a loss to Liverpool for the past two seasons, and finally someone has decided to choose one from the options of playing or selling him.
Having Aquilani was analogous to having vestigial organs. You have to maintain and nourish them, but they are ultimately redundant.
Losing him will not be seen as a huge loss, for he rarely performed in England, although the talent was undoubtedly there for all to see. He might not have been used for Liverpool, but Liverpool are certainly in need of such talent who will give them the cutting edge in the final third that was lacking so often last season.
Thus, Liverpool need to replace this void too. That makes it a creative midfielder, at least one winger and possibly a left-back while Jack Robinson still learns his trade.
Then we arrive at Craig Bellamy. Any team chasing honors and Champions League qualification needs four good strikers to rotate through the season. Judging by performances, Liverpool arguably had only two, which included the Welshman.
And now speculation has it that he is going to Cardiff to possibly leave the biggest gaping hole in the squad.
Fabio Borini has been signed to fill that void and increase the depth in the squad's striking department. Still, Liverpool have only Luis Suarez, Andy Carroll and Fabio Borini as the accomplished strikers.
Carroll's future is still uncertain, but I get the feeling that it is unlikely that Rodgers will sell him unless someone forks out £20 million with time still remaining in the window.
Rodgers is smart and presumably will not let Carroll go if there is no time remaining to get a suitable replacement. I don't think Rodgers is looking to bring in another striker, and with other areas still left to improve, you would not blame him if he actually does not. The interest in Clint Dempsey seems to have died down, but even if he were signed, Rodgers wouldn't fill the gap left by Rodriguez and Kuyt with his purchase.
Going with three strikers for an entire season is unthinkable, and that is where Rodgers' secret weapon comes in—youth.
Fans can expect Dani Pacheco and possibly Adam Morgan, with the more-than-average displays he showed in preseason, to feature more this season.
Another piece of bad news for Rodgers that has recently cropped up is the one relating to the transfer of the center-back that is most accustomed to his system, Daniel Agger. The Sheikhs and Roberto Mancini are interested (h/t ESPN), which makes it very hard to turn down, doesn't it?
Rodgers is already finding it hard enough to convince the clubs with his desired players to part with them on reasonable terms, and such speculation does not do anything to stifle the fire.
The fans are also expectant but must realize that Rodgers is in a bit of a soup at the moment.
It is not very clear whether the owners are willing to spend or not, but come the end of August, fans will know whom to remonstrate against. I am hoping that Rodgers will get this team to battle and graft for results and points for the first few tough weeks so that optimism is proliferated rather than mass protest.
As I stated earlier, it is not all doom and gloom for the Kop. Two stalwarts are giving every Liverpool fan reason to believe in Rodgers' project.
Lucas Leiva is back from his long lay-off and has seen a few minutes in preseason. He will make a slow transition into full-fledged action but rest assured that opposition teams will not have easy times getting goals once he does so.
And then there is Luis Suarez, who has just penned down a new contract.
In the past he has revealed how the Evra saga brought him to tears. Such a scenario could well have turned his head on leaving and carrying on with his future somewhere else. He, however, wants to epitomize the working class and take up a challenge.
Suarez's signing of a new contract is almost an act of defiance. He wants to play for the fans who adore and back him so much. He has shown that he has matured after the forgettable episode, as he did not react when he was booed in Uruguay's match recently.
The performances of Jonjo Shelvey, Adam Morgan and Raheem Sterling in preseason are also reasons to look forward to August 18. Suso also played very well in the under-19 European championship, which Spain won.
Rodgers may look to the youth if nothing pans out according to plan.
If Swansea want an unreasonable sum for Joe Allen then the gaffer should promote the player that was touted as being the one to go on loan—Jonjo Shelvey (h/t Sky Sports). Further, if Carroll and Agger leave, Liverpool may have a very hard time next season.
These two departures will leave behind in excess of £40 million. This will be sufficient to get in at least three, may be even four or five players. A lot was made about many new players taking time to jell together last season. If Rodgers ends up in the same situation, then where is the progress?
There is no other way to compete. The owners must understand that they are needed to pump money for success.
Rodgers can only bring in a new system while even the youth will take time to develop into players close to even Victor Moses (with all due respect), let alone Lionel Messi.
The firepower that the system generates is very much dependent on the individual elements. When the season starts, teams such as City will blow away others with their firepower alone without even implementing shrewd tactics.
By the time the owners realize this, the transfer window may have passed.
Not all is doom and gloom, but the way forward is certainly not selling to buy. Rodgers' words have matched his actions until now, but they need to be backed by the actions of the owners, as well.
So far, that is far from being the case.
This article is
What is the duplicate article?
Why is this article offensive?
Where is this article plagiarized from?
Why is this article poorly edited?

Liverpool: Like this team?