Virginia Tech Football: What You Need to Know About Virginia Tech's Veterans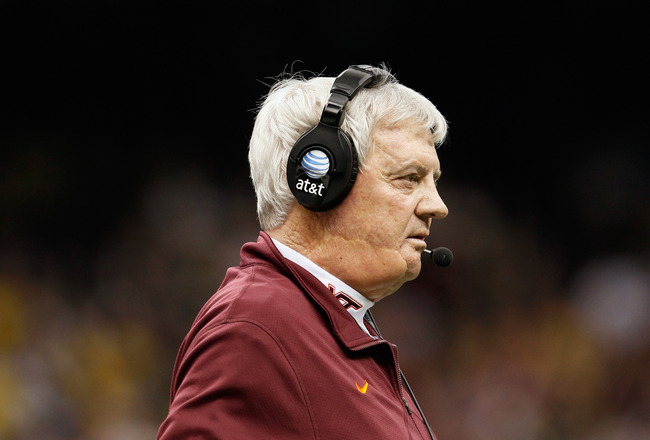 Frank Beamer has a lot of reasons to be happy about his 2012 squad
Kevin C. Cox/Getty Images
Now in his 26th year as the head coach in Blacksburg, Virginia; Frank Beamer enters the 2012 season as the active wins leader and longest tenured coach in Division One FBS. Beamer has held his post since 1987, when his son Shane, who is now the associate head coach and running backs coach for Virginia Tech, was only 10 years old.
Frank Beamer is an institution at Virginia Tech. He has coached and developed a number of athletes into future NFL starters. The famous "Beamerball," a term named after the many teams the elder Beamer has coached, whose tendency to reach the end zone through defensive and special teams returns as well as through blocked kicks, made coming up with a nickname for this style of play necessary.
Headed into the preseason at No. 20 according to the USA Today Polls, Beamer should have one of his most talented teams in recent years ready to play "Beamerball" in 2012. With a star quarterback and a stifling defense, expect the Virginia Tech Hokies to have little issues competing for the ACC Coastal Division crown, as well as the ACC title game it lost a year ago.
As the Hokies gear up for a Labor Day matchup vs. the Georgia Tech Yellow Jackets, look for these veteran leaders to set the tone in what should be an exciting season for Virginia Tech fans.
Cornerback Kyle Fuller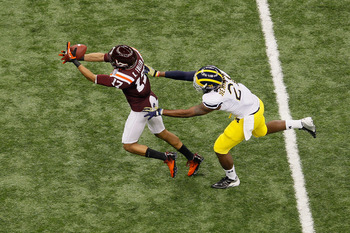 Kyle Fuller Interception
Kevin C. Cox/Getty Images
The Baltimore, MD native is coming off an impressive year where he amazingly led the Hokies with 14.5 tackles for loss en route to earning second team All-ACC honors. Heading into his junior season, Virginia Tech expects Fuller to step into a leadership role.
Fuller has worked to establish himself as a shutdown corner during spring games, and is following the long line of great Virginia Tech defensive backs.
Seeing as Brandon Flowers and DeAngelo Hall are all recent Virginia Tech graduates with jobs in the NFL, Fuller is in a great position to continue this trend of successful Virginia Tech cornerbacks, even though he has two years left to stay in school.
A tremendous tackler who uses his hands well to alter receiver's routes, Kyle Fuller is a candidate for two prestigious college football awards: The Bronco Nagurski Award and the Chuck Bednarik Award for Defensive Player of the Year.
Defensive End James Gayle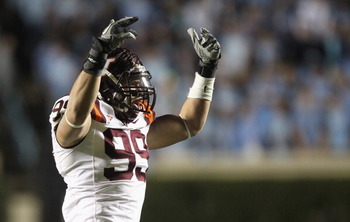 Streeter Lecka/Getty Images
After posting seven sacks in 2011, junior James Gayle is a force to be reckoned with at the defensive end position. With a strong combination of power and speed, the Virginia native is also a candidate for the Chuck Bednarik Award for best defensive player, as well as the Rotary Lombardi Award for best college football linemen or linebacker.
Gayle is thought to be the best player on a strong defensive line that also boasts a pair of brothers and another linebacker vying for the same Rotary Lombardi Award.
The redshirt junior has good size for the position. He is listed at 6'4", 259 pounds.
Mike Linebacker Bruce Taylor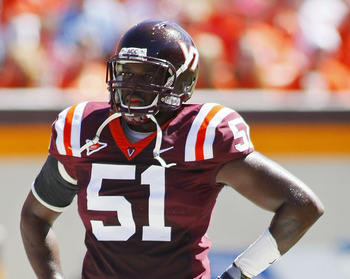 Geoff Burke/Getty Images
Despite suffering a Lisfranc injury to his foot that kept him out of the final six games of the college season, linebacker Bruce Taylor was able to earn a spot on the All-ACC Honorable Mention team.
Taylor has the talent to be the ACC's and even the nation's best inside linebacker, but injury concerns linger as he heads into the 2012 campaign.
A ferocious tackler who plays with great strength at the point of attack, Taylor may be the best linebacker prospect to play at Virginia Tech since Xavier Adibi. The redshirt senior plays with great athleticism to go with his strength, and will likely lead the Hokies in tackles if he plays a full season.
Look for the Myrtle Beach, SC star to be first team All-ACC if he returns to his early 2011 form.
Defensive Tackles Antoine and Derrick Hopkins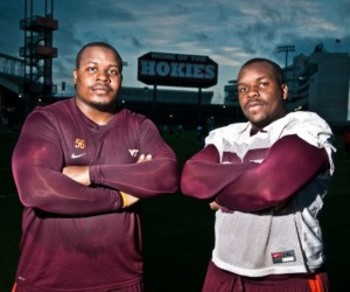 Antoine is on the left, Derrick on the right
The two brothers from Highland Springs, VA are dependable starters in the middle of a strong defense. Though Antoine Hopkins, the elder of the two as a redshirt senior, missed the final nine games of 2011 with a knee injury, he is expected to be at full speed for the 2012 season.
Antoine is a key cog in the middle of the Hokie defensive line, but his brother may have more upside as he has learned from his brother's experience and put it to good use.
Derrick Hopkins hopes to make a strong case for the All-ACC team after playing a key role in 2011.
Due to injuries along the defensive line, including his brother's knee injury, Derrick played more snaps than expected as coaches felt he was overworked as a sophomore and unable to maintain his high-energy playing style once games progressed.
Derrick Hopkins should continue to benefit from his brother being along side him. For one, the lessons Antoine will pass down to his junior brother are invaluable.
Secondly, the added depth Antoine and other developing Hokie defensive linemen provide will help keep the powerful Derrick Hopkins fresh once the fourth quarter comes around.
Quarterback Logan Thomas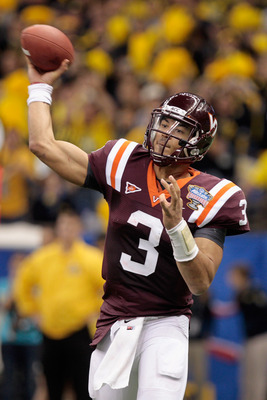 Chris Graythen/Getty Images
Moving to the offensive side of the ball, one must begin with Logan Thomas, a 6'6" quarterback with the same excellent athleticism long characteristic of Virginia Tech quarterbacks.
After posting an impressive first season as a starter in which he threw for over 3,000 yards and accounted for 30 total touchdowns, (19 through the air and 11 on the ground) Thomas hopes to carry his success into 2012. The redshirt junior has a strong arm to go with above average mobility.
If Thomas is able to improve on his numbers from a year ago, look for the quarterback to challenge Southern California's Matt Barkley and Tennessee's Tyler Bray as the most sought after quarterback in the 2013 NFL Draft.
Given his elite measurables and a chance to carry an offense without many starters from a year ago, Thomas should prove to the nation and the NFL that he is a potential franchise quarterback.
Wide Receiver D.J. Coles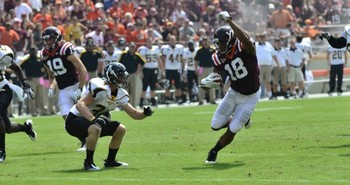 One of Thomas' primary targets will be senior receiver D.J. Coles, a 6'3" receiver who has waited patiently for his chance to shine. Now that Jarrett Boykin and Danny Coale, two of the most productive receivers in Virginia Tech history are now fighting for jobs in the NFL, 2012 should provide that chance for Coles.
A former transfer from Fork Union Military Academy, Coles brings a disciplined approach to the receiver position.
After reeling in 36 passes a year ago for 480 yards, the big-bodied split end will look to use his size to shield off smaller defensive backs and help Logan Thomas ascend to stardom this upcoming year.
Though he has been slow to recover from a knee injury and may miss some of the preseason, Coles should produce well in 2012.
Center Andrew Miller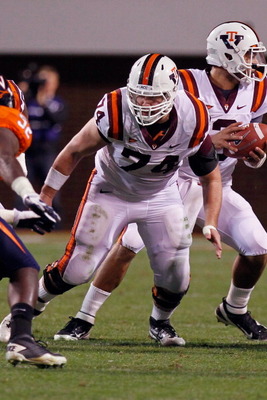 Geoff Burke/Getty Images
The only returning starter on the offensive line from a year ago, Andrew Miller will be counted on by the Hokies to carry a young unit throughout the season.
A candidate for the Outland Trophy given to the nation's best interior offensive linemen as well as the Rimington Award for the nation's top center, Miller is one of the best at his position in the FBS.
The center has drawn praise from coaches for his toughness, as he played through injuries last season when the team needed him most. A former wrestler, the Virginia native plays with great leverage, and likely will be starting for an NFL team sooner rather than later.
Wide Receiver Marcus Davis
Marcus Davis, No. 7
Chris Graythen/Getty Images
Another of Thomas' primary targets is Marcus Davis, a 6'4" redshirt senior from Virginia Beach. With tremendous size and speed, Davis is a matchup nightmare for opposing defensive backs.
After posting 30 catches a year ago for 510 yards, good for a team leading 17 yards per catch, Davis will try to improve on those numbers as he steps into the No. 1 flanker position. Davis also tied for the team lead in touchdown catches with five.
Virginia Tech coaches are looking for Davis to become a leader among an inexperienced group of Hokie wide receivers. If he can do this, look for big things from Davis in 2012 and in future years.
A candidate for the the Fred Biletnkoff Award given to the nation's best receiver, Marcus Davis is a top talent at his position in the FBS.
Link provided courtesy of Kyle Stanzel, Bleacher Report Featured Columnist.
Whip Linebacker Alonzo Tweedy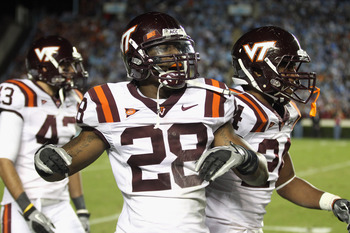 Streeter Lecka/Getty Images
An undersized linebacker with good speed, Alonzo Tweedy is an ideal fit for what Frank Beamer and long-time defensive coordinator Bud Foster call the "Whip" position. The Whip is similar to a strong safety but plays closer to the line of scrimmage.
A hard-nosed player who has worked his way onto special teams units in years past, look for Tweedy to be that Virginia Tech Hokie who best embodies "Beamerball," whether that be through running back blocked kicks, blocking them himself or making plays by stopping opposing kick returners.
After a strong showing in spring practices where he was named the defensive player with the best spring, the redshirt senior will look to make the most of his final year at Virginia Tech by contributing on both defense and special teams.
Keep Reading

Virginia Tech Football: Like this team?