WWE Smackdown: Recap of the August 7 Taping (Spoilers)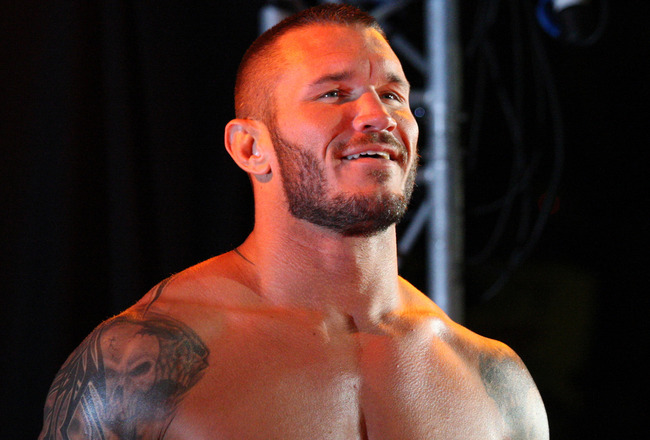 Gallo Images/Getty Images
Spoiler Alert: This is a recap of the Smackdown taping that will air on Friday, August 10. Avert your eyes if you prefer to be surprised.
This episode of Smackdown features the continued return of tag team wrestling, a hot Houston crowd, funny work on the mic and a World Heavyweight Championship match that wasn't meant to be.
It's a loaded show, where most of WWE's big names appear in some form.
The crowd was treated to a bonus dark match with a returning Wade Barrett vs. Zack Ryder as well as matches taped for WWE Superstars.
Barrett beat Ryder handily, looking strong for whatever feud WWE hands him.
Superstars Matches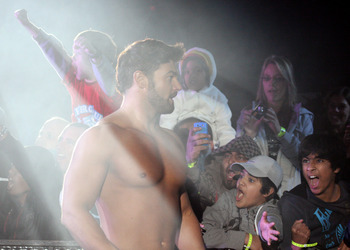 Gallo Images/Getty Images
The tag match that will air on WWE Superstars ended up being better than any of the Smackdown ones. Tyler Reks and Curt Hawkins vs. Tyson Kidd and Justin Gabriel was fantastic.
The action was fluid with both teams employing sound strategy. Kidd took most of the damage with Reks and Hawkins pounding him in their corner.
Kidd and Gabriel pulled out the win via their awesome-looking seesaw backbreaker.
WWE clearly has the talent in the tag team division if they want to lean on it.
The other Superstars match saw Kofi Kingston drop the boom on Heath Slater.
Smackdown Opening
Gallo Images/Getty Images
Lillian starts us off with a powerful and inspired rendition of "The Star Spangled Banner."
GM Booker T heads down the aisle to a raucous reception. Houston loves Booker and howls in appreciation.
Booker announces that Sheamus is going to have to apologize for his car stealing stunt. Seems fair, I guess, an apology for the destruction of a car.
Sheamus gives a weak apology. Alberto Del Rio storms down in protest. These two can't wait for SummerSlam to get it on.
Booker T obliges by announcing a match for the World Heavyweight Championship on Smackdown.
Sin Cara vs. Cody Rhodes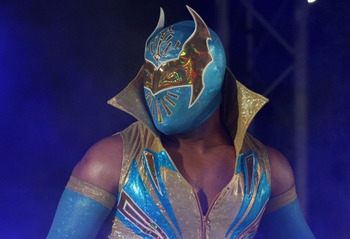 Gallo Images/Getty Images
Sin Cara gets a solid reaction from the crowd. Cody Rhodes gets a mixed bag, a touch of cheers, a boo here and there and some silence from a portion of the audience as well.
Are fans going to eventually appreciate Rhodes' immense talent or will he end up on all the future "Most Underrated" lists?
Rhodes begins with a mic in his hand, wondering aloud why Sin Cara wears a mask. "Is it because you're ugly?" he asks.
Rhodes and Sin Cara have a decent short match with some enjoyable springboard work from the masked man. Cara wins with a roll-up.
Antonio Cesaro vs. Christian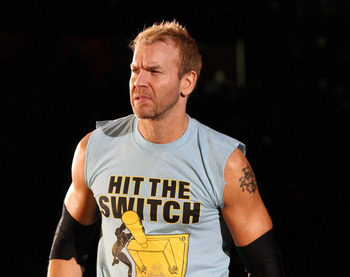 Gallo Images/Getty Images
Antonio Cesaro gets no love (or hate) from the crowd. To call it a smattering of boos would be generous.
He and Christian have an excellent chemistry right away. Their counters are smooth and they have a natural feel for each other.
I smell future feud here.
Cesaro impresses by tossing Christian in the air and delivering a thunderous uppercut. Christian tops him with a dropkick to the face that echoes throughout the Toyota Center.
Christian ends up winning it with a short range spear.
As Captain Charisma is celebrating, Cesaro attacks him from behind and tosses him into the security barricade. The crowd reacts to that with passion.
More genuine heat like that on Cesaro and he'll be shooting up the ranks in no time.
Randy Orton vs. Jack Swagger
Gallo Images/Getty Images
Jack Swagger gets squashed again. His losing streak is getting mighty long now.
You have to wonder what's next for him. Is he a jobber for life now?
Randy Orton's entrance is longer than the match. He gets the crowd to roar. It's the biggest non-Cena pop of the night.
This is designed to build Orton back up after his absence.
Not much to report here. It's basically DDT, RKO and good night.
Jinder Mahal vs. a Pair of Jobbers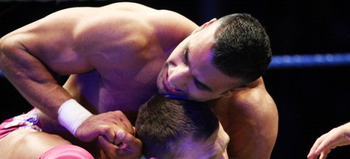 Gallo Images/Getty Images
When two pasty guys no one recognized climbed into the ring, the crowd was no doubt thinking they'd be seeing another Ryback feeding.
Instead, Jinder Mahal came out and made quick work of the two nobodies. He clamped on the camel clutch for the win and after the bell rang, doubled up the move, doing it to both guys.
Ryback's music hit.
Mahal scooted out of the ring in fear. Ryback did his usual dominating routine in spite of not having a match.
He hoisted both jobbers above his head and delivered a double Shell Shock. Ryback may have his first real feud in Mahal.
The Highlight Reel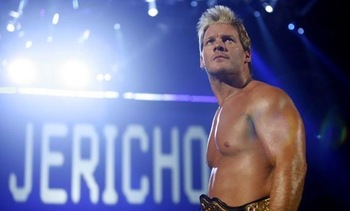 photo from wwe.com
Dolph Ziggler was the scheduled guest, but Vickie Guerrero comes out instead.
Chris Jericho is hilarious in taking her apart verbally. He plays his Tout of Ziggler's loss to Alex Riley on Raw and takes some funny digs at Vickie.
As expected, things turn violent soon. Ziggler smacks Jericho in the head with his briefcase and gives him a sneak attack Zig Zag.
The potential best match for SummerSlam 2012 is now official and both men are now sufficiently motivated to beat the other one into dust.
Primetime Players vs. Primo and Epico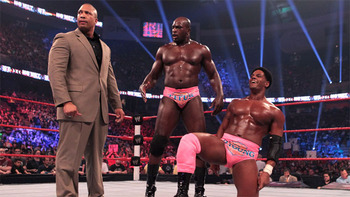 photo from wwe.com
R-Truth and Kofi Kingston sit at the announcers' table to provide additional commentary.
The tag team match is a number one contender's match and the winner will likely face Truth and Kofi at SummerSlam even if it is on the preshow.
The short match has bursts of brilliance from both teams. There is an enthralling feud growing here. WWE needs to keep at this.
Abraham Washington goads Kofi and Truth into the ring where they attack the Primetime Players. Wise move, because that means the Players win by disqualification and are officially the number one contenders for the tag titles.
Is a three-team match in the works?
Backstage with Booker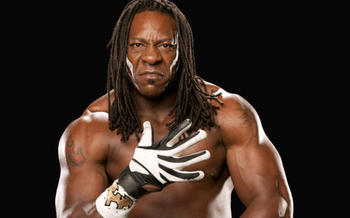 photo from onlineworldofwrestling.com
After an ad for the Undertaker streak video and a Raw recap, we head backstage with Eve and Booker T. Eve's dress is quite possibly just body paint.
Eve asks about any possible employment opportunities under the new regime. Booker says there are none.
Teddy Long brings in Kaitlyn and vouches for her. Booker T hires her, much to Eve's chagrin.
Booker decides instead to pit the two women against each other in a match next week. The winner gets to be his assistant. I guess the job market is as tough as they say.
Rey Mysterio vs. the Miz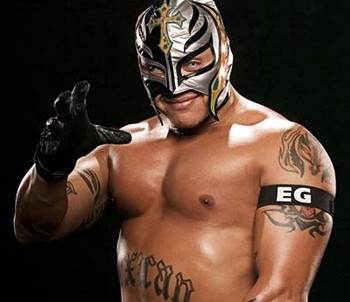 photo from wwe.com
The fans give Rey Mysterio a huge pop. A "619' chant starts early on during the action.
The two work well together, creating a back and forth match that draws fans in. Mysterio isn't as high of a flyer as he used to be, but still puts together some breathtaking moves.
Mysterio wins with a victory roll after a short match.
The Miz is stunned. He sits in a corner and refuses to leave. He calls it a sit-in.
Cue Triple H's music. The crowd gobbles up Triple H's pedigreeing Miz and tossing him out of the ring.
Daniel Bryan, Kane and AJ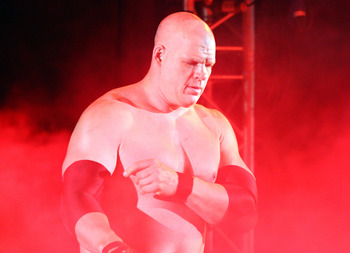 Gallo Images/Getty Images
Daniel Bryan gets an enormous reaction from the crowd. Throngs of people stand up and chant "yes." Bryan controls the crowd well, getting them to chant louder and louder.
He talks about not just being a catchphrase, but is mostly drowned out by the avalanche of noise the Houston fans deliver.
AJ skips her way down the ring. Kane soon follows.
AJ insists that Bryan shake Kane's hand. He tries, but is met with hostility from The Big Red Machine.
In what is a mini-preview for SummerSlam, Bryan and Kane trade some blows and counters before Bryan ducks out and disappears in the crowd.
Alberto Del Rio vs. Sheamus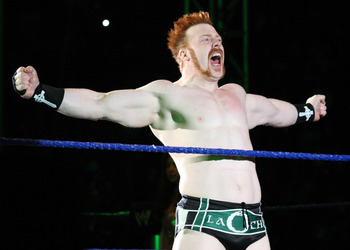 Gallo Images/Getty Images
The crowd was fired up to see a World Heavyweight Championship match. They didn't get one.
Alberto Del Rio apparently hired some men to pose as cops. They looked to be arresting Sheamus for stealing Del Rio's car, but ending up just beating on him and holding him up for Del Rio to take cheap shots.
Sheamus looked every part the butt-kicking warrior he is by fighting them off for quite some time. He clobbered the lot of them before the fake cops eventually overwhelmed him.
Del Rio took advantage and damaged Sheamus' arm with the cross armbreaker. Attacking Sheamus like this is an strategy for Del Rio as he could have the championship with a win here.
Why save up for SummerSlam then?
Bonus Match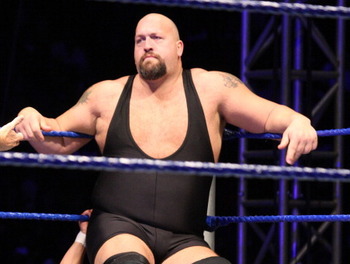 Gallo Images/Getty Images
What won't likely air on Friday's Smackdown is a two-on-one handicap match with Dolph Ziggler and Big Show vs. John Cena.
All the local ads had been promising John Laurinaitis and Big Show vs. Cena.
After Laurinaitis got fired, it didn't seem to make sense to have that match. Ziggler took his place, which is fine, seeing how he is about a hundred times better wrestler than Mr. Excitement.
The problem is, when Cena won, he beat two top-level superstars, making him look near invincible. This is where the Superman comparisons come in.
This is where the anti-Cena fans get their fuel.
Apparently very few of those fans reside in Houston though. During the usual "Let's go Cena" chants, the "Cena sucks" part was barely audible. The support for Cena though, was off the charts.
He had the women losing their voices and the kids out of their seats.
Keep Reading