Philadelphia Eagles: Andy Reid Knows Andy Reid Better Than You Do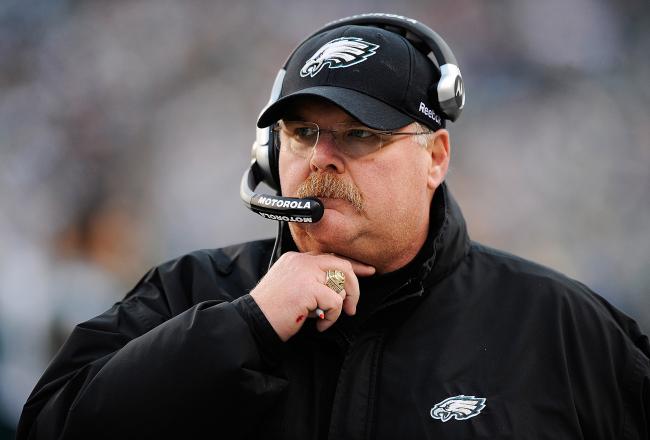 Maybe just this once, find some compassion for the man.
Patrick McDermott/Getty Images
Just this once, Eagle fan, leave Andy Reid alone.
Garrett Reid is dead, and you think this is your time to show your human side to Coach Reid, to tell him you care about him and his family, to want a cathartic, communal experience. Nine hundred-plus attended the service in suburban Philadelphia, after all.
But don't. Just don't.
Andy Reid has borne your slings and arrows for 13 seasons now. The questioning of his clock management, the accusatory jibes at his decision-making on third- or fourth-and-short. The allegiance to Donovan McNabb even after he allegedly threw up during the biggest possible comeback drive that the past eon of Eagles moments have seen, with the Super Bowl you craved so badly in the balance.
Now is not the time.
There is this temptation to foist yourself on the proceedings, you know, since you're a HUGE EAGLES FAN and all. Some of you probably found your way to the Church of Latter Day Saints place of worship to honor the dead yesterday. But please, find your better angel this one time, and don't continue to wear the shroud.
Because, whether you know it or not, the fact that Andy Reid earns more money in a season than you will in a decade, or a generation, or a lifetime, does not make him an analog to you. That you may have lost a loved one to addiction, or that you may know the pain of burying a child, or maybe just that you have seen a cherished family member claimed too soon—that is not a ticket to Andy Reid's experience.
If anything, the magnitude of the personal nightmare he is living right now casts Coach Reid further from you than you can know. Because while you may have lived his anguish, you did not do so with hordes of media jackals hovering close by. You cannot know the difficulty of balancing "keeping a stiff upper lip" with "I wish these people would just leave me be, if only for a minute."
The fact is, if "Andy Reid" was not the Philadelphia Eagles head coach through all the highs and lows that you feel you experienced with him, i.e., if "Andy Reid" was just a co-worker at your job, wherever you work, you would give him a week, maybe two, to grieve...but then if he was hard slacking on his responsibilities you would be fast-walking to his manager asking for guidance on how long you had to wait for "Andy" to get back to normal.
Which means that, of all times, now is not the time for you to expound on the difficulties of addiction, or to moralize on whether "the coach should step aside for the sake of his family and his team." Some people sequester themselves in times of trouble, and others put forth a brave face and soldier through.
Regardless, Andy Reid knows himself better than anyone. He does not need, nor does he ask, for your input.
Whatever he says, goes.
This article is
What is the duplicate article?
Why is this article offensive?
Where is this article plagiarized from?
Why is this article poorly edited?

Philadelphia Eagles: Like this team?