London 2012 Women's Beach Volleyball: Predictions and Preview for All-US Final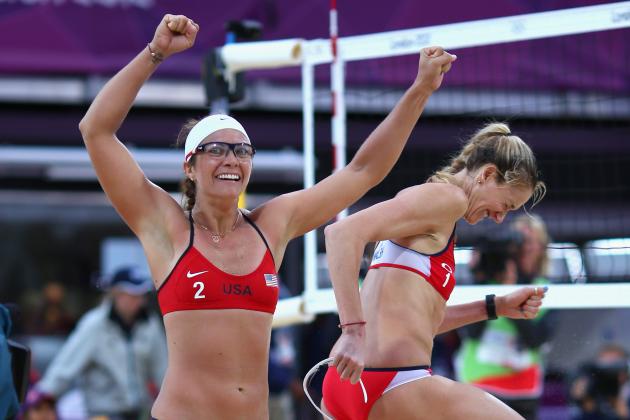 Ryan Pierse/Getty Images

Bold prediction: The "Star Spangled Banner" will be playing at the medal ceremony for women's beach volleyball.
That's actually a sure bet after a pair of exciting semifinal matches on Tuesday evening in London that have led to an all-American affair in the championship match.
Two-time defending champions Misty May-Treanor and Kerri Walsh faced their toughest challenge yet— defeating powerful No. 2 Zhang Xi and Xue Chen of China, 22-20, 22-20.
Meanwhile, Americans April Ross and Jen Kessy took on top-seeded Larissa Franca and Juliana Silva of Brazil, winning in comeback fashion, 15-21, 21-19, 15-12.
If you watched both matches, you know that the bronze-medal matchup could just as easily have ended up being the gold-medal one. Fortunately for Americans, our ladies pulled through on the big points and will meet for it all.
The match is set to begin at 4 p.m. EDT.
Here's a preview of both teams and a prediction on how it will all unfold...
Begin Slideshow

»
Ryan Pierse/Getty Images
Ross, right, digs as Kessy looks on.
Jen Kessy
Age: 35
Height: 6'
College: USC
Hometown: San Juan Capistrano, Calif.
Career wins: 19 (9 FIVB, 10 AVP)
April Ross
Age: 30
Height: 6'1"
College: USC
Hometown: Newport Beach, Calif.
Career wins: 17 (9 FIVB, 8 AVP)
The Scoop
The Trojan tandem has been playing together since 2007 and has enjoyed a stellar run, highlighted by a win at the 2009 World Championships. They won three international tournaments that year and have been ranked in the Top Four of the world rankings every year since 2008.
The team is unique in its versatility. In the modern game, teams are often formed with a decidedly bigger player who handles the blocking duties and a smaller, defensive-minded player who stays in the back. While Kessy has been handling the blocking duties for the most part, both are capable in all facets of the game. Ross, in fact, was voted the FIVB's best server and hitter in 2011.
In the tournament so far, Kessy and Ross have had the most potent offense, putting away 59 percent of their swings for kills.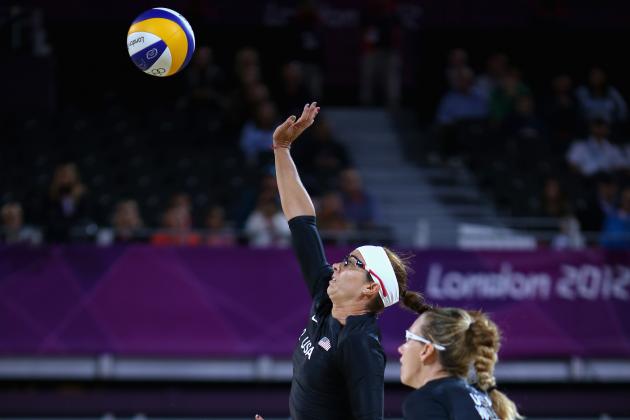 Ryan Pierse/Getty Images

Misty May-Treanor

Age: 35
Height: 5'9"
College: Long Beach State
Hometown: Santa Monica, Calif.
Career wins: 108 (42 FIVB, 66 AVP)
Kerri Walsh

Age: 33
Height: 6'3"
College: Stanford
Hometown: San Jose, Calif.
Career wins: 107 (43 FIVB, 64 AVP)
The Scoop
They are the greatest women's beach volleyball team of all time, and no one can say anything different. The team won 89 consecutive professional matches between 2003 and 2004 and never dropped a single set on its way to Olympic gold in both Athens and Beijing.
Their first Olympic set loss came on Aug. 1 at the hands of the Austrian Schwaiger sisters. How did Misty and Kerri respond to the 21-17 letdown? By demolishing the sisters the rest of the way, 21-8 and 15-10.
Walsh is the prototypical net player—incredibly long and agile with tremendous blocking instincts. May-Treanor, meanwhile, is an all-around dynamo with complete command of her shots and a knack for digging everything.
These two have been through everything together, which was really nothing but triumphs until May-Treanor snapped her Achilles tendon on Dancing With the Stars in 2008. Walsh, meanwhile, has had two children since Beijing.
The team floundered a bit (by its standards) on the FIVB tour this year, with just two podium finishes through six events. The duo hasn't floundered at all in London.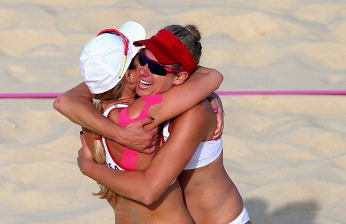 Ryan Pierse/Getty Images

In the spirit of full disclosure, you should know that the person making this prediction went to the same university that both Ross and Kessy did.
However, that person has also watched both teams play numerous times and covered many of Misty and Kerri's domestic wins. He knows how good they are.
It would be an upset for Ross and Kessy to win, based mainly on the fact that Misty and Kerri have all of the experience in the world. Also, one must consider the champions' 27-5 all-time record against Ross and Kessy.
This quote from Walsh is intriguing:
"We want to seal the deal that we're the best team that's ever happened," she told NBCOlympics.com on Tuesday.
Newsflash: You are the best team ever, no matter what happens in the final. In fact, you'd be the best team ever if you were bounced from London in pool play.
Ross and Kessy, meanwhile, have some serious motivation. They narrowly missed out on qualifying for Beijing, and since they are both in their 30s, they are not an up-and-coming team by any means. This is their time.
While the Kessy-Walsh matchup at the net favors Walsh, who had five blocks in the semifinals, the versatility on the other side is a big asset.
With such elite teams on both sides, one of the key factors is experience in tight situations. How a team plays late in sets is what guides its success.
So far, Misty and Kerri have been magnificent in crunch time. They won their semifinal match on grit more than ability (although they are very able), since the young Chinese squad was really impressive all around. They had 20 digs in the first set, but Misty and Kerri found a way to come back from a 13-8 deficit and win.
Who's to say that Kessy and Ross don't possess the same late-game ability? They were up against the ropes after losing the first set to the Brazilians, who hadn't lost a set the entire tournament. They turned it around and showed killer instinct in the final frame to reach the final.
I picked against the champs in the semifinals and they proved me wrong. Here we go again:
Ross/Kessy def. May-Treanor/Walsh 19-21, 21-18, 17-15

Either way, it's going to be a fun one.