USA vs Australia: 5 Most Important Players for USA in Quarterfinals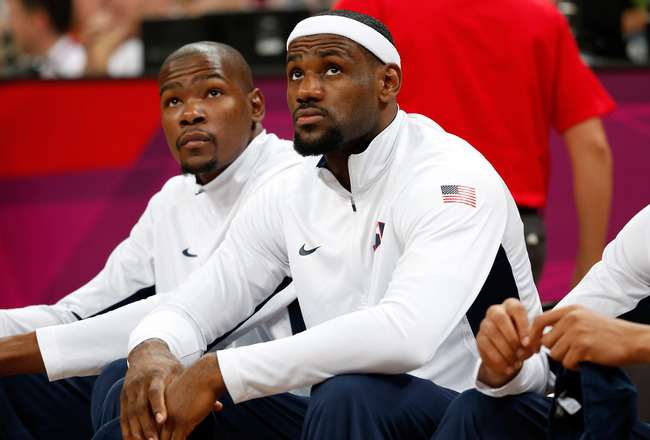 Jamie Squire/Getty Images
The United States will be taking on Australia during the Quarterfinals of the men's Olympic basketball tournament.

Even though they suffered a scare against Lithuania that went down to the wire, the Americans have dominated this tournament and finished group play as the only undefeated team.

Carmelo Anthony and Kevin Durant, who have both been scoring machines, and LeBron James, who has come through for the USA in every clutch moment, have been the leaders on this team.

Australia on the other hand finished group play with a 3-2 record, but still got the last quarterfinal spot in Group B due to losing a tiebreaker with Spain.

The Aussies have basically been a one-man show starring Patty Mills. Mills is leading the team by averaging 20.2 points per game and has taken 40 more shots than Kevin Durant, who leads Team USA in field goal attempts.

Here are the five most important players for Team USA to defeat Patty Mills and the team from Australia.
5. Deron Williams
Christian Petersen/Getty Images
You may think Carmelo Anthony is the team's sixth man, but Deron Williams has actually played more minutes than any other bench player.

As the backup point guard, Williams will be responsible for defending Patty Mills when he's in for Chris Paul. If you stop Mills, you stop Australia. It's as simple as that.

Williams is also second on the team in assists during group play, just one assist behind Chris Paul for the team lead. If he can keep finding the numerous scorers around him for open looks, Team USA will win this game easily.
4. Kevin Love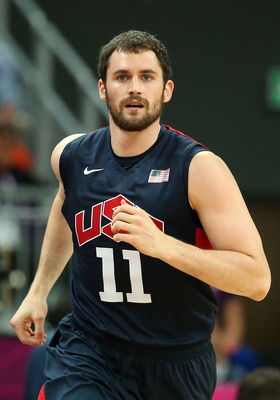 Christian Petersen/Getty Images
Even though Tyson Chandler has started in every game so far, Kevin Love has definitely been the team's best center.

Australia is third in the tournament in rebounds with an average of 41.2 per game. Team USA is first in this category, but is not that far ahead of Australia.

The team's leading rebounder has been Kevin Love. Love is pulling down 6.4 rebounds per game, including 2.4 per game on the offensive end. He will need to be a monster on the glass in order to outrebound Australian center David Anderson, who has a few inches on him.

Love has also been extremely effective on the offensive end since he can extend his jump shot out to the three-point line. Anderson isn't accustomed to guarding centers on the perimeter, so Love should find himself with open threes on a number of occasions.

If he continues to increase his already stellar 47.1 three-point percentage, the Americans will have a distinct advantage when Love is on the floor.
3. Kevin Durant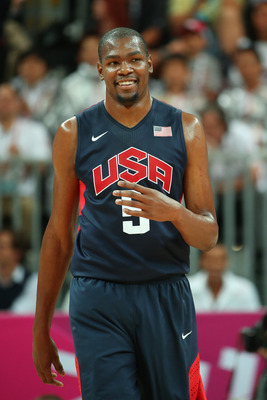 Christian Petersen/Getty Images
Kevin Durant is the most prolific scorer in the entire tournament. The man can score at will from anywhere on the court.

Durant has been lights out from downtown during group play. Surprisingly, Durant has taken 33 three-pointers and only 23 two-point shots, but that isn't a problem when you are shooting 60.6 percent from three.

KD has also been money from the free-throw line. He is third on the team in free-throw attempts and is shooting over 88 percent from the stripe.

When Durant's shot is on, like it has been thus far, it is extremely difficult to stop him. Expect a huge game out of the Durantula versus Australia.
2. Chris Paul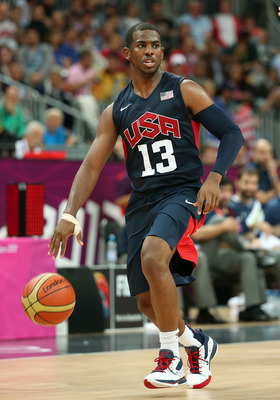 Christian Petersen/Getty Images
Like Deron Williams, Chris Paul will be the main player responsible for guarding Patty Mills. Paul is the team leader in steals, but he will have his hands full with Australia's scoring leader. Stopping Mills is the key to defeating Australia.

Paul has found his jump shot during recent games. Against Argentina in the last game of group play, Paul was 5-6 from downtown and finished with his tournament-high of 17 points.

Chris Paul is also the team's leader in assists. He has done a terrific job of controlling the pace of the game and running the offensive sets that coach Krzyzewski wants run.

Even if Paul doesn't do much scoring, as long as he plays solid defense and distributes the ball well, Team USA will be in great shape.
1. LeBron James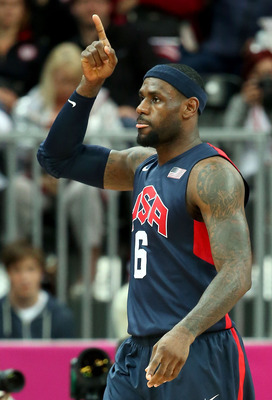 Christian Petersen/Getty Images
When he's been looking to dominate during the Olympics, LeBron James has been virtually unstoppable.

James has been focusing on distributing the ball more than scoring until it's crunch time, when Team USA needs him to take over the game. This has only happened a few times, but each time James has come through for his team.

During the game against Lithuania, Team USA was only up by one point with less than four minutes remaining in the game. James then rattled off nine points in those final four minutes and the Americans finished the game off with a five-point victory.

During the game against Argentina, Team USA went into halftime only up by one point. James came out of the break on fire, scoring nine points in the first two-and-a-half minutes of the third quarter. This swung the momentum in Team USA's favor and they cruised to a dominant victory after that.

Bottom line—when LeBron James is dominating the scoring, Team USA can't be beat.
Keep Reading