Notre Dame Football: Pros and Cons to Gunner Kiel Taking a Redshirt in 2012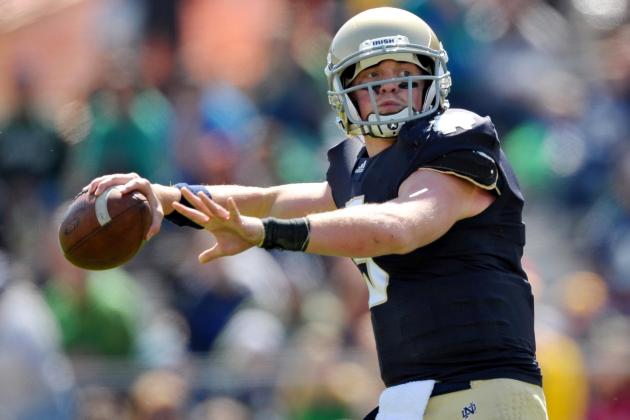 Matt Cashore-US PRESSWIRE

Notre Dame head coach Brian Kelly finds himself in perhaps the most precarious position of his tenure in South Bend.
Kelly must choose a starting quarterback to lead his team, and the forecast tells fans that the race has come down to Andrew Hendrix and Everett Golson.
But the name that has seemingly lost traction is Gunner Kiel. The Columbus, Ind., native, a 5-Star prospect according to Rivals.com, is entering his true freshman season at Notre Dame and is a viable redshirt candidate.
But would serving a redshirt season be beneficial for his development?
Let's discuss the topic.
Begin Slideshow

»
Like Everett Golson did in 2011, staying on the sidelines during the 2012 season will give Gunner Kiel ample time to learn Brian Kelly's complex offensive scheme.
Following spring practices, Kelly noted that Kiel learning the offense could be compared to drinking from the fire hose.
If Kiel was thrown onto the field as the starting quarterback this season, the game plan would need to be tailored to his lack of experience, effectively limiting the Irish offense.
Giving Kiel a redshirt season will maximize his potential and transform him into a threat to win the starting quarterback job in the years to follow.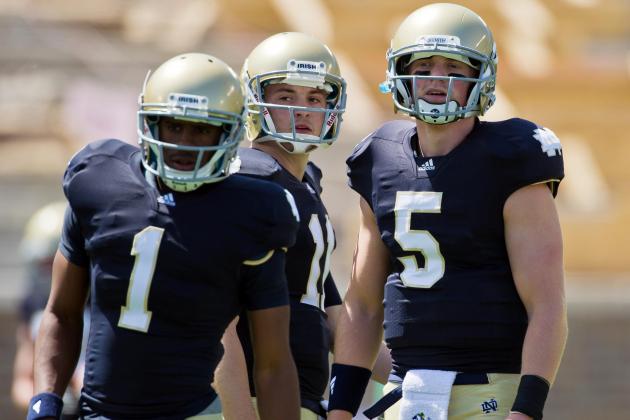 Matt Cashore-US PRESSWIRE

The quarterback controversy currently weighing on the mind of Brian Kelly is a good problem to have, which is often a rarity in college football.
From the looks of it, Brian Kelly has narrowed the race for starting quarterback duties to redshirt freshman Everett Golson and redshirt sophomore Andrew Hendrix.
Regardless of whom Kelly chooses, the risk that Gunner Kiel faces is this season's starting quarterback evolving into a long-term solution at the position. If Golson or Hendrix prove that they are capable leaders of Kelly's football team, there won't be another quarterback controversy until at least 2015.
Should that be the case, Kiel would likely seek to transfer. After all, a 5-Star recruit wouldn't choose a program in which he would be riding the bench for multiple seasons.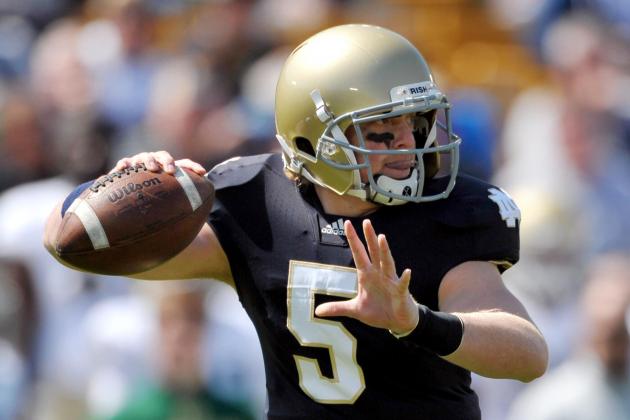 Matt Cashore-US PRESSWIRE

Yes, I am aware that Gunner Kiel checks in at 6'4" and 220 pounds. No, his body size is not a concern.
However, time spent in the weight room with strength and conditioning coach Paul Longo will only add to the tremendous physique that Kiel already possesses.
Longo will see to it that Kiel improves his speed, agility endurance and strength during a potential redshirt season. Should Kiel make improvements in each category, it'll make it that much more difficult for Brian Kelly to keep him on the sidelines.
Remember, Brian Kelly desires a quarterback who has the ability to move out of the pocket and pick up yards with his feet. Kiel isn't the fastest of quarterbacks, but as of now, he can do just enough to pick up a first down when absolutely necessary.
Just think about what Kiel would be capable of with improved speed and agility.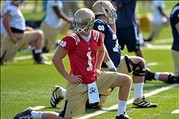 Matt Cashore-US PRESSWIRE

If Gunner Kiel is indeed Notre Dame's quarterback of the future, then gaining experience is a must. If he serves a redshirt year, he will have lost a season in which he could have played meaningful minutes.
The last true freshman to start as a quarterback was Jimmy Clausen in 2007, a season that Fighting Irish fans don't care to discuss. During that 2007 season, Clausen accumulated 1,254 passing yards to go along with seven touchdowns and six interceptions.
Those are decent figures for a true freshman, and that experience catapulted Clausen into two tremendous seasons in 2008 and 2009, in which Clausen compiled 6,894 passing yards and 53 touchdown passes.
The lesson to be learned here is that meaningful experience as a rookie quarterback can certainly translate into much higher levels of success in the seasons to follow.
After committing to both Indiana and LSU during his recruiting process, Gunner Kiel wound up choosing Notre Dame, and for good reason.
The school is roughly a four-hour drive from his hometown of Columbus, Ind., meaning his parents will be able to see him play much more than they would have had he chosen LSU.
And as Kiel said himself, he's a Midwestern kid with Midwestern values. He's also one of, if not, the best quarterback to come out of the state of Indiana since Hoosiers began playing football.
When he chose Notre Dame, Kiel knew that, like anything else in life, he was going to have to work hard to earn playing time. There was no guarantee that he would start as a freshman, although the opportunity still presents itself.
The only downfall that Kiel is facing is the fact that he's far from being fully ready to be a starting quarterback at the college level. Therefore, serving a redshirt year makes the most sense for him.