10 Reasons All Football Fans Should Respect Manchester United
Stanley Chou/Getty Images
"With great power comes great responsibility." – Benjamin Parker.
If you aren't completely at home with your Spiderman lore, Peter's uncle was basically hinting that Manchester United are one of the most, if not the most responsible club in the world.
Alright, that wasn't his actual intention, but the proverb is nevertheless translatable to the English side's status when placed on a global scale.
For decades now, football fans have warred over the dedication to their clubs, a fervent passion that will, at times, spill into genuine violence and bloodshed.
However, that passion shouldn't prevent one from appreciating the works of another outfit, and although there will be plenty whom voice views stating otherwise, Manchester United are one of the most successful, and therefore, most respectable clubs on this planet.
That success isn't attributed to luck, and it didn't fall upon Old Trafford by chance, so it's possible to deduce exactly how it is that the club has come to be where it now stands.
With that in mind, let's consider exactly why it is that all supporters, regardless of race, religion, age or club, can appreciate the Manchester United brand in all its deserved glory.
Trophy Cabinet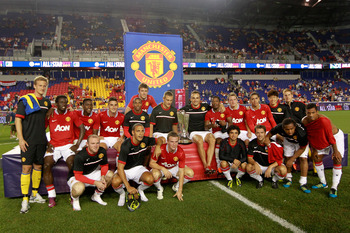 Chris Trotman/Getty Images
Probably the most obvious and material subject attributed to Manchester United's measure of success is their growing quantity of silverware.
In a sport filled with statistics, numbers and in-depth facts, it's hard to look past the simplest pieces of pedigree proof: trophies.
Amongst the club's glittering cabinet lies three Champions League (and European Cup) titles, 19 Premier League (and First Division) crowns and 11 FA Cup gongs, although the list goes on.
Of course, a lot of clubs have titles to their name and that doesn't necessarily make them a world power, but the Red Devils have remained amongst the elite of a league commonly dubbed as the best in the world for decades now.
While the names of the competitions may change, United's mercurial adaptability has been shown to remain, and although their most recent campaign saw them surrender the Premier League trophy to Manchester City, the club will undoubtedly rise to challenge once again.
This leads us nicely into our next reason to respect the name.
Constant Resurgence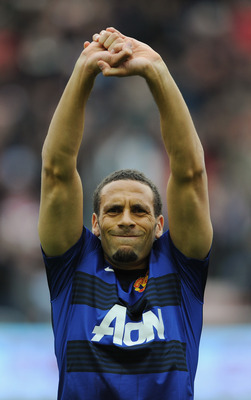 Michael Regan/Getty Images
No matter the hardship, irrespective of which player they lose, it seems that one thing that the football fraternity can be assured of is that Manchester United will always rise like the proverbial Phoenix.
Before the modern era, Manchester United were last a dominant force in the same respect as they are today in post-war Britain.
The 1950/60s saw the English giants rake in numerous domestic titles, along with a European Cup in a time that just happened to coincide with Matt Busby's reign at the club.
The "Busby Babes" remain one of the most beloved and well-known Manchester United teams ever to take shape, and although the majority of that squad was tragically taken away from us in the Munich Air Disaster, that period wasn't to be the last of great worth to the fans.
Just two decades later, United entered another time of great prosperity, and one that continues to this day.
It's this never-say-die attitude that warrants the team being able to say they've been through the thick of it, but have come out even better than before.
When compared with flailing former greats such as Nottingham Forest, Leeds United, Rangers and numerous Eastern European clubs, it's United's long-term standing amongst the world's elite that separates them from the rest.
Hall of Fame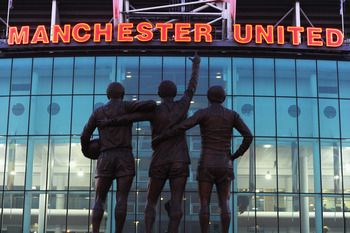 Mike Hewitt/Getty Images
And where would those bragging rights come from if not the players themselves?
Given the heaving list of achievements at Old Trafford, it's only natural that Manchester United have a number of former greats that have helped in moulding that image.
Of course, every team has their "legends," but the term can often come down to a matter of perspective.
So, while your dad might have netted over 50 goals in a season for Wimbledon F.C when you were a kid, he's no Roy Keane.
This is the portion of the article where some would take the opportunity to list a lot of the players that have graced the Theatre of Dreams with their presence in past decades.
The likes of Bobby Charlton, George Best, Cristiano Ronaldo and Eric Cantona are simply a brief pick of the batch that have made their way through the Manchester United monolith.
To try and list all the club's greats would be folly, a task requiring great sacrifice in time, food and drink.
It isn't just the past where you could see some of the game's best on show, however.
Some endure to this day.
Star-Studded Cast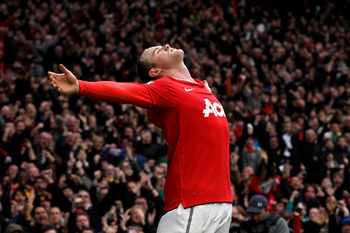 Alex Livesey/Getty Images
Consistency.
The secret to building any great dynasty at any club in whatever practice is consistency, and the Manchester United bloodline is still strong.
In the previous slide, players were mentioned that hold substantial meaning to any Manchester United follower. But a club can't stand on previous success alone, and all of these names are sadly gone.
However, out with the old and in with the new, as they say. While United may show signs that they miss some of their former stars at times, a constant line of replacement always seems to emerge.
As I write, stars like Wayne Rooney (pictured), Nemanja Vidic, Ryan Giggs and Paul Scholes remain faithful to the Red Devils' cause and are some of the biggest stars in the squad.
The English titans continue to attract young talent and despite the inevitable allure from other outfits, Ashley Young, Shinji Kagawa, David de Gea and Phil Jones are just some of the youngsters to agree on an Old Trafford move in the past year.
That doesn't mean that United never put a foot wrong when it comes to buying in the transfer market, but simply that the positives appear to outweigh the negatives on quite a frequent basis.
When you can finish second in the Premier League and just about miss out on a Champions League quarterfinal but still see that season as a disappointment, you can know that, in the great scheme of things, your roster is most certainly of a high grade.
Sir Alex Ferguson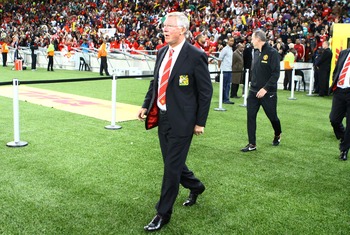 Gallo Images/Getty Images
Twenty-six years ago, a man from Glasgow came to Old Trafford in a time of peril.
It took the Scotsman a few years to settle in his new surroundings, but in 1989, the FA Cup made an overdue return to its old nesting grounds, heralding a fresh start for the side.
Twenty-three years later, and Manchester United have brought in 36 major titles under this leader of men, who is fondly looked upon by many as the greatest manager ever to grace the game.
So far, we've looked at players past and present but it's very arguable to say that even with such superstars, a lot of the fortune to come to Old Trafford would not have arrived without Sir Alex Ferguson.
The veteran's knighthood alone tells you just how much Ferguson has contributed to this sport, and while there are those who look upon their rival with disdain, his governing of the club is arguably the main reason why Manchester United should be respected.
Now in his waning years, the 70-year-old has earned his place in the hearts of just about any Manchester United fanboy, and if a bad word were to be uttered about the club's boss in the Stretford End, a swift scolding would be the least to follow.
Malleable, versatile and able to shift according to the occasion, Ferguson's achievements at the Theatre of Dreams speak volumes regarding just how much impact he has had upon his own side.
Capable of more than a mind-game or two, if one was to take heed of any reason on this list as to why fans should respect Manchester United, let it be Sir Alex Ferguson.
Modest Transfer Expenditure
Gallo Images/Getty Images
Over the years, the beautiful game has morphed into a stage upon which money, as it is in other sports, is a ruling factor.
Manchester United were already one of the game's successes before private ownership reached the level at which it now stands, leading to a high amount of interest in acquiring the club.
The Glazer family are no different to any other investors in that they have ploughed money into their purchase, improving its value and, as a result, its potential for profit.
However, the highly controversial Americans have still managed to maintain a lot of their integrity, a feat that is seldom seen by those both near and far to the club.
Recent years have seen clubs such as Manchester City, Paris Saint-Germain, Málaga, Leicester City and even Crawley Town use money to propel themselves forward, each on their own size and scale.
It would have been simple for United to become as motivated by money as these other outfits, and while the Red Devils have definitely spent big in recent years, it's been in nowhere near as flippant and wild a fashion as their local neighbours, City.
Big outgoings such as Wayne Rooney, Dimitar Berbatov and Rio Ferdinand are extravagant, but they only occur every few years compared to the transfer windows filled with similar signings by other elite sides.
To summarise, it's impressive that Sir Alex Ferguson has managed to restrict himself in not diving into a transfer market that he sometimes describes as "showing no value," and in a sport that sometimes appears not to feel the effects of the economy, the Scot can be a breath of fresh air.
Homegrown Talent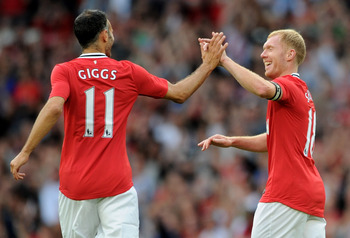 Chris Brunskill/Getty Images
Ryan Giggs, David Beckham, Paul Scholes, Gary Neville, Nicky Butt, Phil Neville.
The "Class of '92" were/are a remarkable batch of talent, and Sir Alex Ferguson will be thankful that the youth policies currently in place at his club are quite so astute.
While these players are some of the stars of yesteryear, prodigious talents like Danny Welbeck, Tom Cleverley, Will Keane and Robbie Brady are testament to the fact that the academy remains in full and productive swing.
In a transfer-fueled age of football, it's incredible that United remain able to not only feature so much strong English talent, but talent that they themselves have come up with.
Possibly the underlying necessity of the club's progress, a youth setup brimming with prospects.
Old Trafford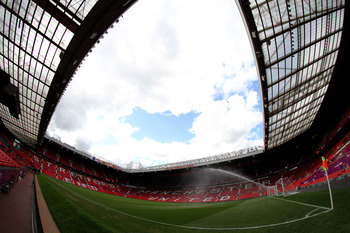 Stanley Chou/Getty Images
To succeed, you need money. To gain money, any big club needs a respectable ground from which they can earn their support.
As one of the most memorable and well-recognised stadiums in the world, Old Trafford has hosted just about every European team worthy of walking its corridors in either friendly competition or otherwise.
When coming to the site, it's a considerable man that isn't even slightly intimidated by the potential mauling that awaits him.
This approach isn't limited exclusively to the player and transcends into a club's support, as fans will undoubtedly feel nerves settling in on their journeys to Old Trafford.
In an age where sponsorship is commonplace, it's commendable that Old Trafford has remained under that title for so long also, as there are undoubtedly a line of potential benefactors banging on the door to slap their logo over the ground.
Perhaps the only factor amongst the 10 that initiates a physical sign that respect—or, in this case, fear—is being felt, Old Trafford's presence is an evident symbol of the club's scale.
Biggest Club in the World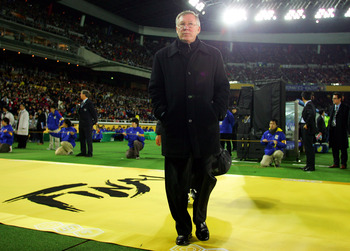 Koji Watanabe/Getty Images
Short and sweet, Manchester United is the biggest club in the world.
It's as simple as that.
Now, size, in this sense, doesn't refer to the strength or bank account that any team may have behind it, but more at sheer size of support globally and overall reach.
It was recently announced that United have a following that boasts a worldwide figure of over 659 million people (via Daily Mail).
Over the last 20 years, the side have made it their mission to expand in a foreign sense that, so far, nobody else has succeeded in living up to.
The Red Devils have huge pockets of fans in Asia, with Vietnam alone accounting for an estimated 16 million fans from a total population of just 90 million.
In 2012, you'd be hard-pressed to travel somewhere where a native wouldn't recognise the club's name, or at least a piece of jargon associated with it short of a trip into the Amazon.
Whether you're the kind to be intimidated by brawn or not, it's nigh on impossible to ignore the pulling power that Manchester United commands.
Just as Old Trafford is the physical embodiment of that power, its fans are the abstract influence that simmer in the background.
History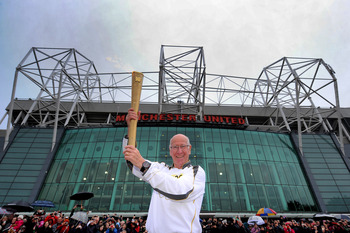 LOCOG/Getty Images
Originally founded as Newton Heath LYR Football Club, Manchester United has come a long way since its Gold and Amber birth in 1878.
Created in the latter decades of the 19th century, the club is one of the oldest English football clubs still standing today and is amongst even less in the top flight.
While many clubs have had their "heyday," it's astonishing that a club as old as United with the roots that it boasts of is still experiencing one of its own, an era that doesn't appear likely to end anytime soon.
In the history of the prestigious club, Manchester United have acquired a total of 62 major titles, both foreign and domestic.
This war waged on the rest of Earth points to a club that has been in battle for not one or two periods of time, but since it began its very crusade.
In a way, this history, this reason to respect Manchester United is a summary of all we have covered over the last 10 slides, but accumulatively, is a force to be reckoned with all on its own.
Keep Reading

Manchester United: Like this team?