Fox News Trolls, Questions Patriotism of Gabby Douglas and Other US Olympians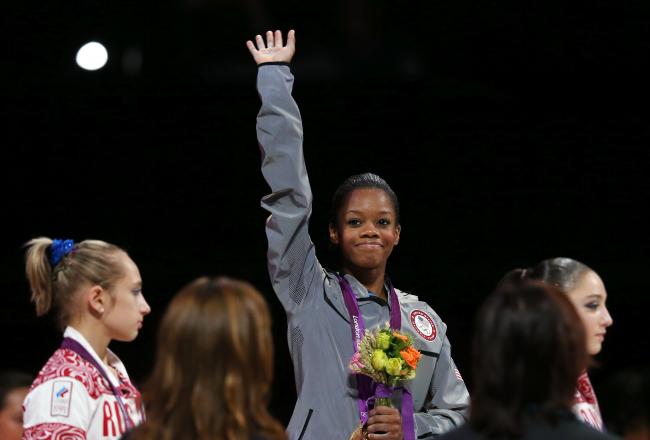 Julian Finney/Getty Images
When someone is being utterly ridiculous, it's best to ignore them and move on. When it comes to Fox News and their claims that Gabby Douglas and other Olympians are not portraying patriotic pride at their fullest, we have to speak up.
The Huffington Post (h/t NBC Sports) caught an amazing video filled with fluff and no substance, questioning the love U.S. athletes have of their country—all because of the color of their leotards.
Here is the video of a segment from Fox News' "America Live."
Guest host Alisyn Camerota and David Webb, host of The David Webb Show on the SiriusXM Patriot channel, discussed something so trivial, it gives you a feeling resting somewhere between amazement and anger.
Camerota starts:
And some folks have noticed that American athletes' uniforms don't carry the Stars and Stripes look as much as they had in past years. The famous flag-style outfits worn in years past replaced with yellow shirts, gray tracksuits, pink leotards. So how do we show our patriotism at the games?
I guess the years they have dedicated to their training, fun they missed out on for early morning practices, blood and tears they shed and the emotions they show at the Olympics weren't enough.
Webb gets in on the action with these gems:
What's wrong with showing pride? What we're seeing is this kind of soft anti-American feeling that Americans can't show our exceptionalism. Frankly, if they are offended about our showing our exceptionalism then they have that right and I don't care. And neither do most Americans.
It's a shame that Webb is busy looking for something that just isn't there, because he is missing one hell of an Olympics.
The two then go on to say that Americans are not as vociferous as they were in the Los Angeles Games, completely missing the point that these games are being played in London, with far less of a contingent of Americans present in the stands.
Perhaps they have eyes and ears in every last pub across this great nation.
Let's just take Douglas for an example, someone who left her family to train in Iowa, subsequently getting so homesick that she would think about quitting.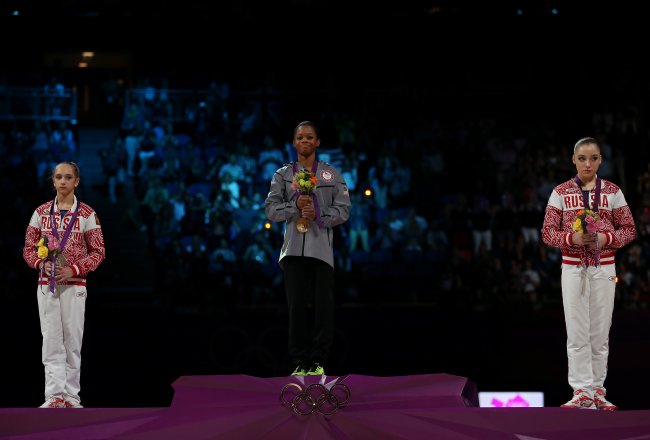 Ronald Martinez/Getty Images
She stuck with it to give herself a chance to medal at the games and do her country proud.
She has.
Yet there are those that would like to pick apart her hair, and now her patriotism. Funny how we treat some of our sports stars.
I wonder where all this was in the 2008 Beijing Games when Nastia Liukin won the all-around...in a pink leotard.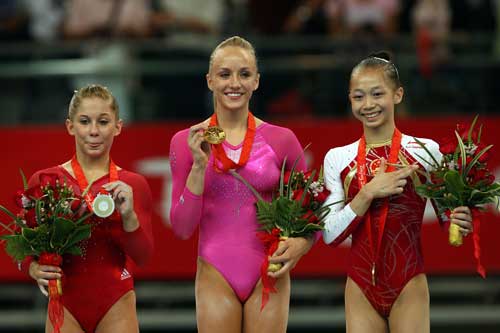 Photo Credit: en.beijing2008.cn
I would have to echo NewsHounds writer Ellen who offered the following.
Here's a hint [on how to show patriotism at the games] Ali: maybe by cheering on our athletes and their accomplishments rather than whining about their uniforms and questioning people's patriotistic expression.
Being American and representing your country is far more than what uniform you wear, because every single athlete comes to compete for pride and nation.
I choose to remember the moments Douglas and other Olympic champions stand on the podium, bringing their great sacrifice to an end with tearful jubilation as the American flag rises and the anthem is played.
You can continue worrying about the clothes if you like.
Follow me on Twitter for more Olympic Glory.
This article is
What is the duplicate article?
Why is this article offensive?
Where is this article plagiarized from?
Why is this article poorly edited?