BYU Football: Identifying Strengths of Top 5 2013 Cougar Commits so Far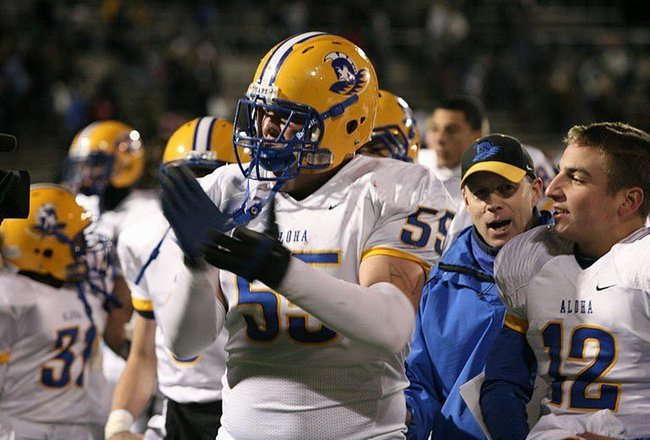 Photo Courtesy of Northwest Elite Index

BYU currently has the sixth-most amount of commits from the 2013 class, falling short of Texas A&M, Georgia, Arizona, LSU and Michigan. Out of the 20 commits the Cougars have thus far, there are five that stand out of the crowd more than any others.
These five have the ability to play D-1 football, and for some, in the NFL. Along with this ability, comes each players' strengths. So, here are the strongest aspects of each young man's game.
Brayden Kearsley, OG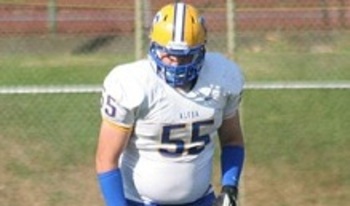 Photo: FoxSports.com
Strengths: Physicality, size, footwork, space blocking
Yes, this is the same Brayden Kearsley that burned a letter from the University of Utah.
However, he has committed to BYU and is a good football player. An offensive lineman, Kearsley has the size of an NFL-caliber player (6'5", 290 pounds). With his footwork and physical style of play, he is dominant at making holes for running backs.
Kearsley has allowed zero sacks in three years of starting for Aloha High School in Oregon.
Trajan Pili, OLB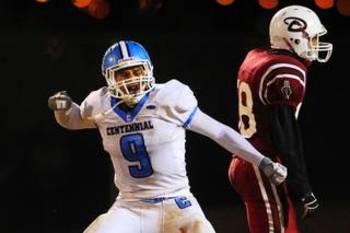 Photo: Sam Morris, Las Vegas Sun
Strengths: Speed, sacks, inside run defense
Trajan Pili is an incredibly fast linebacker from Las Vegas, Nevada. Last season, he finished with an amazing number of 79 tackles, along with five sacks.
According to ESPN.com, Pili is best at defending the interior rushing attack. While doing this, he recovered two fumbles last year.
At BYU, he could improve under linebacker coach Kelly Poppinga.

Talon Shumway, WR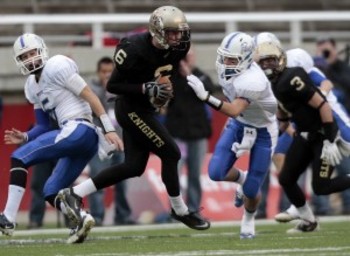 Strengths: Catching ability in traffic, yards after catch, route-running, speed
From Utah's very own Lone Peak High School, Talon Shumway helped lead the Knights to a 5A state championship (in football and basketball). As a wide receiver, he pulled down 36 receptions for 556 yards last season.
Shumway has good hands, and has a good ability to complete passes in traffic and gain yards after the reception. He said that connections have already been formed with Cougar head coach Bronco Mendenhall and receiver coach Ben Cahoon.
Ma'ataua Brown, DE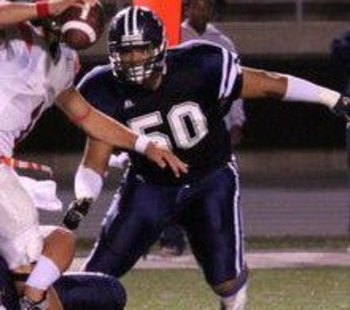 Photo: TotalBlueSports.com
Strengths: Size, intensity, athleticism
A defensive tackle/end, Ma'atua Brown stands at 6'5" and weighs 295 pounds. He is very athletic, but according to Scout.com, that's not the only thing that makes him a special player.
"It's not just physical ability though, he's a high effort player that goes hard on every snap on both sides," they said.
Whether it be firing off the ball or laying a hard hit, Brown always gives a good effort. He should add some depth to BYU's defensive line.
Keegan Hicks, OG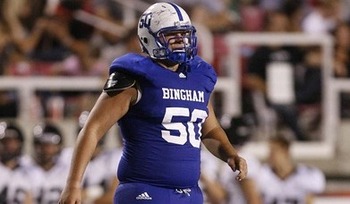 Photo: Trent Nelson, The Salt Lake Tribune
Strengths: Size, Physicality
Wrapping up our list is Keegan Hicks, a two-star offensive lineman. Another in-state commit, he attends high school at Bingham.
At 6'3" and 265, he isn't the biggest but can still do some damage. Hicks is a physical player that can win most one-on-one battles in the trenches.
Keep Reading

BYU Football: Like this team?