Tampa Bay Lightning: Strengths/Weaknesses of the Goaltending Tandem in 2012-13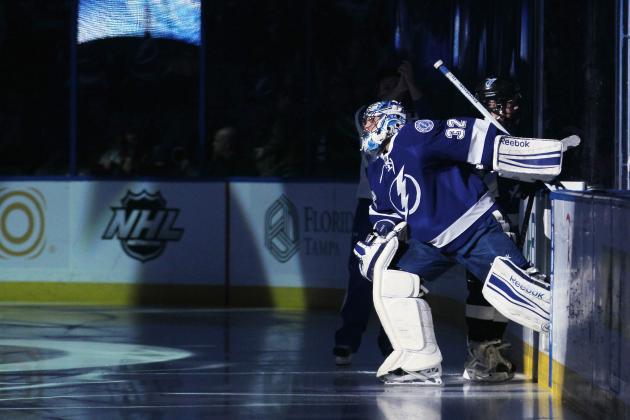 Bruce Bennett/Getty Images

With the fall season approaching, it seems like every time you turn on a sports network you see a story about the quarterback competitions in the NFL.
The Tampa Bay Lightning have their own "quarterback" competition with goaltenders Mathieu Garon and Anders Lindback.
The Lightning were the worst team in the NHL in goals-against average (3.39 per game) and scored the first goal in just 43 contests in 2011-12.
If you think goals against isn't important, the top 10 teams in the league in goals against all made the playoffs. Los Angeles, the Stanley Cup champions, finished second in the regular season (2.07 GAA).
Tampa Bay should understand the importance of scoring first also. They went 11-24-4 last season when they trailed first.
The Bolts were 27-12-4 when they scored first.
It took Tampa Bay's tenders a while to get going last season. They gave up 187 goals in the first two periods, worst in the NHL.
Now, this doesn't fall squarely on the shoulders of the goaltenders. An improved defense this offseason will help the Bolts keep pucks away from their crease.
The Bolts were seventh in the league in blocked shots (1,278).
But should the puck get to the net, Tampa Bay could be in good shape.
Here are the strengths and weaknesses of the current goaltending tandem of Lindback and Garon.
Begin Slideshow

»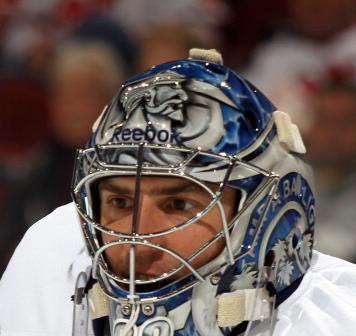 Bruce Bennett/Getty Images

Mathieu Garon is the more experienced goaltender in the Tampa Bay tandem. Garon has been a part of 12 NHL seasons.
He has played in Montreal, Columbus, Los Angeles, Edmonton, Pittsburgh and Tampa Bay.
Pros
Garon is a goaltender that performs better when he gets more starts. This may be a surprise to some Lightning fans.
I was surprised, too.
But take a look at this:
Since the 2000-01 season, when Garon plays in 40 or more games, he has a record of 80-60-8. That 54 percent winning clip isn't bad.
If you add his AHL numbers from after the 2000-01 season with similar criteria, he is 133-89-24 (53-29-16 in AHL). Again, not bad at all.
In seasons where Garon plays in less than 40 games, he is 59-62-18.
That's a significant drop in performance, especially in the competitive Southeast Division.
Garon is also a great shootout goaltender.
He finished fourth in the NHL in shootout save percentage (.833) and he was 1-for-1 in penalty shots.
A career .752 shootout save percentage ranks him sixth among goaltenders who have at least 20 career shootout decisions.
Cons
Garon is the experienced one, but he is also the older one. Garon, 34, is 10 years older than his tandem counterpart, Anders Lindback.
You can't make any real statistical comparisons to younger seasons because Garon hasn't been a tenured goaltender anywhere.
His longest stint was four seasons with the Canadiens. He appeared in just 43 contests in that span.
Outside of Montreal, two years per team is the norm for Garon. He spent two seasons in Edmonton, Los Angeles and Columbus. Garon enters his second season with the Bolts.
Another alarming stat for Bolts fans, in the second year with his five previous teams, Garon is a combined 30-36. That compares to a 96-74 record in his first year with his teams—or a 12 percent drop in production.
Garon owns a career .904 save percentage with a 2.85 goals-against average. Neither number is that of an elite goaltender.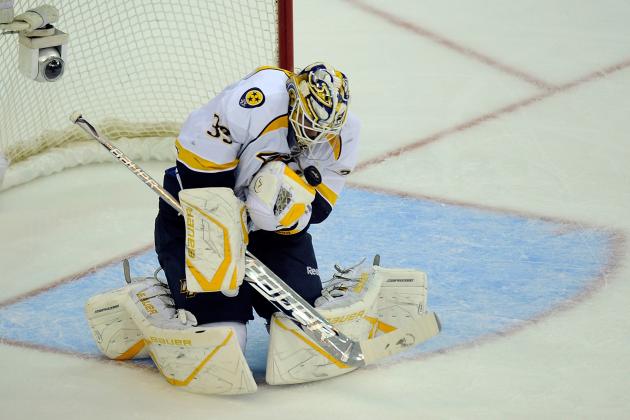 Patrick McDermott/Getty Images

Anders Lindback was a seventh-round pick in the 2008 NHL entry draft by the Nashville Predators.
He backed up one of the best goaltenders in the league, Pekka Rinne, his entire career and saw limited time. Lindback has appeared in just 38 games in two seasons.
While the limited experience can be on both sides of the fence, I consider it a pro in this instance.
Pros
Lindback watched from the bench as Rinne took the Nashville Predators to a new level. Rinne has 106 wins in his last three regular seasons, including 43 in 2011-12.
As a backup goaltender, I'm sure there is a lot to gain from being in the locker room with someone who performs at that high of level on a nightly basis.
Not to be discredited, the Preds have one of the best goaltending coaches in the league in Mitch Korn.
Korn has developed a long list of high-level NHL goaltenders including Rinne, Dominik Hasek, Martin Biron, Grant Fuhr and Tomas Vokoun.
Could Lindback be the next in a long line of successful goalies under Korn's tutelage? It's possible.
Hockey's Future says Lindback has a "B" chance at being successful in the NHL.
Lindback has a very small NHL sample size to pick from, but he has shown sparks of greatness.
In his rookie season after Rinne went down to injury, Lindback started nine straight contests. He went 6-3.
Again, a smaller sample size, but Lindback has better numbers than Garon.
Garon sports a 2.83 goals-against average. Lindback has a 2.53.
Garon has a .904 save percentage. Lindback has a .914.
Lindback, 24, could be ready to take over No. 1 goaltender duties in the NHL.
He is 6'7" with good quickness and plays very low to the ice. According to Hockey's Future, his height is his greatest asset.
"Lindback is closer to a Pekka Rinne-type, he's a hybrid," Predators goaltender coach Mitch Korn said. "He stays on his feet, but maybe not that long. He spends a lot of time on his knees, but I wouldn't call him a pure butterfly guy. He's got mammoth size, so on pucks that someone else would have to shrug their shoulder for example to stop, it will just hit him."
Cons
Lindback is a young goaltender who has been a backup for most of his career.
For Team Sweden at the 2010 World Championships, he was third string.
In 2008-09, he was the backup to Jacob Markstrom, the Florida Panthers' top prospect. And in Nashville, he was obviously a backup to Rinne.
To go from that role to being an NHL goaltender is asking a lot, especially with the added weight of this season in Tampa Bay.
This season is the 20th anniversary of the Bolts. General manager Steve Yzerman has put together a solid group for this historic season.
Can a goaltender who has never really been a No. 1 really handle that pressure?
Bolts fans won't accept missing the playoffs again with everything they've acquired this offseason.
So the question is, who is No. 1 in Tampa? Lindy or Garon?
In an article I wrote when the Lightning acquired Lindback, I posted a poll about who could take the Bolts to the playoffs.
Nearly 78 percent of fans said Lindback will get the Bolts to the playoffs. Just 10 percent said that Garon would.