Why the Dallas Cowboys Shouldn't Get Rid of Dez Bryant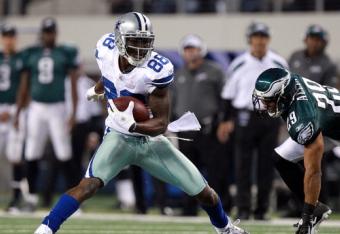 Ronald Martinez/Getty Images
There has been an excruciating amount of news coverage over the arrest of Dez Bryant. Though it happened weeks ago, it seems to linger fresh in the news because the media loves to talk Dallas Cowboys.
Jerry Jones didn't do much to help the situation when he said that Dez knows there is a plane ticket waiting on him if he doesn't get his act together. This statement poses one simple question, would the Cowboys really move on from Dez Bryant?
While I can't answer that for sure, I can tell you what I think they should do. Simply put, I think moving Dez Bryant would be a haunting mistake.
Dez Bryant is as physically gifted a receiver as the Cowboys have had since Michael Irvin. He is a marvel in the receiving game, plucking balls effortlessly from the air, over any type of coverage. He is the type of receiver that can't be defended when he's on his game.
Bryant has a rare combination of strength and speed that gives him the potential to be among the top receivers in the league. He'll continue to progress, mature and eventually will become the receiver we know he can be.
It's not easy for a man with such an unstable background to transition into life in the spotlight. He is a man with little resources, role models and life structure.
While the accusation of his crime is enough to make you cringe, there is no proof of what he did or did not do. So right now, we're just a bunch of fans convicting a man based off a testimony of gossip.
What we do know is that Dez Bryant is a kid who is struggling with the transition from troubled youth to superstar athlete. What we do know is that Jerry Jones is highly influential and can get anything he wants. So why don't these guys combine their powers?
Bryant will produce at an All-Pro level, he loves football and he's breathtakingly good at it. Jerry needs to provide Dez the off-the-field help he needs; counseling, life planning, financial assistance and support lines.
The right move was made to switch to a lower profile agent for Dez, one that's actually concerned about Dez as a man and not as a piggy bank.
Dez has a lot of growing to do. He's not perfect and I don't pretend that he is. He is however, iconic and talented. He's a breath of hope to Cowboys fans and if Jerry ever let him go, he'd be haunting Cowboys fans' nightmares for many years to come. Don't do that to us, Jerry.
This article is
What is the duplicate article?
Why is this article offensive?
Where is this article plagiarized from?
Why is this article poorly edited?

Dallas Cowboys: Like this team?