Texas Football: Analyzing Pros and Cons of Starting Case McCoy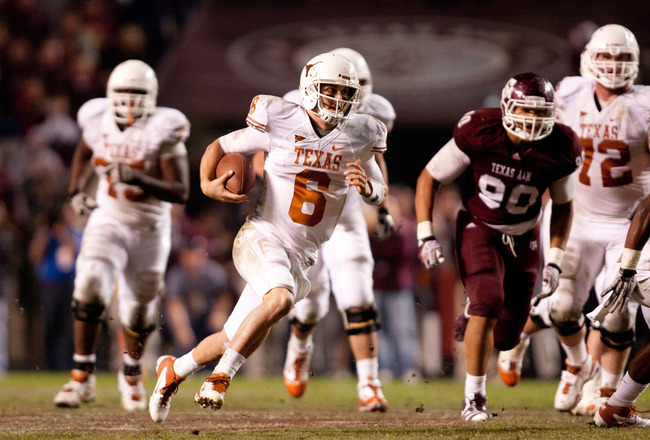 Darren Carroll/Getty Images
The Texas Longhorns and head coach Mack Brown will have quite the decision to make this fall with their quarterback situation.
After Garrett Gilbert transferred, the job fell squarely on the shoulders of junior Case McCoy and sophomore David Ash.
McCoy was a 3-star recruit in 2010 and part of the third-rated recruiting class that year. Only USC and Florida had better recruiting classes.
Everyone knew McCoy would be headed to Texas, even after the Longhorns signed Gilbert, a 5-star recruit in 2009.
A program that is built on tradition fit the McCoy family tradition perfectly.
Then, in 2011, the Longhorns brought in another 3-star quarterback in Ash. Ash was part of another strong recruiting class that was again third in the country.
On paper, Ash and McCoy are eerily similar. On the field, it's the same story.
While Brown hasn't named a starting quarterback, a good portion of Longhorn fans would prefer Ash be the signal caller.
McCoy has put on 15 lbs this offseason in an attempt to get his starting spot back. We will see how that affects his mobility and throwing abilities.
Regardless, here are the pros and cons to McCoy being named the Longhorns' starting quarterback for 2012-13.
Arguments in Favor of Case McCoy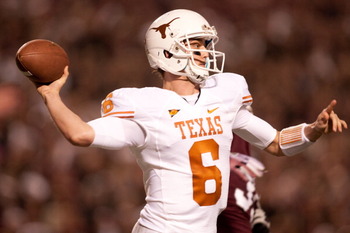 Darren Carroll/Getty Images
Case McCoy is currently in position 1B for the Longhorns' top quarterback. David Ash is obviously 1A.
While there are some strong arguments in favor of Ash, here are some in favor of McCoy.
Tradition: In a program full of tradition, McCoy is the younger brother of former Longhorn and current Cleveland Browns QB Colt McCoy. While riding coattails shouldn't matter at an NCAA D-1 program, you have to think that the older brother has shared some tips with Case on how to be successful.
The last two notable quarterbacks through the Longhorn system have struggled somewhat in their first season of play. Vince Young and Colt McCoy's first seasons were no where near as solid as their junior years. This is Case's junior season (Ash is a sophomore).
McCoy put up better numbers last season than Ash, with less playing time.

McCoy had 28 less pass attempts than Ash, but threw for more touchdowns (McCoy-6, Ash-4) and fewer interceptions (McCoy-4, Ash-8).

The Longhorns have some talented wide receivers in senior D.J. Monroe and sophomore Jaxon Shipley. McCoy and Shipley were roommates and obviously have chemistry. In an offense like Texas', chemistry is of the utmost importance.
McCoy is more accurate than Ash. Ash completed less than 60 percent of his passes last season. McCoy completed 61.4 percent. Completions are crucial when it comes to time of possession. A young defense would love to see their offense put together minute-munching drives.
McCoy has a lot working in his favor. He will need to convince Mack Brown and the Longhorn faithful that he is the right man for the job.
Arguments Against Case McCoy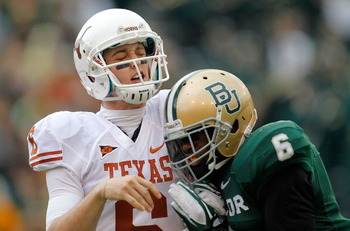 Sarah Glenn/Getty Images
There's always a flip-side to every coin, and the McCoy situation is no different. He has a lot of upside but there are also some things to consider before starting him.
The 2012 Spring Game

McCoy didn't exactly cut up the Longhorns' defense. Last season, the Longhorns finished with the 11th-ranked defense in the NCAA (306 yards per game). They could be a stout defense this season and they gave McCoy fits.
McCoy threw two interceptions against the Longhorn defense in the spring game. Passes that were considered forced throws.


McCoy isn't very mobile. Last season, McCoy rushed 24 times for -3 yards. Ouch.

If we're comparing the better running option, Ash is a far better runner. He had 73 attempts for 103 yards in 2011.

If this isn't the year for the Longhorns, McCoy's time is up. With a program that is used to competing and being in the hunt for national championships, you have to perform and build for years.

This is McCoy's junior year. If he can't get it right this season, the Longhorns will have wasted three years. How? McCoy certainly won't start as a senior if he doesn't perform this season (He may as well transfer). Then, you just wasted a year for Ash to get settled into game situations. So you take another season to get him ready, just in time for his senior year. And the cycle continues.
Texas fans are used to seeing their 'Horns at the top. They might riot if their team isn't in a big bowl soon.

The Longhorns have a fairly young wide receiving group. That makes consistency at the quarterback position even more important. Is McCoy the leader in the huddle? ESPN thinks Ash is the better choice.
Closing Arguments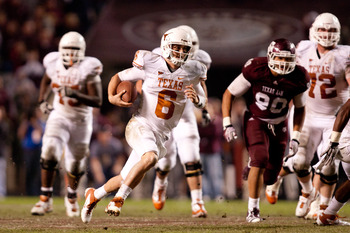 Darren Carroll/Getty Images
So, if I were Mack Brown, who would I start?
Fortunately (especially for Longhorn fans), I don't have to make that decision. Someone with a lot more knowledge of the team's day-to-day performances gets the privilege of making that choice.
Both Ash and McCoy have their pros and cons. What's important is that whoever is under center makes the offense more productive.
The Longhorns were 54th in the NCAA last season in total offense (392.54 yards per game).
That's not going to get it done, especially with high-flying Oklahoma, Texas Tech and newcomer West Virginia in the Big 12.
One thing that will also help whoever is the starting quarterback is the Longhorn defense. Nearly a top-10 defense last season, Texas returns eight starters on that side of the ball.
The Longhorns also have one of the best backfields in the Big 12. Sophomore Malcolm Brown and Joe Bergeron headline that backfield. Johnathan Gray, the nation's top running back recruit, complements the rushing attack.
Texas was voted to finish third in the Big 12, behind Oklahoma and West Virginia. That spot won't cut it for many Longhorn fans.
They haven't won the Big 12 Championship since that 13-12 victory over Nebraska with Colt McCoy in 2009. A return to conference supremacy is a must.
The Longhorns need to pick a starter, and soon. With fall camps progressing, the quarterback of choice needs to know he is "the guy."
If leadership in the huddle is important to the 'Horns, a decision on the signal caller needs to come quick and be cemented in the coming weeks.
Keep Reading

Texas Longhorns Football: Like this team?