New York Islanders: What Songs to Use for the 2012-13 Season?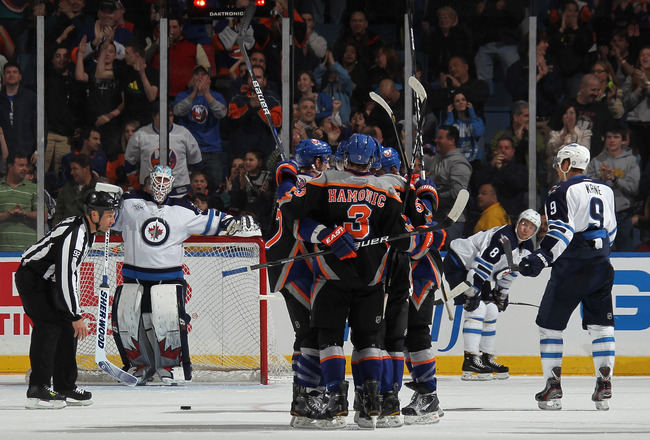 Bruce Bennett/Getty Images
One play can quickly change the complexion of a game. Whether it is a huge hit or a diving save, a single play can completely alter the momentum and ultimately lead a team to victory. It's part of the reason I love hockey. These pivotal plays cause major adrenaline rushes that can carry a team in crucial moments. Entrance music and goal songs can certainly attribute to these adrenaline rushes and get a building rocking.
Have the New York Islanders announced the goal songs for the upcoming season? Not that I'm aware of. It's highly unlikely they will switch their songs for the upcoming season, but lets take a look at some other high-energy songs they could choose to blast at the Nassau Veterans Memorial Coliseum for the 2012-13 season.
Entrance Music: Neocon by the Offspring

Neocon

The entrance music of the Islanders two years ago was one of my favorites. I would surely welcome it back from a year hiatus, a very appropriate song for an entrance theme.
Entrance: "Why Do We Fall?" off of the Dark Knight Rises Soundtrack

Why do we Fall?

If I could have it my way, this would be the Islanders entrance music for the 2012-13 season. Highly unlikely. If this song wouldn't get the adrenaline flowing and the building rocking, I don't know what would.
Entrance: Sirius by the Alan Parsons Project

Sirius

This is a classic. It's not a personal favorite of mine, but a lot of people love it. When I hear this song, I think focus, determination and concentration.
Goal Song: Crowd Chant by Joe Satriani

Crowd Chant

The returning champion. It was a massive upgrade from the "Live is Life" disaster the previous year. It's a good song, but there are others I'd rather hear after someone from the Isles deposits the puck into the net.
Goal Song: Seven Nation Army Crowd Chant

Seven Nation Army Crowd Chant

Any song that can heavily involve the crowd will certainly get my support. The "Seven Nation Army Chant" is very popular in the college scene, but not as much on the professional level. I would love the Isles to adopt it for the 2012-13 season.
Goal Song: Zombie Nation by Kernkraft 400

Zombie Nation

This song can absolutely turn a building upside down. Just ask the Boston Bruins who have used the song for as long as I can remember. This is another personal favorite of mine, and I would be ecstatic if the Isles used it next season.
Goal Song: Rock and Roll Part 2

Rock and Roll part 2

Another popular goal song around the league, and if you couldn't already tell by the video, it's the current goal song of the New Jersey Devils. I believe the Isles had this song during the 2005-06 era. It was actually changed by the Islanders because of the "you suck" chants.
It was also very unpopular to several fans because of child sex offense charges against the musician, Gary Glitter.
Goal Song: Bro Hymn

Bro Hymn by Pennywise

Islander fans were not thrilled when this song was pulled two years ago. While a great goal song, the song isn't as popular as it was a couple of years ago, but I'm sure the Isles and their fans would accept it with open arms if they decided to bring it back.
Others?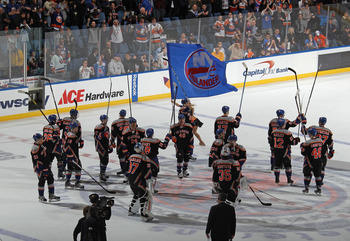 Bruce Bennett/Getty Images
Did I miss your favorite goal song or entrance music? Share in the comments which song you would like to hear in the Nassau Veterans Memorial Coliseum for the Islanders during the 2012-13 season.
Christopher Benini is a New York Islanders Featured Columnist for Bleacher Report and can be followed here.
Keep Reading

New York Islanders: Like this team?