5 Biggest Takeaways from the Tennessee Titans' First Week of Camp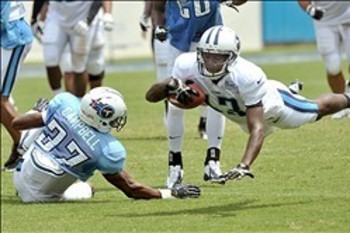 Jim Brown-US PRESSWIRE
One week into training camp and we already have a few very interesting developments leading up to the team's first preseason game at the Seattle Seahawks.
Fans are getting their first looks at the team's free-agent signings along with drafted and undrafted rookies.
With this being the first true training camp under the new coaching regime, the primary focus appears to be creating competition at every position.
Those competitions and developments will be the impetus for how the Titans' 2012 season begins.
Competition at Center Is Officially Wide Open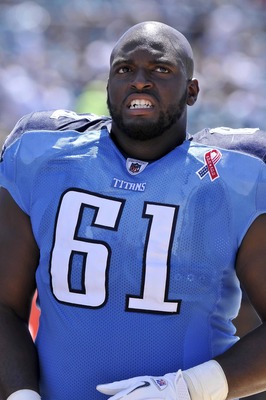 Fernando Medina-US PRESSWIRE
While the Titans' starting center spot was open for competition before, the season-ending injury to Eugene Amano blows the competition wide open.
Many have been calling for Amano to be replaced in the starting lineup anyway, but it would have been nice to be able to fall back on him should his replacement fail.
After all, the team didn't bring in the greatest competition to compete for the role. Instead they brought in a two undrafted veterans, an undrafted rookie and a guy who's been out of the league for a season.
With Amano headed for injured reserve, Fernando Velasco is the new favorite to open the season as the team's starter with Kevin Matthews and William Vlachos close behind.
We'll get our first look at these three as the preseason progresses.
The Quarterback Battle Remains Close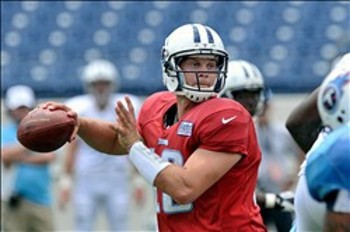 Jim Brown-US PRESSWIRE
Amid rumors that the Titans' staff hopes Jake Locker wins the quarterback battle, things have remained fairly even so far in training camp.
Matt Rybaltowski of CBS Sports has been doing a bang-up job of keeping track of each quarterbacks training camp statistics:
Hasselbeck: 99-137, 5 TDs, 7 INTs; Locker: 102-156, 3 TDs, 3 INTs (Through Day 9)
One of the first things to notice here is Hasselbeck's 72 completion percentage compared to Locker's 65 percent. However, it is somewhat telling that Locker has thrown almost 20 more passes than his competitor.
Either way, if anyone has looked better, it has been Hasselbeck—but not by much. Neither player has distinguished himself from the other overall, but there was a two-day period when Locker went 9-of-30 while Hasselbeck went 26-of-31.
Ideally, you would like both players to perform well with Locker coming out as the clear winner. But If Locker is going to have stretches where he only completes 30 percent of his passes, things will begin to sway more heavily in the Hasselbeck's favor.
What Will Derrick Morgan's Role Be?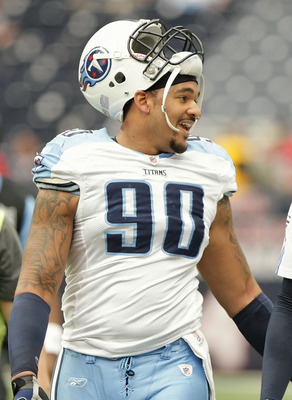 Troy Taormina-US PRESSWIRE
A lot of responsibility is being placed on the broad shoulders of Derrick Morgan this season. Yes, Kamerion Wimbley is expected to be the team's leading sack artist, but that doesn't mean Morgan gets a free pass.
After suffering a season-ending ACL tear during his rookie season in 2010, Morgan hasn't been 100 percent during his NFL career until now.
He's expected to be the Titans' starting left end, despite recent news stating that he's been running with the second-string defense in practices.
Perennial practice squad player Pannel Egboh has taken Morgan's place on the first unit to see how he performs with that group.
The idea of having another player line up at end appears to be the norm, because the team's promises of making LB Akeem Ayers a pass-rusher on certain downs has Morgan shifting inside on passing downs, according to ESPN's Paul Kuharsky.
There are a lot of questions that need to be cleared up here, but defensive coordinator Jerry Gray has assured Morgan that he is still the team's starting left end. Via Terry McCormick of TitanInsider:
"I know they're trying to get Egboh some looks, but Gray told me I'm the starter, so that's all I know. That's all I can control," said Morgan.
Hopefully, Morgan is over his knee injury woes and is ready to show why the Titans drafted him 16th overall in the 2010 NFL draft.
Praise Continues to Rain Down on Chris Johnson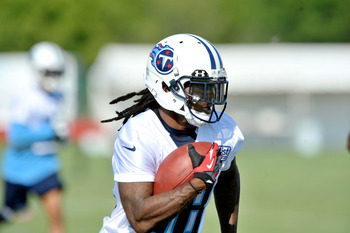 Jim Brown-US PRESSWIRE
Ian Rapoport, of NFL.com, visited Titans training recently and put the following comment in his team review:
Johnson looked incredibly fast during the workout, even during drills that were supposed to be half-speed. His cuts were sharp, the spring is back and teammates have noticed. So has the team's brass. "CJ, it's his old self," general manager Ruston Webster said.
Titans fans can't help but be brimming with confidence in Chris Johnson, who can't seem to go more than a day or two without being given unsolicited praise.
Coach Mike Munchak heaped praise on the star running back as well, after the team's scrimmage with the Atlanta Falcons on Monday:
"It is still encouraging to see some guys staying on the blocks, and Chris had some great reads. The way he was hitting things, you don't see hesitation. C.J. looked quick, he was hitting things decisively. When he decided to go outside he hit it hard and showed some speed around the edge.
The only thing left to confirm the continuous flow of adulation for CJ2k is in live action coming up this weekend.
The number of carries the back receives will likely be on the low end, but fans would like to see a less timid and hesitant CJ than the one witnessed in 2011.
Dave Ball's Concussion Issues Test Defensive End Depth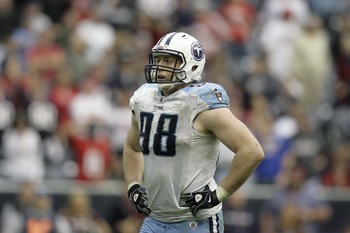 Brett Davis-US PRESSWIRE
Dave Ball suffered a concussion during last Thursday's practice session and has not been on the field since.
For those of you not keeping track of Ball's injury history, he nearly retired last offseason due to concerns about the number of concussions he has suffered in his career.
The Titans have a lot of question marks at defensive end. Derrick Morgan has never been 100 percent, Wimbley hasn't been an every-down defensive end in years, and many of the team's other reserves are practice squad guys being given the opportunity for expanded roles.
Ball is the one guy at the position the team knew for sure what it would be getting.
This new concussion scare may end up being nothing, but for the time being the team needs to decide whether it feels comfortable going into the regular season with the current crop of talent on the roster.
Keep Reading

Tennessee Titans: Like this team?