WWE: 7 Superstars Damien Sandow Needs to Face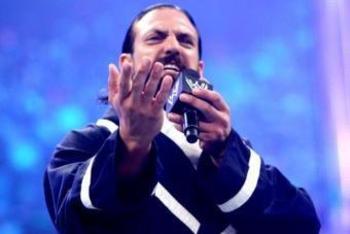 Photo courtesy of WWE.com
It's probably too early to pass any real judgment on Damien Sandow, but in just a few months on the WWE's roster, he's definitely made a name for himself.
Sandow clearly has a gimmick that stands out more so than most others, and he's showed some great skills on the mic as well.
His in-ring action has been mostly limited to squash matches (other than his participation in a Money in the Bank), but in the short glimpses we've seen of him there, he's looked pretty impressive from a wrestling standpoint, too.
But we're now getting rather deep into Sandow's run on the main roster, and he's yet to have himself a legitimate feud.
That's gotta change, and it's gotta change soon.
Here are seven superstars that I'd like to see Damien Sandow face in the near future.
7. Kofi Kingston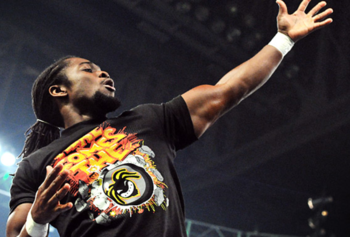 Photo courtesy of WWE.com
Kofi Kingston is primarily a tag-team competitor now, but in the past, that hasn't prevented him from stepping back out into singles action here and there.
When he does so again, he'd be a prime candidate for a match and/or feud with Damien Sandow.
Why? Because of his ability to have a good match with just about anyone.
On a number of occasions over the years, we've seen Kingston go one-on-one with a rising heel primarily to make that heel look good and help him build up some momentum.
He did it earlier this year with guys like Chris Jericho and Daniel Bryan, and though hardly anyone considered him a real threat to win those matches, he delivered some very entertaining bouts that the crowd thoroughly enjoyed.
That's what Sandow needs right now.
Since he's been limited primarily to squashes, he has to step up and face some stronger competition that would put him over in the end.
And not many current WWE stars can do that better than Kofi Kingston.
6. Ryback
Photo courtesy of WWE.com
Here's a thought: How about putting a couple of recently debuting WWE stars against one another to help both of them get over?
Both Ryback and Damien Sandow debuted on SmackDown shortly after WrestleMania, and as different as they may seem, their careers have actually followed pretty similar paths so far.
They're both undefeated in singles action, and just about every single one of their matches have been short squashes that typically last less than five minutes.
This is obviously being done to protect both stars and help get them over, but I'd be all for seeing them go head-to-head in a clash of main-roster rookies.
While Sandow and Ryback have gone down similar roads so far, their characters couldn't be more different.
You've got Sandow, the aristocratic intellectual who calls himself our "Martyr," and on the complete opposite end of the spectrum, you've got the barbaric simpleton, Ryback.
Yet, at the same time, they both have very aggressive and ruthless styles in the ring.
I feel like a potential feud between the two could provide us with a wonderfully weird contradiction of sorts.
5. Rey Mysterio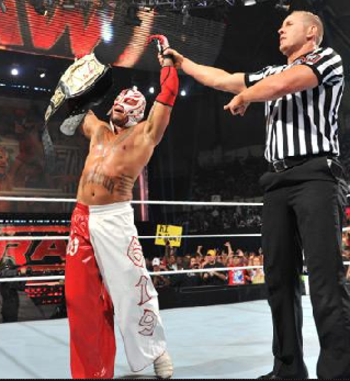 Photo courtesy of WWE.com
Some fans seem to view Rey Mysterio as one of the very top stars in the WWE while others think that he shouldn't be anywhere near the main event.
I tend to fall somewhere in between.
It's hard for me to take someone so small very seriously as a main-event or World title threat, but at the same time, Mysterio is so over and (yes) so talented that I think he deserves a pretty high-profile role on TV.
But if I was booking the WWE, he wouldn't be dominating the biggest angles on TV. He'd be one of those established veterans that I used to put over rising young talent, like, for example, Damien Sandow.
The WWE has a hard time putting up-and-coming heels over well-known baby faces, but that's exactly what has to happen for a guy like Sandow to rise up the card.
Clearly, there seems to be big plans for Sandow, and a potential match or series of matches with a guy like Mysterio could really help get him over the hump.
Mysterio is always over with the crowd, so by putting him in a feud with Sandow, you give Sandow a much better chance of getting over as a heel, too.
Well, at least that's my philosophy.
4. Triple H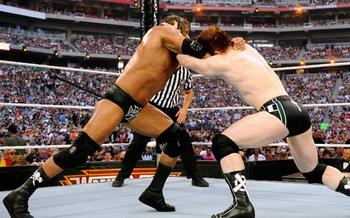 Photo courtesy of WWE.com
Prior to Damien Sandow's call-up to the main roster earlier this year, the Wrestling Globe Newsletter (via WrestleNewz.com) reported that Triple H was high up on—you guessed it—Damien Sandow.
Fast forward to Raw 1000, and Sandow found himself interacting with Triple H on WWE TV.
Coincidence? I think not.
The last superstar that became Triple H's pet project of sorts was Sheamus, and as we all know, those two wound up getting involved in an intense WrestleMania feud that helped establish Sheamus as one of the WWE's top talents.
I certainly think we could see something similar happen with Sandow.
Judging by the way Sandow's been booked so far, Triple H still has a lot of faith in him and is willing to push him as far as he can go.
There really isn't a better way for Triple H to ensure that, though, than by being the one who helps Sandow rise to the top of the WWE.
But the biggest potential problem with a HHH/Sandow feud?
As was the case with Sheamus, I fear that it will be Triple standing tall at the end of their rivalry.
3. Kane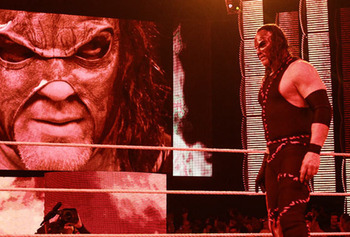 Photo courtesy of WWE.com
Surprise, surprise—Kane is apparently a baby face again.
That was sarcasm, folks. The Big Red Monster has, of course, turned about 50 times throughout his career.
Now that he's a face again, though, Kane should be used how he's been used at different times in the past: as an established veteran who puts over up-and-comers.
As we remember, Kane has essentially put over Randy Orton, John Cena, Daniel Bryan and CM Punk this year, which is exactly the way it should be.
Now, enter Damien Sandow.
Kane has performed really well in the ring as of late, and he's shown that he still has the ability to put on good matches when he's with the right opponent.
I think he could do that with Sandow.
Sandow looks to be, at worst, a very solid wrestler, and I think a potential feud with Kane could be something that works for all parties involved.
It gives Kane the ability to help the WWE's future talent, and it gives Sandow a chance to work with a big-named star and be put over in the end.
Sounds like a win-win to me.
2. Christian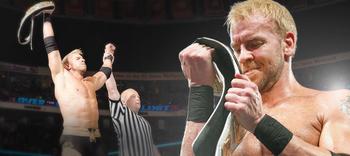 Photo courtesy of WWE.com
Well, I think it's safe to say that Christian's no longer viewed as a main-eventer.
That's OK, though, because Captain Charisma still has a lot of value in the WWE, especially now that he's a baby face.
It's no secret that Christian is one of the best in-ring performers in the company, and since he is not holding the Intercontinental Championship anymore, it's time to let him focus on putting on good matches with the WWE's rising talent.
Like Kofi Kingston, Christian is an established and respected veteran who can have good matches with just about anyone he steps in the ring with.
I'd love to see him do that with Damien Sandow.
Christian is superb when it comes to in-ring psychology, and it's not going to hurt him to lose now that he's in the later portion of his career.
He's a perfect candidate to step in the ring with not just Sandow, but a plethora of young heels who are looking to climb up the ranks of the WWE.
From both a promo and wrestling perspective, Christian vs. Sandow sounds like a money midcard rivalry to me.
1. Chris Jericho
Photo courtesy of WWE.com
Now that Chris Jericho is officially a baby face, it's time for him to do what he does best: put rising stars over.
No one in recent memory—and maybe in the history of the business—has been able to maintain his status as a top star while continuously losing quite like Jericho has.
He's put over guys like Sheamus and CM Punk this year, looks poised to do the same for Dolph Ziggler and has even done it with lower midcard names like Heath Slater and Evan Bourne in the past. Yet through it all, he managed to stay over.
I'm fairly certain Jericho could lose a match to Michael Cole one night and beat Ziggler the next without anyone even questioning it.
So, I ask this: If Jericho can lose to Slater on NXT and Bourne on pay-per-view, then why can't he do the same to Damien Sandow?
Well, he can.
Jericho is an incredibly selfless superstar, one who could easily lose a match and/or entire feud with Sandow and then be instantly thrust into the main event with no complaints from anyone.
If I'm running the show and truly want Sandow to become a star, I start by having him go over Jericho and using that momentum to move him up the card.
Drake Oz is a WWE Featured Columnist for Bleacher Report. You can follow him on Twitter and ask him any wrestling-related questions on Formspring.
Keep Reading