Michigan Football: Where Denard Robinson Ranks Among Preseason Heisman Favorites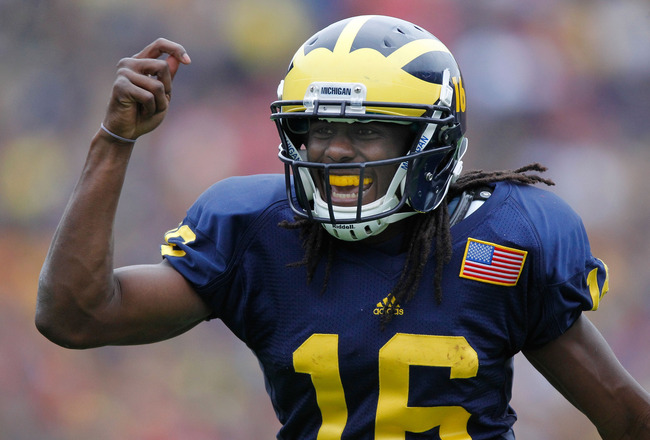 Gregory Shamus/Getty Images
College football season is quickly approaching, which means that The Big House is about to witness some more remarkable feats of athleticism and talent from Denard Robinson.
The staring quarterback for the Michigan Wolverines will be gunning not only for a championship during his final collegiate season, but also the coveted Heisman Trophy.
He's obviously one of the true contenders for the prestigious award, but how does he stack up against the other preseason Heisman favorites?
Read on to find out.
5. Geno Smith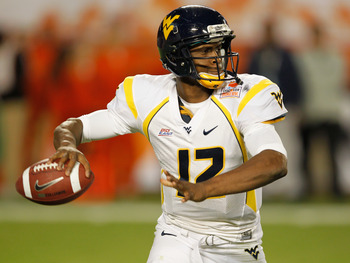 Streeter Lecka/Getty Images
School: West Virginia
Position: QB
Year: Senior
2011 Passing Stats: 65.8 completion percentage, 4,385 yards, 31 touchdowns, seven interceptions
2011 Rushing Stats: 56 rushes, minus-33 yards, two touchdowns
Given the system he's playing in and the talent he's surrounded by, there's an outside chance that Geno Smith can hit the elusive 5,000-yard mark by the end of his senior season at West Virginia.
Dana Holgorsen's offense is built to thrive in the pass-happy Big 12, and Stedman Bailey, Tavon Austin and Ivan McCartney are only going to make Smith's job easier.
Attempting to pick up where he left off after his 407-yard, six-touchdown performance against Clemson in the Orange Bowl, Smith is going to come out firing during his final season with the Mountaineers.
4. Montee Ball
Kevork Djansezian/Getty Images
School: Wisconsin
Position: RB
Year: Senior
2011 Rushing Stats: 307 attempts, 1,923 yards, 33 touchdowns
2011 Receiving Stats: 24 receptions, 306 yards, six touchdowns
Montee Ball accounted for an insanely high 40 touchdowns last season for the Wisconsin Badgers—33 rushing, six receiving and one passing. No other player could match that scoring output.
If Ball didn't win the Heisman with those numbers, is it feasible that he could top them?
With his speed, elusiveness and knack for fighting through contact, it's possible. He'll almost certainly score the 19 rushing touchdowns he needs to break the NCAA career record.
Ball is the leading returning vote-getter from last year's Heisman proceedings, but he'll have to work with a new-look offensive line and increased expectations.
The talent is here, but it's going to be awfully difficult to repeat his 2011 performance.
3. Marcus Lattimore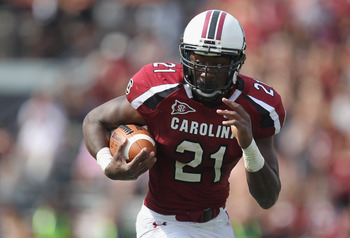 Streeter Lecka/Getty Images
School: South Carolina
Position: RB
Year: Junior
2011 Rushing Stats: 163 attempts, 818 yards, 10 touchdowns
2011 Receiving Stats: 19 receptions, 182 yards, one touchdown
The most talented running back in the country, Marcus Lattimore isn't ranked higher here because of three disadvantages.
1. Despite his gifts when carrying the football and his incredible physical prowess, Robinson plays in the SEC. The conference is filled with top-notch rushing defenses that will make this member of the South Carolina Gamecocks fight for every inch of yardage.
2. South Carolina's passing game is a bit questionable, allowing the defenses to focus on him even more than normal.
3. He's coming back from an ACL injury and may not have quite as much burst out of the backfield. In the Heisman race, you need every advantage possible.
Lattimore is still talented enough to take home the big prize while breaking multiple SEC records, but there's too much working against him to move up into the top two.
2. Denard Robinson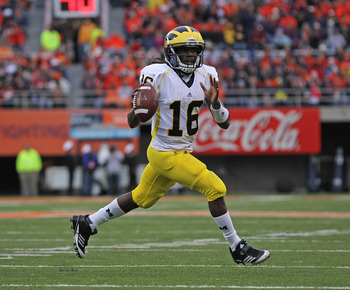 Jonathan Daniel/Getty Images
School: Michigan
Position: QB
Year: Senior
2011 Passing Stats: 55.0 completion percentage, 2,173 yards, 20 touchdowns, 15 interceptions
2011 Rushing Stats: 221 attempts, 1,176 yards, 16 touchdowns
Denard Robinson has been steadily improving as a passer, and a second straight season operating in Al Borges' system will only help him get even better. There are no more adjustments to be made when learning the playbook, only the necessary ones to his form.
Then again, if you're picking Robinson for the Heisman, you aren't picking him because of his passing ability.
Shoelace is the most elusive quarterback in the country and as capable of breaking off a big run as any other player in the nation.
Loud gasps and shouts will fill Ann Arbor once more when Robinson takes the field, hoping to produce his third straight 2,000-yard passing and 1,000-yard rushing season while leading his team to a championship.
However, injuries will always remain a concern here given his style of play.
1. Matt Barkley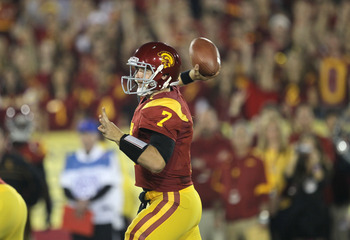 Stephen Dunn/Getty Images
School: USC
Position: QB
Year: Senior
2011 Passing Stats: 69.1 completion percentage, 3,528 yards, 39 touchdowns, seven interceptions
2011 Rushing Stats: 38 carries, 14 yards, two touchdowns
You'd have to do some serious digging to find an unbiased college football fan who doesn't expect Matt Barkley to be competing for the Heisman when the end of the season rolls around.
With Robert Woods (a candidate in his own right) and Marquise Lee going downfield to catch his accurate passes while Curtis McNeal and Penn State transfer Silas Redd scare defenses from the backfield, Barkley is going to post some incredible numbers.
He's efficient when he throws the ball, he makes good decisions and he rarely fails to hit his targets.
After breaking the USC record for single-season passing touchdowns as a junior and catching fire at the end of the season, the sky is the limit for Barkley in 2012.
Keep Reading

Michigan Wolverines Football: Like this team?