NBA Rumors: Why Kobe Bryant Will Never Finish His Career in Europe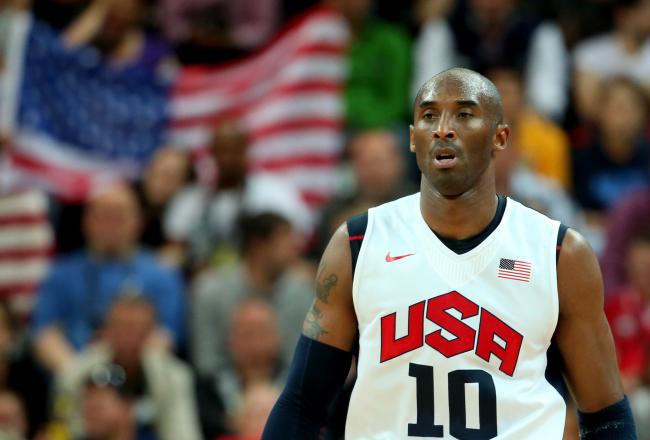 Christian Petersen/Getty Images
It seems for the past two Olympic Games we've been inundated with little rumblings about Los Angeles Lakers shooting guard Kobe Bryant bolting the NBA to ride off into the basketball sunset in Europe.
Bryant, who is fluent in both Italian and Spanish, has long had the largest international following of any NBA player and has strong ties to Italy after spending seven years there as a child.
At 2008's Summer Games in Beijing, Bryant sat down with Yahoo! Sports' Adrian Wojnarowski to discuss possibly playing overseas. At the time, Bryant was heading into the opt-out year of his contract and had just told the Boston Globe a day earlier that he would "probably" leave Los Angeles for Italy if offered $50 million.
Bryant elaborated to Wojnarowski:
As players, the business of the game (is) evolving. I think free agency now is becoming a global thing …. When players become free agents, the team they're currently with – their competition is no longer the rest of the teams in the NBA. But it's global. So, the market's opened up. So we'll just have to see how the league responds to it.
As we should have then, we all know now that the hypothetical $50 million was nothing more than a false narrative built on fairytale European money. We also know that Bryant certainly wasn't going to leave after winning an NBA championship in 2009.
And with after signing a three-year, $83 million contract extension in 2010, the time for Bryant, who turns 34 on August 23, to play in Italy or elsewhere overseas during his prime has passed.
That certainly isn't going to stop the European narrative, though.
Again two years away from free agency, Bryant talked the overseas possibility with Wojnarowki for a second time this week in London. Only this bit of European speculation centered around Bryant heading over as a 36-year-old man taking his basketball "victory lap."
But, simply put, talks of Bryant finishing his career overseas has about as much chance of happening as that $50 million from 2008.
Here's a look at a few of the biggest reasons why.
Bryant Has a Family to Worry About
When Kobe's father, Joe, uprooted the family and took them to Italy, it was to extend a basketball career that was over at the NBA level.
His son won't ever have that problem.
Kobe Bryant will be able to play in the NBA for the Los Angeles Lakers until he decides to retire from the league or until his legs fall off. Those are the only two scenarios that can end the shooting guard's Lakers journey.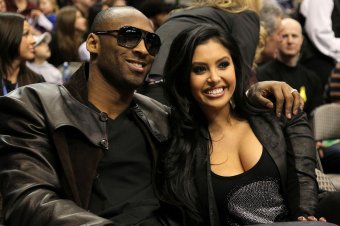 Kobe and his wife Vanessa narrowly escaped divorce in June.
Jed Jacobsohn/Getty Images
That means Bryant would have to make the executive decision to move his family from their L.A. roots to Europe. That's not exactly easy when you have two school-aged children who have lived in one place their entire lives and a marriage that just narrowly avoided divorce in June (via TMZ).
And while I'm certainly in no place to tell someone else what to do with their family, it seems highly unlikely that Bryant would choose to uproot his family just two years after such a tenuous situation.
There's a total difference between an extended European vacation and fundamentally altering your familial structure.
European Paychecks Aren't Exactly Reliable
Sure, if he heads overseas, Kobe Bryant is getting paid every cent he's due.
But that's likely not the case for his European teammates.
Just ask current Phoenix Suns forward Josh Childress. After signing a three-year, $20 million deal with Greek club Olympiacos, Childress spent two years playing overseas.
In an interview with ESPN's Ric Bucher (subscription required) during the 2011 NBA lockout, Childress detailed the difficulties of getting paid overseas.
One of the biggest things guys will have to realize is that whatever offer you get, there's no guarantee you'll actually get all that money. If a guy isn't playing well or a team is out of the playoffs, they'll just stop paying you.
And if those paychecks stop coming in for fringe European players, Bryant's (assumed) exorbitant salary will certainly cause scorn from teammates.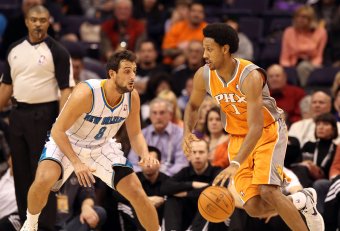 Josh Childress warned his fellow NBA players to not play in Europe during 2011's lockout.
Christian Petersen/Getty Images
With no NBA owners doling out checks that bounce and the "get all your paper" NBA player mindset, why would you leave? For an ownership stake in a minor league franchise that doesn't make enough money to pay its players?
If Bryant wants an ownership stake in a basketball franchise, it would take a 15-second phone call to Jerry Buss.
Bryant Is a Competitive Person and the Top Talent Is in the NBA
In his interview with Wojnarowski this week, Bryant was seemingly opening up the possibility of playing overseas, but all the while closing the door completely.
You'd have to look at the market and what's going on in terms of the level of basketball being played. I understand there's a high level of competitive basketball in Turkey now. They might have the best league in Europe. Spain has obviously been one of the top leagues for a long time.

And Italy is a place that's dear in my heart, I grew up there, but the level is not where it used to be. When I was growing up over there, that was the best league in Europe.
That quote should seal the deal on Bryant's international flirtation by itself.
The European narrative was once about Bryant wanting to finish his career in Italy and becoming an international basketball ambassador. Kobe would simply head overseas, collect his checks and build a global marketing brand that extends far past his playing days.
Where will Kobe Bryant finish his NBA career?
Bryant's quote now tells you he's more interested in finding the best level of European competition than brand building.
And news flash: No European leagues even come close to rivaling the NBA in terms of talent, coaching, infrastructure, etc.
Hypothetically, a 36-year-old Bryant would (likely) have to leave the NBA with gas still in the tank, give up whatever guaranteed money the Lakers offer in his next extension and uproot his entire family...all to play in the minor leagues.
Yep, keep dreaming.
While it's a pretty narrative, Kobe Bryant's last minutes as a basketball player will not come on an overseas court, but the way they should—as a Los Angeles Laker.
This article is
What is the duplicate article?
Why is this article offensive?
Where is this article plagiarized from?
Why is this article poorly edited?

Los Angeles Lakers: Like this team?