France vs. Japan Women's Olympic Soccer: Five Matchups to Watch in Semifinal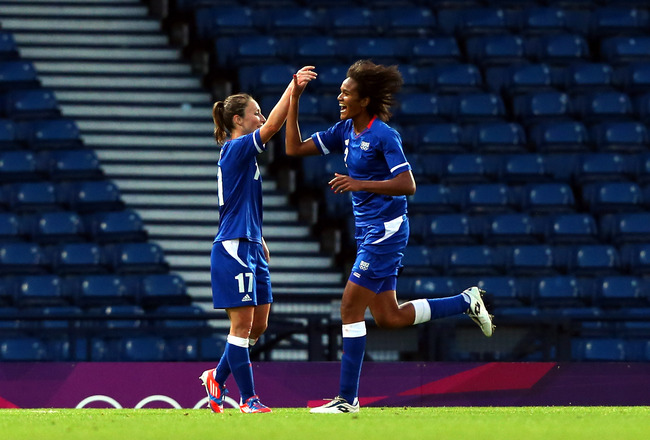 Stanley Chou/Getty Images
At noon ET, the first women's soccer semifinal of the 2012 London Games will get under way.
The offensive juggernaut of France vs. the precision and poise of Japan.
It should be a thrilling and intriguing matchup. This will not be the first time these two nations have met in 2012. On July 19, France defeated the 2011 World Cup champions, 2-0.
Can France repeat their performance from last month? Is Japan still the best team in the world?
Here are five matchups to watch out for during the match.
Gaëtane Thiney vs. Japan's Defense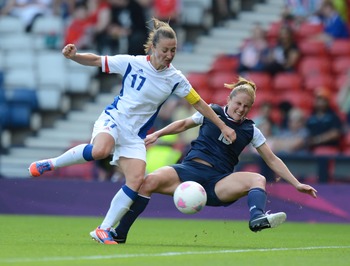 Matt Kryger-USA TODAY
Thiney is one of France's best players and has had a very solid Olympic Games.
The attention she draws from defenses sets up other opportunities for her teammates. Japan's defense, on the other hand, does a good job of not allowing forwards space to create an attack.
This is not just a matchup to watch out for Thiney's striking ability, but her ability to control possession in the midst of Japan's defense and assist her teammates. If she can draw the defense to her, it will result in a goal for France.
Japan will have to stay tight on Thiney to limit the chances of the potent French offense.
Aya Miyama vs. France's Defense on Set Pieces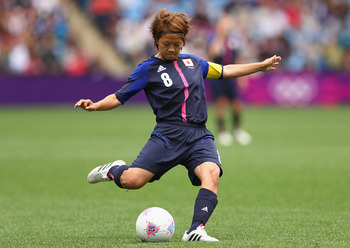 Quinn Rooney/Getty Images
The French defense can be shaky at times, especially on set pieces. Just go back to the opening match against the United States to see examples of this.
Aya Miyama is one of the best set-piece players in the world. If France gives up a free kick outside of the box, it could spell big trouble for their gold-medal hopes.
France will have the size advantage, but the accurate balls delivered from Miyama typically negate the physical side of set pieces. They are technically sound. Miyama is fun to watch regardless, but she is mesmerizing when she gets a chance on a free kick.
First and foremost, France needs to avoid giving up as many set pieces as they can. It is important. Secondly, they need to do a much better job at marking players when there is a set piece.
Miho Fukumoto vs. French Attack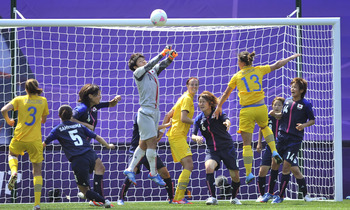 Francis Bompard/Getty Images
Miho Fukumoto has established herself as one of the best keepers going today. She has looked fantastic between the posts already at the London Games.
However, she will be under attack from France.
Whoever enters the game for France is dangerous. Thiney, Élodie Thomis, Marie-Laure Delie and Eugénie Le Sommer are all potent strikers. And that goes without mentioning the potential attack from the midfielders.
Clearly, Japan's defense will need to be up to par but they will not be able to stop every single ball. That is where Fukumoto has to step up.
Japan's Forwards vs. France's Defense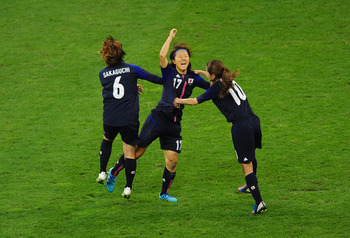 Mike Hewitt/Getty Images
In spite of having some quality talent, France's defense has left a lot to be desired. It will be challenged when Japan makes their attack.
It is not that Japan offers an overpowering attack, but that they are so technical they make it difficult for a defense to stop them. If they are on point, even the best defense in the world will not keep them out of the net.
And we continue to see Japan exploit less-than-stellar defending. Ask Brazil.
Luckily for France, they have one of the world's best players on the backline in Sonia Bompastor.
Now that it is the semifinals, France needs to tighten up their defense. Japan will test them and we will find out how close to the elite level France truly is.
Midfield vs. Midfield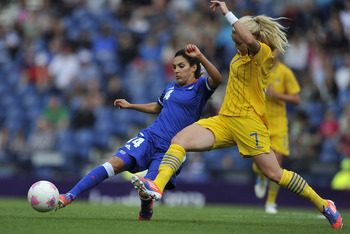 Francis Bompard/Getty Images
This is where the game will be won or lost for both teams.
Aya Miyama and Homare Sawa vs. Louisa Necib and company. The possession and precision of Japan against the attacking force of France. I love this matchup.
Whichever team imposes their style of play on the other will win to advance to the gold-medal match.
Some of the best midfielders will line up opposite one another and give the crowd a thrilling match. Good ball movement, quick counters and the potential for a lot of shots on goal.
This will be France's chance to make their claim to one of the top spots in the world of women's soccer. They have already shown their danger early on against the U.S. and defeated Sweden. A victory against Japan will move them into the discussion as one of the top three teams in the world.
Easier said than done. Japan has already proved they are at the top of the world over the last 12 months.
Keep Reading